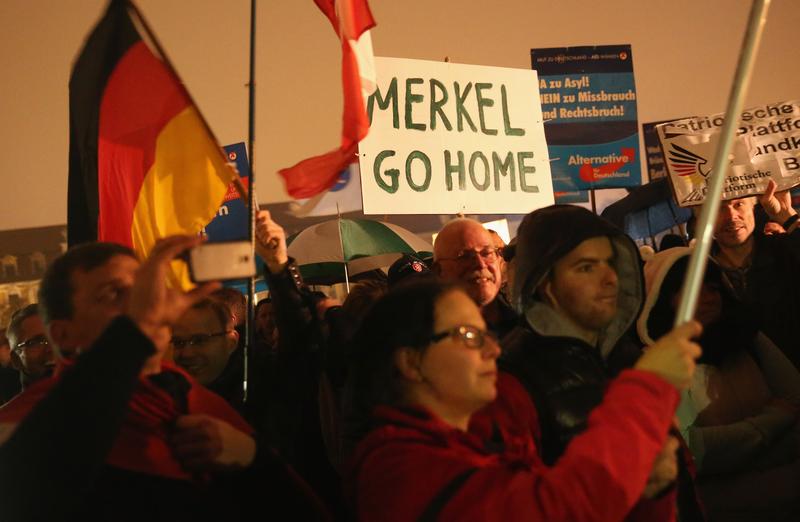 Summary
This week, in regional German elections, a right-wing, anti-immigrant party vaulted from zero into second place...pushing Chancellor Angela Merkel's party into a humiliating third. One of their slogans is, "Islam doesn't belong to in Germany." In other words, Germany, originally leading the way in opening its doors to Middle Eastern refugees, is now experiencing a souring mood towards immigrants. 
Constantin Schreiber is Germany's only Arabic-speaking TV news anchor and host of the show "Marhaba: Ankommen in Deutschland - Welcome: Arriving in Germany." WNYC reporter Ilya Marritz went to Germany and spoke with him about his program, aimed at explaining life in Germany for Syrian and other refugees and helping them assimilate.
Marjane's Inspiration by David Bergeaud
Transcript
BROOKE GLADSTONE: Now, for Islamophobia abroad. This week in regional elections in Germany, an anti-immigrant party vaulted from zero into second place, pushing Chancellor Angela Merkel's party into a humiliating third. One of their slogans is "Islam doesn't belong in Germany."
The human face of German's fears may look something like this, three Syrians in a park outside a refugee home, smoking dope.
[CLIP]:
MAN: My English is not very well, but –
WOMAN: Hashish – [LAUGHS]
ILYA MARRITZ: Nah, thanks.
[LAUGHTER/END CLIP]
BROOKE GLADSTONE: That's WNYC Reporter Ilya Marritz turning down a smoke. He says there's an unusual effort underway by one TV station to give new immigrants the tools to blend in, if it's not too late.
ILYA MARRITZ: I don't take the dope, but I do make chitchat with these three Syrians, two guys and a woman with nothing much to do. Mohammed, who speaks some English, says, don't get the wrong idea about us.
MOHAMMED: Some hashish, not a lot of hashish.
WOMAN: Yes, and a lot of it is hashish -
ILYA MARRITZ: No – and no judgment. It's –
MOHAMMED: Yeah, yeah.
WOMAN: Haddah, and what the harm is the hashish?
ILYA MARRITZ: What did she say?
MOHAMMED: He wants the hashish for – forget everything.
ILYA MARRITZ: I'm pretty sure what he's saying is they smoke up to forget the horrible things they saw at home. Mohammed fled Aleppo, worked in Turkey for a year, learned the language, saved money and then made the journey north. And he's ambitious.
MOHAMMED: Right now I came to work. I have to study right now. I'm going to technical school.
ILYA MARRITZ: Already?
MOHAMMED: Yeah. After that, I have to make auszubilden – al – yes, auszubilden.
ILYA MARRITZ: An apprenticeship. He wants to learn machine tool automation.
MOHAMMED: After that, I can work.
ILYA MARRITZ: To a lot of Germans, Mohammed and his friends look like a security threat or even a threat to national identity. A recent study found more than four in ten Germans would like to stop Muslims immigrating to their country.
So perhaps the last thing those Germans would want to see is this guy, suddenly appearing last fall on their TV screens and mobile phones.
[CONSTANTIN SCHREIBER SPEAKING IN ARABIC]
He fair-skinned, without a leather jacket, extremely smooth chin, looks like he just stepped out of an ad for a razor. In every way, he also looks just so German. But he's speaking – Arabic.
[ARABIC REMARKS]
He says, welcome to Germany. This is for the Syrian and other Arab refugees coming here seeking freedom, safety and a better life. In this program, I want to tell you about life in our country. And he goes on to explain some of the basics. We Germans generally work from around 9 in the morning to 5 in the evening. We value our free time. And when we come to a red traffic signal, we always stop.
This is Constantin Schreiber, Germany's only Arabic-speaking TV news anchor. And that last thing he said, it offended some people.
CONSTANTIN SCHREIBER: I received a lot of hate mail, because of that, because people were saying I'm a racist because I think people from the Middle East don't know what a red traffic light is, to which I can comment that if you have ever been to Syria, you know that traffic lights are a mere decoration, rather than something you have to obey.
ILYA MARRITZ: So here's a man uniquely positioned to be a bridge between 80 million Germans and hundreds of thousands of new arrivals, many of them Muslim. He's a Berliner who's worked in Syria, Lebanon, Egypt and the Gulf States.
CONSTANTIN SCHREIBER: I'm a correspondent for RTL, which is Germany's biggest entertainment channel, but in September last year I launched Germany's first Arabic language program, specially dedicated to better educate Arab refugees from the Middle East who started coming to our country.
ILYA MARRITZ: The show is called Marhaba or Hello, and you can think of it like a user's guide to Germany. Chapter 2, The Constitution and Sharia, Chapter 5, Love and Sex in Germany, Chapter 17, Hair, in which Schreiber takes a newly-arrived Syrian stylist, Vihad, on his first visit to a German salon.
[ARABIC REMARKS]
I see lots of women who shave the sides of their head, Vihad says, not looking very impressed. I've never seen that in Syria.
Schreiber says the point of the show is to demystify Germany. No question is too silly.
CONSTANTIN SCHREIBER: We received really hundreds of emails from people who were saying, oh, Germany is a very nice country but all those stray dogs, they're bizarre, to which I have to say, well, they are not stray dogs [LAUGHS], they are pets.
ILYA MARRITZ: How did this show begin? How did this come about?
CONSTANTIN SCHREIBER: I was on parental leave in September with my wife and you're sitting there, you can't go out in the evening. Baby is sleeping, so you watch TV. But it was the beginning of the mass migration of the refugee crisis in Germany, and we were watching these talk shows and there were old German men talking to each other about well, refugees should know our Constitution, they should know our traditions and
we were saying, well, they can talk forever, they will never notice. [LAUGHS]
ILYA MARRITZ: At this point, Schreiber's wife gets an idea. Honey, she says – I'm paraphrasing - you can help the refugees assimilate.
CONSTANTIN SCHREIBER: Well, you speak Arabic, you can address them directly and tell them something about the political discussion we're having, our expectations. Well, then the following day I proposed that to my boss and she said, well, that's an interesting idea, go ahead.
ILYA MARRITZ: That was a Monday about a year ago. The following Friday, they uploaded the first episode of Marhaba. And overnight, Schreiber says, it got hundreds of thousands of clicks. Today, the show has been viewed more than 4 million times online. And while plenty of Germans I spoke with have never heard of it, Marhaba is clearly reaching its intended audience. Listen to what happens while we're crossing Alexanderplatz, right in the center of Berlin.
ILYA MARRITZ: Those guys just recognized you.
CONSTANTIN SCHREIBER: Okay. [LAUGHS] They are Syrian refugees, probably.
ILYA MARRITZ: Two young guys in street clothes, they do this big obvious double take and smile.
CONSTANTIN SCHREIBER: That happens all the time that they – some people pass by and say, well, I watched your show online. It's a cool thing. And wow, [LAUGHS] what an online program can do!
ILYA MARRITZ: Of course, Schreiber has made enemies too. He gets death threats and plenty of hostile messages.
CONSTANTIN SCHREIBER: They are saying, you are paving the way for the Islamization of the West. I say no, I don't talk to them in Arabic to make Germany becoming more Islamic. I'm talking to them in Arabic to make them more become part of our society, yeah?
ILYA MARRITZ: When I first watched him on video, I had Schreiber pegged as a journalist who's really into Arab and Muslim culture. But he says, you read my motivation all wrong. I do this because I'm scared for my country.
CONSTANTION SCHREIBER: I mean, what we're seeing already is that our society becomes more – gewalttätige?
ILYA MARRITZ: Violent.
CONSTANTIN SCHREIBER: Violent. So today, the talk show that we were doing, it focused on domestic security. And we were talking to weapon dealers in Germany who told us that. They were selling 300 percent more weapons just in the first six months of this year, compared to the entire year 2015. There is an ever-growing number of people doing martial arts, not because they think it's a sport but to defend themselves, if needed. So I'm very worried, yes. I don't want my kid to grow up in a world full of weapons. I know you have a different approach in the US, a more diverse approach to that. But I grew up here in Germany, in a country where you would consider there are no weapons, and it has already changed.
[MUSIC UP & UNDER]
ILYA MARRITZ: Since I spoke with Schreiber when I was in Germany back in June, there have been a number of unrelated violent attacks all around the country, committed by refugees and asylum seekers. In one week in July, there was an axe attack on a train that left four injured, a macheté attack in which a pregnant woman was killed and a suicide bomb which injured 12. Immigrants have been attacked, as well, though that doesn't always make the headlines.
Over the summer, the national mood has further soured toward immigrants and the most recent episode Schreiber recorded for his show seems to reflect that. The attitude of playful cultural exchange is gone. Instead, the episode is a somber commentary, an urgent admonition. It's titled, "Learn Our Language, Learn Our Culture."
BOB GARFIELD: That's it for this week's show. On The Media is produced by Meara Sharma, Alana Casanova-Burgess and Jesse Brenneman. We had more help from Micah Loewinger, Sara Qari, Paige Cowett, Noah Kernis and Leah Feder. And our show was edited – by Brooke. Our technical director is Jennifer Munson. Our engineer this week was Casey Holford.
BROOKE GLADSTONE: Katya Rogers is our executive producer. Jim Schachter is WNYC's vice president for news. Bassist composer Ben Allison wrote our theme. On the Media is a production of WNYC Studios. I'm Brooke Gladstone.
BOB GARFIELD: And I'm Bob Garfield.