Radio Rookies
Gentrification: Feeling Like an Outsider in Your Own Neighborhood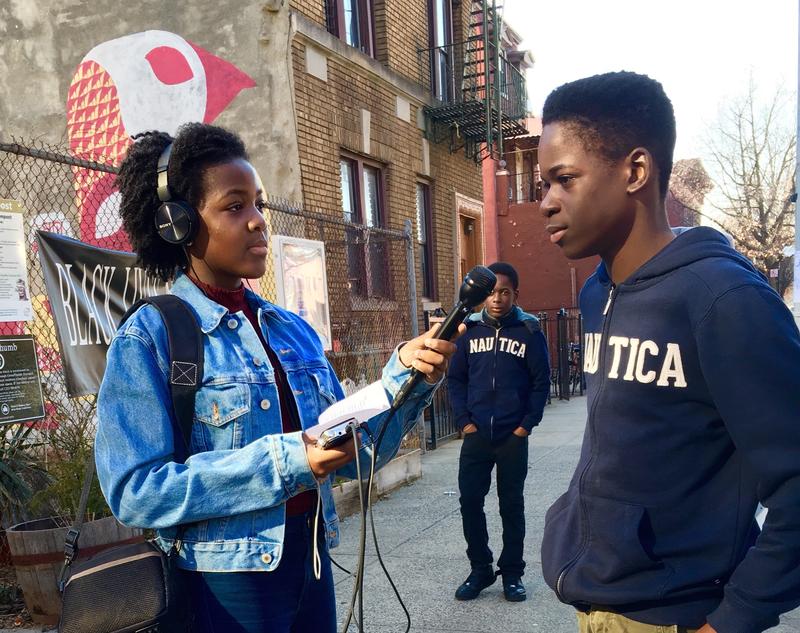 WNYC has reported extensively on gentrification in the past year — especially in Brooklyn. For kids growing up in rapidly transforming neighborhoods, the change can be destabilizing. Rookie reporter Corinne Bobb-Semple has this exploration of what the changes in Bed-Stuy have meant to her.
My mom's store, Brownstone Books, was the center of my world growing up. The store opened in 2001 on Lewis Avenue in Bed-Stuy.  Our neighbors poured in and out of it constantly, for books conversation, and events.
On the block, there was a row of black owned businesses: an antique store owned by my dad, a coffee shop owned my neighbor, Mr. Lloyd, and Ms. Marlene's salon, where I got my hair done as a kid. My parents shaped that Bed-Stuy. Before the shops on Lewis Ave opened, we would have to leave the neighborhood to buy books or eat out. After, we could just walk a block from our house.
 My mom always says, "I wanted to build the community I wanted to live in and I have in many ways."
My dad changed the neighborhood in a different way. He started a real estate company after closing his antique shop. I asked my dad if his role in attracting new residents to the neighborhood has ever created an internal struggle for him.
He replied, "If we want to bring up-- and I'm using air quotes—'gentrification' I have no struggle with that whatsoever. I think when your Mom and I bought in 1995 we were the gentrifiers."
 I've never thought of them as gentrifiers. My parents were born and raised in Central Brooklyn. So was my grandma. But I guess, they were people who consciously changed Bed-Stuy.
"We were welcoming change, we wanted change," my dad told me. "Unfortunately, you can't just open the bottle of change and hope you can put the cap back on, it just comes and it comes in full force."
And what that means is that Bed-Stuy will no longer be predominantly black. My dad didn't feel like gentrification is affecting me because we own our home, so I'm not going to be displaced. But what I didn't tell him is why Bed-Stuy's blackness has been necessary to me.
I've been going to Saint Ann's, a private school in Brooklyn Heights, since kindergarten. I love it but it's not diverse. When I was younger, I was one of the few black kids and sometimes that made me feel like an outlier. Girls used to pull my untwisted hair exclaiming that it was, "so boingy!" I was able to deal with this-- because when I went back to Bed Stuy I was never "the black girl."
But now when I go into restaurants by my house and see that I'm the only black one there, I get the feeling I used to have at school. I'm uncomfortable.
I don't know why but a lot of the new people I've noticed, either don't see the culture that already exists here or they don't have any consideration for it. Like simply saying hi to neighbors.
It was hard to try to explain to my dad how gentrification has affected me. I told him that it's helped me to live here and to be surrounded by people who showed me being black was a positive thing. "Going to Saint Ann's, where I was one of a few black kids, made me feel strange at times and like it wasn't necessarily the best thing to be black," I said.
 My dad thanked me for telling him and told me that he just sees neighborhood change as inevitable in New York.
In a lot of ways, he's right. When you make a neighborhood desirable, it's safe, there are shops to go in to, and lots of places to eat--guess what? It becomes desired. And you can't control who moves in because of those things. Or how it affects the people there before. People like Ms. Marlene, whose hair salon has closed. It was one of the last stores that were opened at the same time as my Mom's.  
Ms. Marlene told me she used to make between $1,200 and $1,300 a week, but now she can't even make $500. "I know I can do white people's hair, but they're not going to come to me. So this is part of why I will close up this year, on my anniversary of 20 years."
It was hard to hear that she's had to close her shop, and not realize it's the end of the Bed-Stuy of my childhood. I just want to live in a Bed-Stuy where new and old residents play equal parts in how the neighborhood continues to change.
Corinne's story was produced in partnership with Brooklyn Deep.