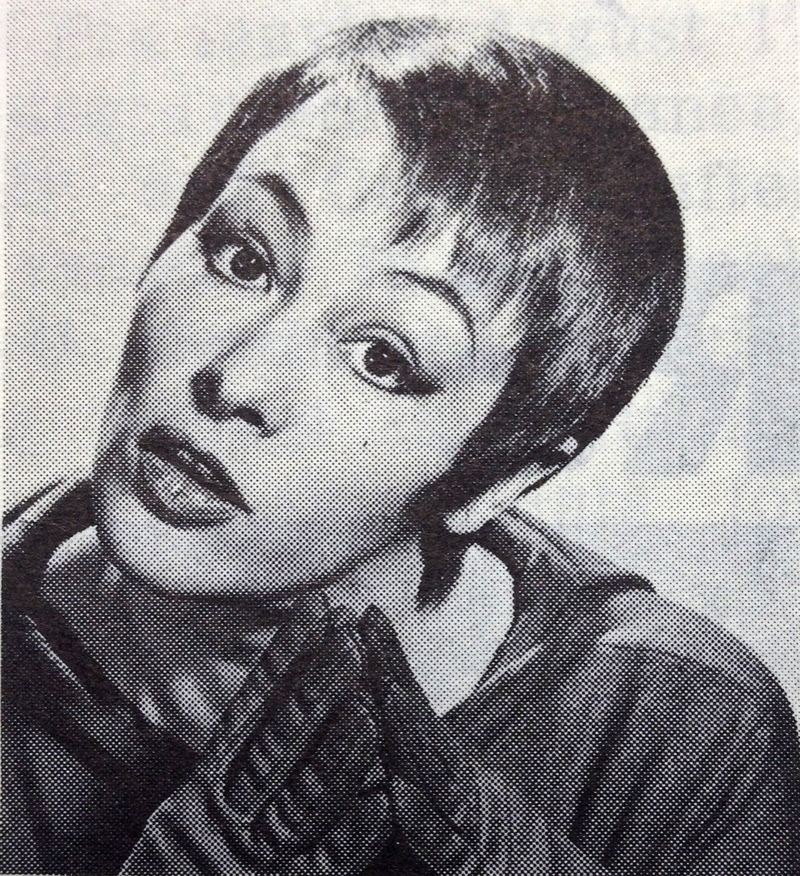 Summary
This episode is from the WNYC archives. It may contain language which is no longer politically or socially appropriate.
From card catalog: Genevieve Caulfield speaks about political and social aspects of Thailand and Vietnam.

Caulfield talks about the life and recent death of Prime Minister of Thailand Plaek Pibulsongkram and how she began working with blind children there. Funding for the school. Thailand's advances in education for children with disabilities. Influence of the wives of Prime Ministers there. Training teachers how to teach the blind.

Question and answer:

Father Diego's work? Straighten out difficulties between the Vietnamese and Chinese. Integrate Chinese people into the life of Vietnam.
Audio courtesy of the NYC Municipal Archives WNYC Collection
WNYC archives id: 70400
Municipal archives id: T560
Transcript
This is a machine-generated transcript. Text is unformatted and may contain errors.
It's a very great pleasure for me to introduce Miss call Miss Caulfield Miss Genevieve Caulfield to the members of the Overseas Press Club and also to the audience of W N Y C Who will be listening to the remarks that are made here at the luncheon as they do each Wednesday Miss Caulfield especially with so many of her friends here present needs no introduction all of us. Remember that on the Fourth of July a year ago when President Kennedy decided that for the first time in American history the presidential gold medal of freedom should be given to a group of three women along with. A group of men that in this group of the first three women ever to win win the award was Miss Caulfield recognizing a story which already had been recognized by the RAM known makes a say award for international understanding which is called Some people call it the Nobel Prize of Asia that of what had been given to her nine hundred sixty one. In many ways sometimes through the pages of her own autobiography. Often in recognition from organizations the admiration and appreciation of the whole human race has been expressed to Ms Caulfield blind almost from infancy. A woman who converted this handicap into a blessing an unknown blessing for Southeast Asia for after going out to Japan for fifteen years to support herself by teaching making use of her Columbia teacher's college degree and by teaching English to high school boys in Japan she then went on to to Southeast Asia to help the blind in in that area very often working with people who had never before had been had been given any assistance it was called it was telling me just now with her typical delightful sense of Yuma that she always remembers those days of teaching English in Japan reporters are always saying that she was she was working with the blind during those fifteen years from one hundred twenty three to one hundred thirty nine confusing the latter part of her story with the first but she was not she was teaching English and she said that she'd always worked very well for two reasons one because of the great brilliance of those students that she found Japan and also because of a little speech she always gave on the first day of class which was that I know that it's fun to to deceive the teacher to play games with the teacher all of us rub to do that I like it too but really you mustn't do it in my case it would be too easy. She told me also of a one little boy who she was giving a pronunciation test one day and she said one little boy don't show up in that pencil now we don't need pencils at this point this is just an Oral Exercise and after class he came up and he said could you see me shopping that pencil. This is the a little help of the of the grantor of the guest we have the honor to have with us today. Luke. Mr President ladies and gentlemen. I've done many presumptious things in my life but I think this is about the limit of my presumption should dare to address the Overseas Press Club on a subject that they must know so much better than I do and that I am really overwhelmed with a sense of modesty which is not my usual. Fault. I couldn't be but it anyway perhaps I may be able to say a few things to you that you don't know about or perhaps you forgotten they happened so long ago I'm going to speak today principally about the. Very quick but the. Political and social aspects of Thailand and a little on the same subject of the now those are the countries in which I work and I am particularly interested. At this at this time about the social development in Thailand because recently we have heard about the death of the prime minister people in some ground. Now we've almost forgotten him because in the meantime before he died. And we have another prime minister but I can never forget people in some Graeme because when I went to Thailand in one nine hundred thirty nine. Some of you may know this but some of you don't there was any say with All in all truth that not one single thing was being done by the Thais for physically handicapped or orphans or any other kind of people the only word of this type that was being done by the tide themselves was Red Cross work and a few hospitals that's all the leper hospitals orphanages and other institutions of that kind were practically all conducted by missionaries and when I think now how Thailand has developed it is really amazing the before the war and after the war until after the war there was no training at all of any kind of social workers in Thailand nothing at all the first for the training of social workers was inaugurated a by attorney turned up the wife of of people in song. And I can tell you that that was an interesting thing he asked the United Nations representative missed him is Davidson if he would help with this school of social work which he an organ raided in the in the woman's cultural group or organization and I know that some of the people of the students who entered that school of social work thought they were going to learn dancing and other things like that they thought it was a school for social training. Quite a different time. This is true and when we think that now there are all sorts of activities in Thailand there is there are there's work for the blind there's work for the deaf work for the cripple for retarded children for underprivileged children for all sorts of things conducted by the tower themselves sometimes by the government sometimes private organisations with the members of the royal family very much interested in this matter it is simply amazing when I first went there to help the blind in Thailand I had been in Japan for quite a long time and I had heard that nothing was being done for the Blind in Thailand on the i ask some type people whom I met in Tokyo what are you doing for the Blind in Thailand or Siam as they called it then blah I know they're no blind and so I am not on nights for utopia I think I'll go there I'll reply and this is where oh they're not they're no children anyway you know in our school at present time we have one hundred forty five children. And in my where there's another school open they have nearly thirty children and they need a great many more opportunities for four blind children I wish I could go into it and tell you how hard we had to work how we had to do all sorts of things to convince the parents that it was worthwhile sending these children to school and how it was so difficult to convince even the members of our board we couldn't get any any donations for our school without forming a foundation I went there on my own entirely with a with the enormous sum of eight hundred dollars which wouldn't go very far towards starting a school unless we got donations of but we couldn't do that unless we found a foundation it took six months to get that sort of our nation started now the foundations are springing up all over the place all over Thailand but. After we got it started we worked for five years without any government help at all and the first government help we got came through the interest of Madam people and the prime minister and just think at that time you may be interested in this little episode that we were hoping that the government would give us something but we didn't know how it would be done one day and anyway we were going on with our schoolwork and doing the best we could and one day one of the members of our board came to me and said you know the prime minister's wife has a little group known as the women's culture group this is during the war we all had to wear hats and gloves but and hats and gloves in Thailand but we all did with the law we couldn't but we couldn't buy postage stamps unless we had a hat on. This is true in the country. I'm sure some of your correspondents who have been in Thailand know this story but in the country they had a family had in the in the morning the mother would wear it when she went out to market and otherwise she couldn't buy any food and then the father would wear it when he went to sell its products and the children would be playing with no clothes on when heads. It was really extraordinary this is a rule of the prime minister we don't even know yet why I made such a law press you tell us from heaven now why did but we don't know but anyway we all we knew we were going we had to go to this meeting the prime minister's wife said. She had this woman's cultural group and everybody wore hats and gloves and Secretary of our committee said to her don't you think it would be nice for the students from that school for the blind to come and give a play for you she had seen how we how our children how adept they were in giving plays the prime minister's wife said blind children good plays are you crazy said no I'm not crazy let them try so we all appeared one day in our hats and gloves and the hottest blazes it was you can imagine in. Bangkok so we all appeared and the blind children all dressed up and all ready to give their plays they gave to play one in English and one in Thai Of course for any poor little miserable so-called blind children to be able to speak English were simply incredible and they were these women were so impressed by that that the next day the prime minister invited all the pupils and teachers of the school for the blind to lunch. Such a thing had never been heard well I just tell you that to show how quick the Thai were to respond to this kind of thing and after five years through the people and we got a wonderful government grant it was wonderful at that time but at that time we had only twenty people now we have a hundred forty four so the Government Grant takes care of about one sixth of our budget it's a resident school but it's not only debt it's the fact that we have won the confidence of the people people are beginning to understand that these people who are studying our school are learning to work there when you are working as typists of telephone operators as must serve in hospitals as interpreters as musicians doing all sorts of things and as a result of that their whole concept is changing and now since the war we have two schools for the deaf and we also Away I say we because I'm interested in the whole thing anyway I started work for the cripple they have a beautiful organization before they rehabilitate of the cripple and all sorts of things have been developed now this shows that the political situation and the able them to work and they do this social work too even though. Thailand as you know it's never been a democracy they had in the time of people. Assembly but fifty percent of that assembly was elected by the people in the other fifty percent appointed by the government so the government with your to be on top anyway to put it but in spite of all that thing it's not a democracy now it's under martial law still Thailand lives but the people are not being browbeaten they are there are many difficulties but they are able to be interested in their underprivileged people there's all there's so much yet to be done Good gracious I don't mean that that great strides have been taken but I do mean that since nine hundred thirty nine the progress that Thailand has made is simply incredible when you think of all the Queen who is patron is of a great many organizations including our own that various members of the royal family that the prime minister's wife even the wife of serotonin Rock who is not particularly interested in social work she had to get interested in social work in order to to keep her name in order to get what else few other things she wanted but Marshall people INS wife was really interested I remember she tried it was she who organized women's volunteer organization and she took all she had forced all the women who were employed by whose husbands were employed by the government to join this organization and made many of them go as volunteers to work in hospitals to work in any kind of. Project that she had in mind she wasn't a trained social worker but she was she was dedicated to the interests of the people so these wives of the officials would work for. This kind of thing well I had I had in these peoples in Thailand I was working for the Blind as a volunteer and taught English to keep the wolf from the door and I remember I had one or two of these government officials wives one day I was arranging for their lessons I said Oh tomorrow you have to go to your volunteer group don't you should not volunteer forced labor. But no it's not forced labor anymore they understand it if they're not volunteers on something there and they're just not in it that's so it's a it's a question of status these days to be members of some organization or several organizations and they really put a lot into it there and they give a lot of money now our school for the blind we get only a six of our budget from the from the government and all the rest of the money come from. People in Thailand including Jim Thompson and Jim Thompson as you know started the improved Thai silk industry and he has given work to an enormous number of people and also his competitors have given a lot of work to any number of people Jim has the hopes which he has put into which he has put all sorts of Tire works of art and he opens his house twice a week to tourists for this for the privilege of going through this hours he charges a dollar and a quarter that dollar and a quarter goes to our school every bit of it and this kind of thing people are doing a lot of the Buddhists give us donations to get married Claire They believe that they can get married that way. Because they we they help us a lot and they help themselves at the same time and we have never been in bed with never had any trouble when in one thousand nine. Hundred separate I want to say that the object of this work as well as with the work of the deaf and other social activities is to enable these pupils of ours to become self respecting human beings we've sent nine already abroad to study they've gone back to help in the work for the blind and to work for themselves which is a great help because we want them to go out and do other things we have we're teaching them typing in our school we have one girl who is working as a dictaphone typist at the United Nations office in Bangkok on the McComb River project it's a pretty difficult project for a Thai girl especially a blind girl who has no dictionary to work on in English but that to show off the head of this this McComb River Project told me that she's the best type is the head which is a great help when I was in Thailand in December I met her and she's very pleased with herself You must go if you're going to stay for the conference aren't you I support conference she said what the McCormick river conference was for good gracious I couldn't care less. But this shows how interested she is but a nine hundred fifty six I was asked. By the. Me ambassado