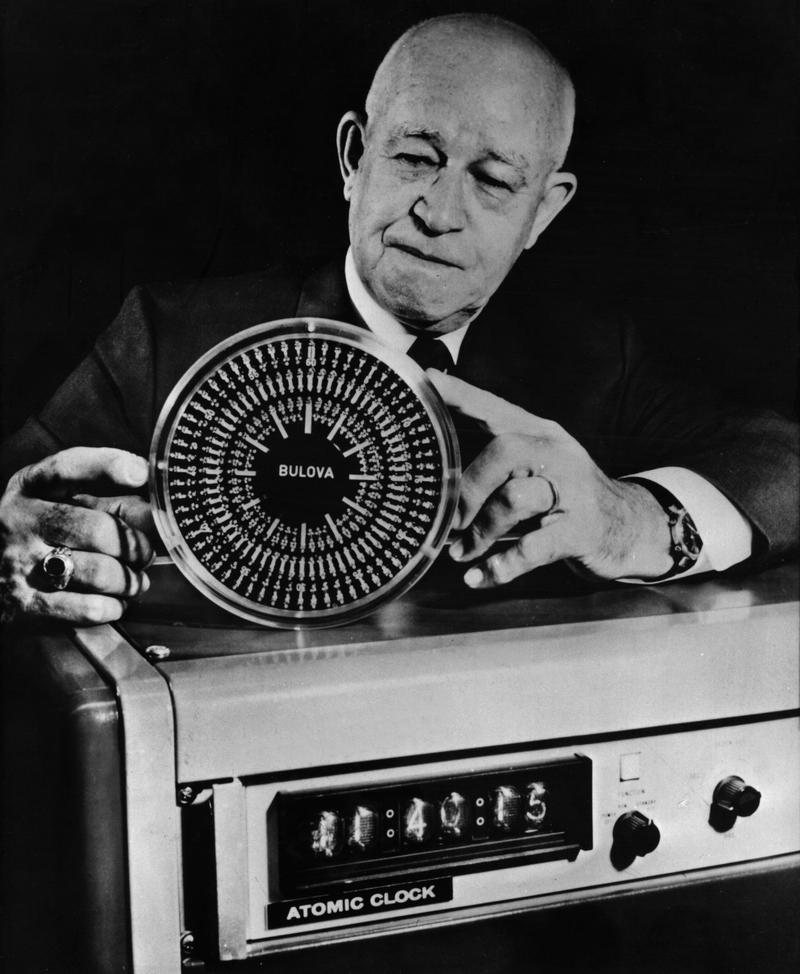 Summary
Part two of a two part interview with General Bradley. General Bradley, now Chairman of the Board of the Bulova Watch Company, discusses the similarities between working in business and working in the army. He also goes into detail about his specific involvement with Bulova, as well as his strong disinterest in entering politics.

This interview has been edited down from its original length.
Audio courtesy of the NYC Municipal Archives WNYC Collection
WNYC archives id: 56187
Transcript
This is a machine-generated transcript. Text is unformatted and may contain errors.

I didn't read I'd like to move on to your. Peacetime work in business you're chairman of the board of one of the first. Is that working in business like within the Army of the similarities another great similarity Some people ask me that question frequently. And I think there's not too much difference you're working with different things of course and the service you're working with man you're working with lives. At least you that's where you're eventually mission but to arrive at that stage you've got a lot of administrative duties. The Army budget is a big thing you run a regiment or division you actually within certain budgets and a lot of it's administrative and and then issue have to make your plan and we have to see it there executed a different plan Sure and what Chairman Terry but the punch closure regime where. I. Find the biggest difference probably is and your ability to get personnel. In the service for example in battle if some division commander didn't do too well or any other commander you believe him and you could get another one right away and you knew these other people some of my known for thirty years they arrested me you had record John and efficient your porch turned and every year. Show you can reach out and get a good man to replace that one Bendish of course you can't do that because some other company has that good man you want and he's not leaving at the company they're not letting him go so you more or less. Depended on bringing people up in your own organization if you can get a training program started. And grabbing off. People that maybe are blocked from promotion the young the president of their company is a young fellow and they are out the same age and over the time this other fellow gets old enough to retire they are too old for that because you can sometimes pick up people that way but don't want to biggest differences is the difficulty of getting good people as replacements for you in your organization I think that's one of the biggest areas but the administrative principle. Very similar are you involved with the work but believe it does for defense as well as for peacetime What is yes we do certain amount of work primarily and making little things that require miniaturization and great precision and again that the the watches that you use they're actually used in space is that right yes for example we used to say I could draw on movement in timers and the satellites. One on Telstar for example that's arranged to run two years in and turn off the radio a first time we made. Went on I have satellite to turn off the radio show at the end of the year see if we keep launching all these things in space at the radio show running indefinitely it becomes a hodgepodge of signals I see so that they may want to stand up for now they will accomplish some different mission and that's a view to Pauli's wavelengths on those are already up there they're up against difficulties but by turning them off at the end of a year and then launching another one you still use the same Watch same wavelength and these movements are very accurate very dependable they will stand a shock and the first one we made. When and of our satellite way downstairs and they told us that replaced thirty pounds of equipment it had been you should do the same thing. And so we've got quite a number of them now open space satellites and this is actually available to people to buy do is note that we're selling a lot of these really strong right we're almost out of a faster than we can make them I think I can imagine that. But. I think again. I think these in what many many space shuttle I think the satellite of. Very. Good. Or. What has been the government's attitude towards that tariffs with a bit of a watch have they raised the towers I mean lower the towers you know. Tariff was first passed in one nine hundred thirty seven and they produced a certain tariff on seventeen Jordan last watchers and higher tariff on above seventy and you're watching Yeah do you wish to put a tariff on it would permit us to make watches in this country with our higher wage scale. And just about break even if you import one and pay the tariff on it well that's no longer true with seventeen jewel watches show we make all of our seventeen zero one of our watches in Switzerland. And you know this is out of this country and now in New York here in Jackson Heights we make twenty three twenty one thirty two watchers and their second one because we still have sufficient protection on the ocean that we can make them in this country actually However eighty two percent of the jewelled watch is sold in the United States are imported we now own making eighteen percent of the George watches sholden United States so there's not much. To be given away how I mean if you lower the tariff anymore do away with it our company would be better off financially but you would be entirely dependent upon imported watches there after we have no watch George watch industry in this country and they would not be available to make these little things for defense purposes and so ever since I've been with the watch company I have argued that we should have some watch industry in this country so that scale is available to make these little things for national defense it's didn't make sense and this is the case then I mean yeah put layer down now our pretty low dollar down to something which I say eighteen percent of the joint watchers in this country are made here and. Only Elgin Hamilton bowl of manufactured jewelry watches in the United States in any quantity and the cost of labor costs is a guess as well for the labor I haven't checked for about a year but at that time the labor we paid two dollars and seventy four cents an hour for in our plant here we paid seventy eight cents an hour for the same skill and Switzerland and over in Japan it's somewhere between. Twenty three and thirty cents an hour for the same skilled hard to get paid that's clear. Then about the. I know that done. Former President Eisenhower made a speech saying that he was very concerned about the military industrial complex that having excessive influence over the government now you've been closely involved with both military and business do you feel this is a threat no I do not I prayed I must disagree with the President Eisenhower on the app. There's too much competition too many companies competing for government business and they're such control and government that I don't see how they can be influenced too much by industry. Do you do you find that there is so much that the public cannot know because of security risks that vast amounts of money and therefore power are being handled without any checks by the public itself does this concern you was this just a mess where LAX actually there's very little being spent that isn't known during World War two Of course the Manhattan project under which we developed the atomic bomb was kept very secret only a few people on the Hill that is saying that and congressman knew what this money was for but the rest of them had enough confidence than bridge and Roosevelt General Marshall and these few leaders or did know is about to go ahead an appropriate something like two billion dollars to get it done. But under peacetime there may be. Some secret chairlifts and Development show forth but I don't think the procurement of equipment. Offers any problem at all because they all know that the my Congress asked to appropriate the money for it they may give Mr Webb for example in a NASA. National Aeronautics and Space Administration they may give him a big budget without making him spell out exactly what that is because some of that maybe she could but they have a general idea of what he's trying to do to go to the moon for example our launch a satellite shot or getting certain information they know in general like that here but I would say that through the General Accounting Office. And the appropriation bills appropriation committees. There's very little secrecy on what these things are spent for sure after down anyway there's not this great plot of. You know what's going on it sounds on a panel like. This is final question have you taken an active interest in politics at all since you know. I know that you said that you felt military should not speak out on political issues do you still feel that I still feel that as a general rule and I there's exceptions to every rule show I'm not criticizing your lashing our for becoming president or somebody becoming a senator or representative in Congress but in general I think the top ranking military people should stay out of politics because I figure that if we in general do go into it or too many of us go into politics it or spoil effectiveness of those that are still on active duty because the military have to go up and the Congress and testify on various bills. We must be absolutely objective and a congressman to interview and question these people must have full confidence in their integrity and their objectiveness if i too many of us should get mixed up in politics I'm afraid that when someone goes up to testify in uniform that they say well I wonder what he's going to do when he gets out is he going to run for office is he trying to Feather and asked and is he being objective so I feel that we must serve our country in a military position and I say in general not get mixed up in politics afterwards for the good of those who follow in our footsteps. So looking at the armed forces now as they are do you think you would choose your career as a young man. Well let's say I don't regret in any way and never have my going into the service I had a very interesting career I was able to serve my country in a satisfying way. My whole life has been a very satisfying sure mission. When you ask me whether I would do it all over again. I'm not sure I can answer it there are a lot of advantages of being in the service. Satisfaction of sharing your country in a very in the best way you can. Helping prevent war by preparedness on the other hand life in the service is not what it was when I was coming up through the grades for example now something like a third of the officers are on foreign service all the time many have been places they cannot take their families and. The pay differential instead of being somewhat favorable I question I was second to Tenet I got pretty good pay compared to other professions but now it's much less than you can get somewhere else to take these kids coming out of school. You know much better starting salary with industry than you can get as a Second Lieutenant. And their promotion is much faster pay lash I mean. It's hard to try to convince young Trinity or to go in the service. Service. When you have struggled. Much less pay than your share of temporary and not as attractive as you must admit that. Certain satisfaction feeling it. We're going to. Be listening to an American courtroom with Patricia Marx. Join us again next week this time when this marks from the personality of another famous guest here for all the world to hear will be those human facets of celebrities which are usually known to the public. Next week as Patricia Marx brings you reckon portrait. Yeah. Yeah. This is Melbourne and speaking for Radio New York we're.