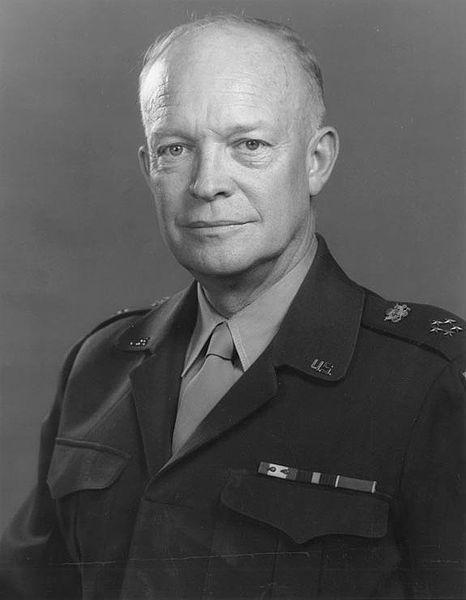 Summary
This episode is from the WNYC archives. It may contain language which is no longer politically or socially appropriate.
The General of the Armies talks to the people of the United States.
Audio courtesy of the NYC Municipal Archives WNYC Collection
WNYC archives id: 68843
Municipal archives id: LT177
Transcript
[Retrieved 02-01-2011 from http://www.eisenhowermemorial.org/pages.php?pid=232; record date changed to match this information]

Fellow Americans:

As a soldier, I have been given an Allied assignment that directly concerns the security of the free world, with special reference to the countries bordering upon the North Atlantic Ocean. I have approached the task, aiming at the good of the United States of America, conscious that a strong, solvent America is the indispensable foundation for a free world. While I have reached certain conclusions, the subject of the free world's security is so vast and complex that no man could hope to master its elements to the last critical item or, in a quarter hour, to answer all questions in his fellow-citizen's minds. Consequently, though I speak to you out of deep conviction, I do so in all humility, trusting to your sympathetic consideration.

Our hope remains the achievement of peace based on understanding and forbearance, the only sure foundation for peace.

We must never lose faith that such a peace can be ultimately established. We seek such a peace and no one can honestly interpret our current modest preparations otherwise.

But we should examine the current situation fearlessly and clearly, neither shutting our eyes to obvious danger nor permitting fear to warp our judgment. America's record and America's strength certainly should prevent hysterical apprehension of the future.

Today we are faced by an aggressive imperialism that has more than once announced its implacable hostility to free government. Therefore, we strive to erect a wall of security for the free world behind which free institutions can live. That wall must be maintained until Communistic imperialism dies of its own inherent evils.

One of the great questions before us is the will and capacity of Europe to cooperate effectively in this aim. Unless there exists in Europe a will to defend itself, no amount of outside help can possibly make it secure. A nation's defense must spring from its own soul; and the soul cannot be imported.

For years we have heard that Western Europe is plagued, confused, and divided far more seriously that we are; we have heard that in their homes, in factories, on the street, millions of honest workmen are daily subjected to Communist bullying; that their days and nights are haunted by the specter of invading hordes whom they cannot hope to equal in numbers of physical strength.

Furthermore, the discouragement, destruction and confusion visited upon the peoples of Europe by two World Wars sapped their productive capacity and, in some instances, reduced them to levels of near-starvation. More than this - their spirit was smothered in war-weariness.

That is a story often told. If it were the whole story, then all I could honestly do would be to recommend that we abandon the NATO Treaty and - by ourselves - attempt, however futilely, to build a separate fortress against threatening aggression. Two striking facts make such a recommendation, for me, impossible.

The first fact is that the utter hopelessness of the alternative requires our participation in European defense. We can all understand that America must be strong in air and sea power. These elements are vitally essential to the defense of the free world and it is through them that we protect the approaches to our homeland and the routes of commerce necessary to our existence.

But this alone is not enough. Our ships will not long sail the seas, nor our planes fly the world airways, if we stand aside in fancied security while an aggressive imperialism sweeps over areas of the earth with which our own future is inseparably linked.

Western Europe is the cradle of our civilization; from her originally we drew our strength, genius, and culture. But our concern in Europe is far more than sentimental. Our own security is directly involved. Europe is a highly developed industrial complex with the largest and most varied pool of skilled labor on earth. This huge potential would be a rich prize for a totalitarian invasion. Its direct importance to us is the stark fact that its possession by Communistic forces would give them opportunity to develop a preponderance of power. Even this disaster would not tell the whole story.

If Western Europe should be overrun by Communism, many economically dependent areas in Africa and the Middle East would be affected by the debacle. Southeastern Asia would probably soon be lost. Thus, we would be cut off from the raw materials of all these regions - materials that we need for existence. World destiny would then be dictated by imperialistic powers whose avowed purpose is the destruction of freedom.

The second fact bearing upon our participation in European defense is that the people of Europe are not spiritually bankrupt, despite the validity of many pessimistic reports. Great sections of its population have for years labored on and fought the creeping paralysis of Communism. Now, the North Atlantic Treaty has brought new fuel to the flames of hope in Europe. It has noticeably lifted morale, the fundamental element in this whole situation - the force which powers all human progress.

In every capital, there is growing a desire to cooperate in this mutual security effort. All the Governments that I have recently visited agreed that their defense programs must be stepped up despite economic and other difficulties - in spite of preoccupations that constitute abnormal drains upon particular nations. For example, France now wages a relentless and costly war against Communism in Indo China. Britain, still existing on an austerity level, shoulders heavy burdens in Malaya. However much those nations may differ from us in their diplomatic thinking with respect to Asiatic States, there is no question concerning their solidarity in opposing Communistic aggression.

They and others on the continent are taking measures to effect substantial increases in their defense establishments. Within the past few days, Britain has stepped up dramatically its rate of preparation. The new military service program in France bars all exemptions, of every kind whatsoever. The Norwegians impressed me with their unshakable determination that never again will they be victims of occupation. To them, a fighting resistance, even to their own destruction, is preferable. And in Italy, there are unmistakable signs of a stiffening courage and determination. The same is true of Belgium, Holland, Denmark, Portugal, Luxembourg, and Iceland.

In every country, I saw heartening evidence of regeneration in Europe's spirit. Its morale, its will to fight, will grow with every accretion to physical strength. The arrival in Europe of new American land and air units, though modest in protective influence by themselves will certainly produce added confidence and accelerate the production of military force throughout the member nations.

The European nations must, of course, produce and maintain the great bulk of the land forces necessary to their defense.

For this purpose the most immediate need of Europe is munitions and equipment. Every one of the continental nations I visited can rapidly and markedly increase its resistance power if it can be promptly furnished additional supplies of this kind. To fill this need, our loyal neighbor, Canada, with Britain and others, is shouldering part of the load.

In military potential, the free nations have everything they need - natural resources, industrial genius, productive capacity, and great reservoirs of leadership ability. Given the ingredient of morale - the determination to combine for mutual protection - the military strength necessary will be produced at a speedy pace. With every increase in strength, there will be an upward thrust in morale, resulting in an ever-mounting spiral of confidence and security.

With respect to time, no man can know at what hour, if ever, our defensive organization may be put to the ultimate test. Because our purpose is entirely defensive, we must be ready at the earliest possible moment. Only an aggressor could name the day and hour of attack. Our current mobilization, properly adjusted to our peaceful security needs, should be as rapid as any required by the emergency of war.

To you, the people of America, I repeat - as I have to the Congress and to the President - that I believe,

First, the preservation of free America requires our participation in the defense of Western Europe.

Second, success is attainable. Given unity in spirit and action, the job can be done.

Third, while the transfer to Europe of American military units is essential, our major and special contribution should be in the field of munitions and equipment.

By no means do I believe that we Americans can support the world militarily or economically. In our own interest, we must insist upon a working partnership with every nation making the common security its task of first priority. Every one of the member nations must realize, that the success of this combined effort to preserve the peace rests directly upon America's productive, economic, and political strength as it does on any amount of military force we can develop. Only cooperative effort by all of us can preserve for the free world a position of security, relative peace, and economic stability.

Attainment of this result is largely a matter of morale and the human spirit. The free world must now prove itself worthy of its own past.

If Frenchmen can rise to the heights their fathers achieved at Verdun in 1916; if Italians can recapture the fervor of Vittorio Veneto; if the British can relive the days of 1940 when they stood alone against Hitler; if our other Allies can react to today's threat in the mode of their own revered patriots; if we here in America can match the courage and self-sacrifice of the ragged, freezing members of Washington's Army at Valley Forge; indeed, if each of us now proves himself worthy of his countrymen fighting and dying in Korea, then success is sure - a glorious success that will bring us security, confidence, tranquility.

Each of us must do his part. We cannot delay, nationally or individually, while we suspiciously scrutinize the sacrifices made by our neighbor, and through a weaseling logic seek some way to avoid our own duties.

If we Americans seize the lead, we will preserve and be worthy of our own past. Our children will dwell in peace. They will dwell in freedom. They will read the history of this decade with tingling pride and, from their kinship with this generation; they will inherit more than can be expressed in millions, in acres, or in world acclaim.

It is not my place as a soldier to dwell upon the politics, the diplomacy, the particular treaty arrangements that must accompany and go forward with such an effort. But I do conceive it my duty to report from time to time, both to this government and to all others in the coalition, as to progress achieved. Thus our own and all other peoples may constantly review their decisions and plans - and, if necessary, revise them.

This evening, I come back to you only as one with some experience in war and peace, of some acquaintanceship with our friends of Western Europe, to bring you what is in my heart and mind. I shall go about my own task in this undertaking with the unshakable confidence that America will respond fully when the basic issues are understood. We know that 150 million united Americans constitute the greatest temporal force that has ever existed on God's earth. If we join in a common understanding of our country's role today and wholeheartedly devote ourselves to its discharge, the year 1951 may be recorded in our history in letters as bright as is written the year 1776.