Eric Garner's Family Presses for Officer's Arrest in Chokehold Case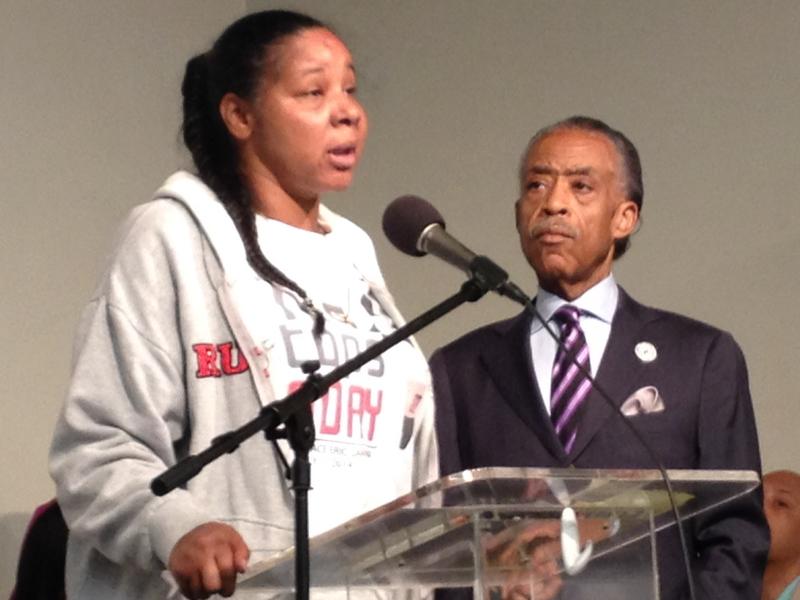 The family of Eric Garner, who died from being held in a chokehold during a police arrest, on Saturday called for prosecutors to pursue the case against the police officers involved. 
"I just want them to do the right thing and give me justice for my husband," said Garner's widow, Esaw Garner. She spoke to supporters gathered at the Harlem headquarters of Rev. Al Sharpton's National Action Network in Harlem.
Her comments came a day after the New York City medical examiner determined 43-year-old Garner died from "compression of neck" and "compression of chest" while being restrained by the police. The chokehold is banned by the New York City Police Department. 
Asthma, heart disease and obesity were contributing factors in the death of Garner, a 6-foot-3, 350-pound father of six, the medical examiner said.
The incident started when police suspected Garner was selling untaxed, loose cigarettes and moved to arrest him. Garner resisted. The videotape of his arrest showed the officer, Daniel Pantaleo, using a chokehold on Garner which sparked outrage and led to the overhaul of use-of-force training for the nation's largest police department.
Sharpton said the district attorney of Staten Island, where Garner died on July 17, should move forward on making an arrest or allow the federal law enforcement to step in.
"It was the cause of death. And that the medical examiner says therefore: homicide. That in and of itself is probable cause for an arrest," he said. Sharpton told the crowd on Saturday he doesn't dislike the NYPD but officers who break the law hurt the whole police department.
"What reinforces it is when you won't deal with the bad ones," he said.
Sharpton invited a man who had accused Pantaleo of wrong-doing two years before Garner's death to the podium. Tommy Rice said he complained to the Civilian Complaint Review Board and the NYPD that Pantaleo strip searched him and a friend in the middle of the day on a public street. He alleged the officer also made false claims about finding drugs in their car. Rice said they were paid $30,000 by the city to settle a civil lawsuit
After Garner's death, Pantaleo was stripped of his gun and badge and another officer was placed on desk duty. Pantaleo's attorney, Stuart London, declined to comment.
A spokesman for Staten Island District Attorney Daniel Donovan said Friday that prosecutors were still investigating the death. Donovan will have to determine whether to empanel a grand jury and file charges.
The president of the Patrolmen's Benevolent Association, Patrick Lynch, expressed his sympathies to Garner's family but noted Garner "was a man with serious health problems."
Federal officials are monitoring the investigation but have not begun their own inquiry, a Department of Justice spokeswoman said. 
With additional reporting from the Associated Press