SchoolBook
Garner Decision Galvanizes NYC High School Activists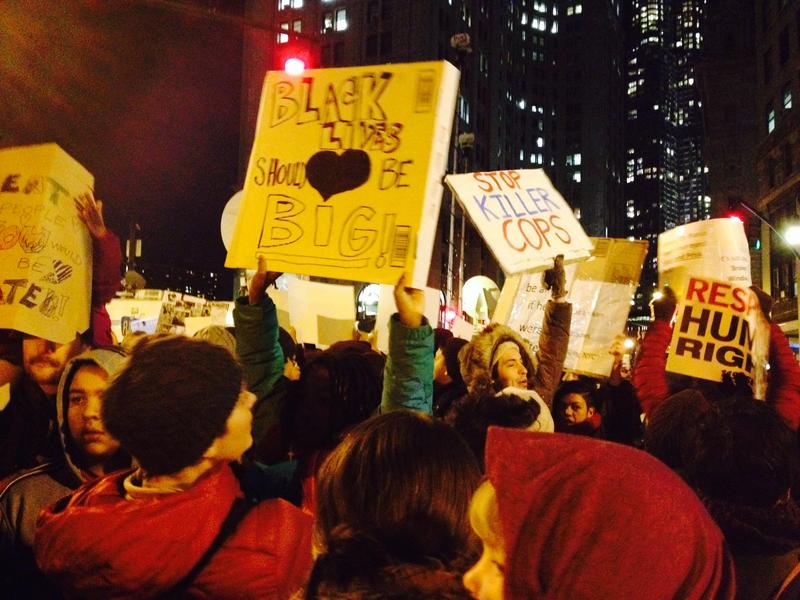 For some high school activists, the Staten Island grand jury decision in the Eric Garner case felt like a local call to action.
Christine Rodriguez, a 17-year-old senior at the Bushwick School for Social Justice, is active with the group Make the Road By Walking on school discipline and community policing. Now, she's organizing her friends to demonstrate.
"This is so important for us as youth because it can happen to any one of us," she said. "I live in Bushwick, and on every block I see police cars. I worry about my friends, my peers, my family, strangers."
She said the decision to not indict a police officer for Garner's death sent a message that police are above the law.
"It's not acceptable to have police officers being able to kill people and not being accountable for their actions," she said. "It's very scary."
Seventeen-year-old Malik James, who attends the Urban Assembly School for Law and Justice in Brooklyn, is part of a youth leadership group that looks into policy issues.
"As a young black male who's part of the demographic of those affected," he said he felt "something between anger and desperation." His coping method was research.
James has been scouring the Internet to understand the facts of the Garner case, looking for some sensible explanation for the grand jury's decision. He's hoping to figure out "what is it that I don't know, what is it that I still don't understand about the case, why he cannot get an indictment." So far, he has determined that the system offers too many protections to police officers and that prosecutors are too closely tied to the police department.
He shared his ideas with his friends, hoping to prompt them to demonstrate for change.
Mila Stieglitz and Jordan Cox, both 16-year-old students at Beacon High School in Manhattan, on Wednesday helped create a Facebook page called New York Youth for Justice, which had more than 800 "likes" at last check. The page features photographs people took of themselves with handmade signs that finish the sentence, "I Need Justice Because…."
Its founders hope to the page will help organize public action.
Sage Adams, 17, a senior at Little Red Elizabeth Irwin High School in Manhattan, described "that weird combination of social pressure and social responsibility" that comes up on Facebook, when people post exhortations to causes they believe in—or causes they think they are supposed to believe in.
People accuse others of "just posting on social media and not doing anything about it," she said.
She nominated herself as her school's representative to the New York Youth for Justice and planned to attend demonstrations.
She said she wasn't surprised at the Garner decision—and that in itself disturbed her. But her second reaction was: What are we going to do about this?