Studio 360
Funny or Die's Tiny 'Landlord': Where Is Pearl Now?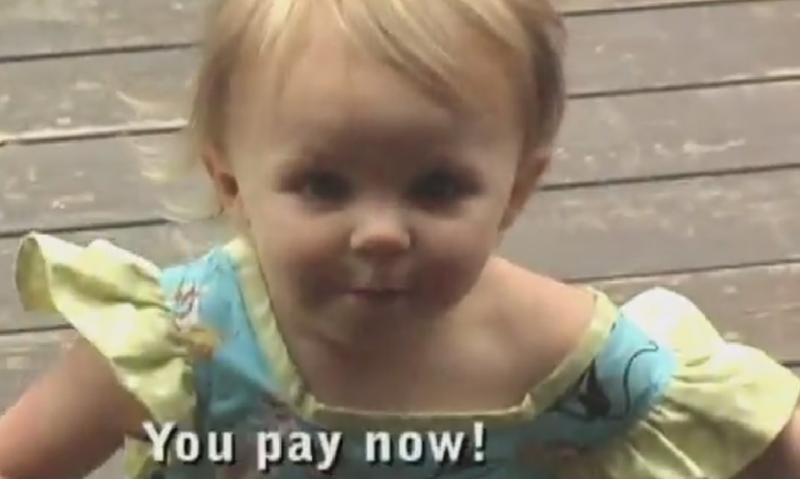 Adam McKay's new movie, "The Big Short," is all about the 2008 financial collapse. But long before he tackled sub prime mortgages, McKay made it big with a short about that nagging monthly obligation — rent. In 2007, he and his friend Will Ferrell launched the website Funny or Die with a video about a foul-mouthed landlord played by McKay's 2-year-old daughter, Pearl.
With more than 80 million views to date, it's probably fair to assume more people have seen that video than any of McKay's movies (and we're talking about the guy who made "Anchorman," "Step Brothers," and "Talladega Nights"). 
So how exactly do you make something so funny and genius that you break the internet? "We shot that in 20 minutes in Ferrell's guest house," McKay tells Kurt Andersen. Pearl, at 20 months old, was going through a phase in which she would repeat whatever was said to her. "My wife and I would have her quote Sartre," says McKay. "My wife speaks French, so we would have her say things in French. I would have her say Public Enemy lyrics." Which gave McKay an idea. "I told Will, 'let's bring Pearl over.' And we just goofed around, gave her the lines, and cut it together in a couple of days and then it just exploded."
His wife was not amused. "My wife was so mad at me. She told me beforehand, 'Don't you dare turn our daughter into a child star.' And I said, 'Honey, it's going to get like a million hits, no one cares.'" McKay was, of course, totally wrong. The video crashed their servers and made Funny or Die "at one point, the fastest growing website ever in the history of the internet," according to McKay. Pearl was offered a Jackie Chan movie, invited to be on the Ellen DeGeneres Show, and approached by People magazine to do a giant spread.  
McKay turned down all the offers. "It actually worked out perfectly because [Pearl] never really did anything else, so it's like a fun little thing that people know she's 'The Landlord.'" Pearl is now 10 years old and, according to her father, unscathed by her childhood fame. Though McKay concedes, "she does own a Corvette and date an Armenian guy who's twice her age." 
You can hear Adam McKay tell the story of "The Landlord" above and listen to Kurt's full conversation with McKay here.