The Best Lesbian Musical Ever! (And There Have Been a Lot)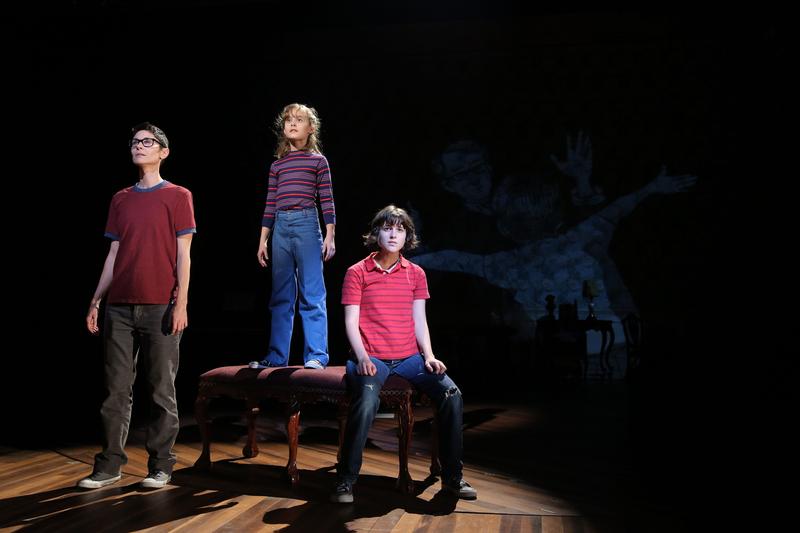 Actually, it's not a lesbian musical. It's a musical, and that's the point. While a lot of plays often close earlier than expected due to weak ticket sales, Fun Home has been extended four times at the Public Theater.
Patrick Hoffman, the theater historian New York Public Library for the Performing Arts at Lincoln Center, says Fun Home is a game-changer — the most popular musical in his memory with a lesbian protagonist. 
Based on the graphic memoir by Alison Bechdel, Fun Home is a searing story of Bechdel's closeted gay father, who committed suicide shortly after she came out as a lesbian. 
The book was adapted for the stage by Lisa Kron. Kron, who also wrote Well and 2.5 Minute Ride, got her start in lesbian stand-up and theater in the East Village in the 1980's. She sat down with WNYC's Andrea Bernstein at Dixon Place to talk about the play. Here's a transcript of their conversation, edited for length and clarity. 
AB: Why did you suggest we come here to Dixon Place?
LK: I came to New York  in 1984 with an inchoate idea of being a actor and I was sort of floating around. And my friend said, there's this company called the Split Britches company and I went and my whole world was cracked open by that experience.
The Wow Café was really my home, but Dixon Place was one of the many performance spaces that existed, and so for a long time every show that I did until very recently I began by doing a reading at Dixon Place.      
AB: It's kind of amazing to me, because I moved to New York in 1985 and I remember stumbling on the Wow Café and PS 122 and I remember going to see you perform in those days. You definitely seemed to me like you had been here forever at that point.
LK: Wow, it didn't feel like that to me. I felt like the nerdiest, squarest Midwesterner. At some point I just decided to embrace that.
AB:  I had this sense of amazement in the 1980s:  I can't believe that this world exists and that all these people are going to lesbian theater and that it's really great.
LK:  That's why E.B White said, that you come to New York — I'm just going to make something up that is not actually what E.B. White said. I've really talked myself into a corner here. The East Village when I moved here was the island of misfit toys. People came to be misfits, to find the other misfits. That was an extraordinary place to be.
For me to find this world of lesbian theater — we were completely off the map. There were people who were doing downtown performance, they were doing Showtime and HBO shows about them, and the lesbians that were doing work were off that map and to some extent still are. And the papers would come review all kinds of shows and they ignored us and that made me angry, because there was work that was made there that was astonishingly brilliant.
But it allowed us to make work for no other reason except to see what we could make. I have to say in retrospect, that was an incredible experience, to have this space and to be in this group of women
What I learned there is that theater is not made by what happens on the stage. It is made in the imaginative space between the performer and the audience. If you write a book, there's the book, if you write a movie, there's a movie, but there is no theater except as it is created in the moment between performers and an audience.
I learned to be out at WOW, and even now, I think it's hard for people who don't have this experience to understand that coming out is not something you do once — you do it every time you get into a cab, every encounter  that you have. Do I tell them I'm not married to a man? What am I going to risk in this conversation and how much energy do I have for this right now?
AB:  I think it is so hard to go back to that moment in time in the 1980s when there was this flowering of artistic expression in lesbian and women's theater, but it was so hard and transgressive and you were still up against so much. The idea you can have these sold out audiences night after night in this lesbian theater and it's almost as if they're not even thinking about that.
LK: I'm frankly astonished and I'm not even sure that even three years ago Fun Home would be having the reception that its having. I actually find it really — it's not what I expected.
The story of Fun Home is a father-daughter story, and it's a big, big father-daughter story. There's something that people say to me often when they come out of the show, and they mean it as a compliment, which is this story is so much more than a coming out story — and it's actually not a coming out story at all – but it's also bigger than a story about a lesbian.
This is exactly the size of a story about a lesbian. What is bigger than you thought it was is your conception of the world and your understanding that any human being can have the prismatic effect of reflecting back all of humanity in their specific story. And actually, the difference from the mainstream of Alison and her father Bruce, their struggles with who they were, is exactly what this story is about. That makes the size of the story.  
It is a universal story, because it is a primal parent-child story.
And I've felt this all along. I remember that feeling of listening to an audience in Boston or Seattle sit there and first hear the word "lesbian" and I could just almost hear people say, "No, oh nobody told me!"
The [Five Lesbian] Brothers have a joke that we are going to write a show called, "Big Heavy-Handed Message from Five, Heavy-Handed Lesbians Who Are Too Ugly to get Men: An Evening of Song."
AB: Wait, what you haven't done that?
LK: I don't know that you could do any better than the title.
I could feel what it is like for people to sit in the dark and be able to broaden their vision of the world and to feel their ideas of people open up.
AB: It's funny that you say that you hear people in reaction to Fun Home, say, "Oh, this isn't a lesbian play, it's a play."
LK. (Laughs) Right. That's why one hopes plays aren't conveyers of information; they're vessels in which playwrights and people who get together to make a production get together and grapple with questions, and the best plays grapple with the most unanswerable questions.
AB: You seem particularly concerned with that moment between the performance and the audience. That been a constant with you, even when we as the audience think the character is you and then you step out of that character  — which is really disorienting.
LK:  I think a lot about what it is about theater. What is it about theater that can do what nothing else can do. It is the thing that is the most fundamentally true thing about life — which is that all of us, no matter how rich, how fortunate, how clever, how well-born, every single one of us is completely innocent of the coming moment. 
That's what happens in the theater. You see a character who believes the world is going in this direction and then something else happens to them. But at the moment where life changes — at a birth, a death bed, in a crisis, a sporting event, on a roller coaster, those are the moments we feel palpably alive, and so we go to the theater to see that.
When we recorded the cast album of Fun Home the other day and Alison and her partner Holly came down  — and Alison's been to see the play many times, its been really great and she really loves it. And she said, I understand this: You're making an object that I will be able to hold in my hand, as opposed to this evanescent thing that happened, and then you wake up the next morning and you think, 'Did I happen, or did I dream it?".  There is no "there" there in theater,  it is a collective imaginative process.
AB: How does it feel for Alison to have you write the story of her life?
LK: It's been an incredible — she was the perfect person to adapt, she really turned it over to us. She had no controlling impulse at all.
She's seen it many times here, her brothers have come, her father's sister, a lot of people from Beach Creek — it's been really overwhelmingly moving to watch that family watch it.
There is an undercurrent of achy emotion that runs through that book. It gets foregrounded in the musical, because emotion pulsing out of a character is what makes people sing on stage.
For the family, the foregrounding of that emotion has given them a way to an emotionally process what happened to them that they didn't previously have, and that has been extraordinary to watch.
Alison said to me, "If I could, I'd give you my first born child," and then there was a beat,  and she said, "I did" and I said, "I know you did, you did give us your child."