The Takeaway
The Battle for Ukraine Rages on Under the 'Chocolate King'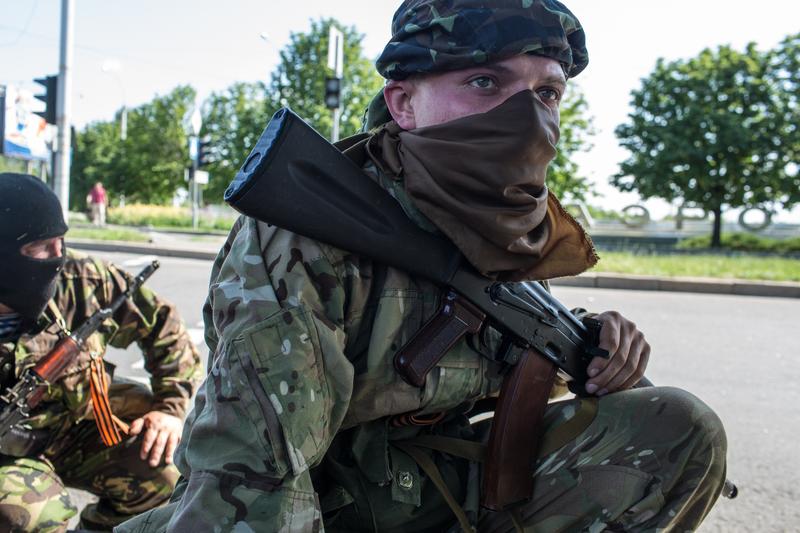 The Ukrainian interior ministry says the military is now in full control of the airport in the eastern city of Donetsk after a day of bloody clashes. At least 30 pro-Russia separatists were killed in the battle with Ukrainian troops. It all played out moments after the election of Ukraine's new president Petro Poroshenko, who promised to tackle "terrorists" in the east "within hours, not months".
What to make of the man they call the Chocolate King? He dislikes being called an oligarch but is worth an estimated 1.3 billion dollars according to Forbes and made his fortune as the owner of a chocolate factory. He also owns Ukraine's Channel 5 news, the country's main opposition TV station. We talked to reporter Sarah Topol, who covered his campaign in Kiev earlier this spring for Politico. Topol said that despite winning by a landslide, most of the east was unable to vote. There were zero polling stations open in Donetsk, which has a population of 1 million residents.
"He has to stabilize that region which is going to be a huge problem since a lot of people there didn't actually vote for him," said Topol. 
Russian president Vladimir Putin said he would honor the results of this election, but many are skeptical that Poroshenko can unite the country in stead of further a divide between Ukrainian nationalists and pro-Russian separatists. 
"That's the million dollar question," said Topol. "one of the things that is really interesting about his campaign is that it was a lot about unity. And the question is going to be whether or not he is going to put his money where his mouth is. He said that his first trip as president will be to Donetsk in the eastern region. Whether or not he is able to negotiate with the separatists who he has in the past called terrorists and compared to Somali pirates will be a really interesting question. While he said he is willing to negotiate with people in the east, he has also buffered that by saying he is not willing to negotiate with anyone who is armed and anyone who is not elected by the people. But if you look at all the forces that are destabilizing eastern Ukraine, none of them are elected and all of them are armed."
This is not the first time Poroshenko has played powerful leadership roles in Ukraine. Poroshenko has had a long career in leadership roles as a businessman and media mogul. According to Topol, after the Orange Revolution in 2005, he even made an unsuccessful bid for the Prime Minister position. However, many still question how is experience and ties in the private sector will affect his governance in Ukraine.
"He has gone on record saying he will step down from his chocolate empire, but says he will in no way walk away from Channel 5, the independent television channel that he owns," said Topol. "That has caused some anxiety in Ukraine because it is unorthodox for a president to continue to control a television channel." 
For some more insights on what's next for Ukraine, we also spoke to FRONTLINE producer James Jones, who just returned from Ukraine. He successfully got inside the guarded doors of the headquarters of both the Ukrainian nationalists and the pro-Russian separatists in the East. The footage he captured is all part of FRONTLINE's "The Battle for Ukraine," produced by our partner WGBH in Boston.