A Front Group, a Lawsuit and a Private Investigator: How Trump Rigged the System to Delay Gambling in New York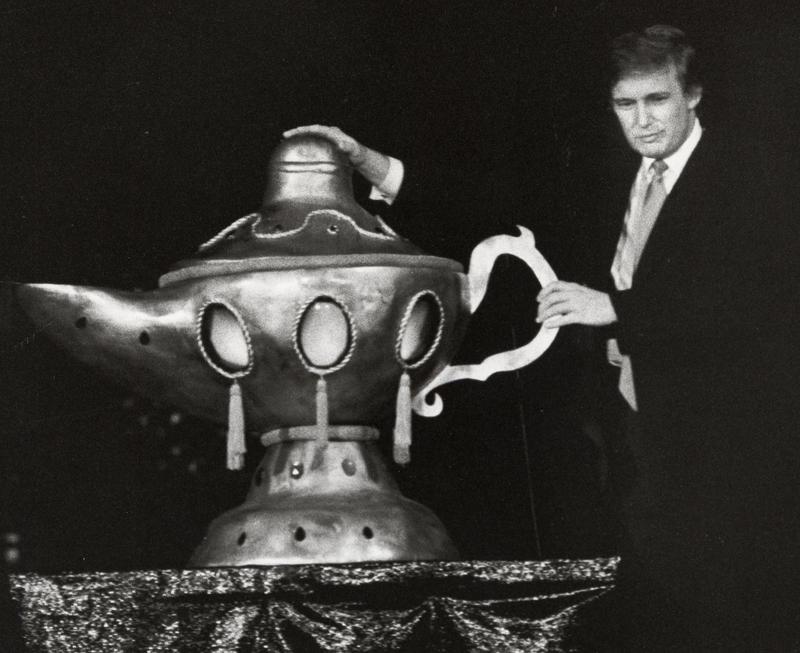 There aren't that many people who have gotten Donald Trump to say he's sorry. David Grandeau is one of them. Back in 2000, Grandeau, a Republican with a sharp eye, was the executive director of the New York State temporary commission on lobbying. 
Grandeau's days were pretty quiet.  "If I'm there for eight hours, I probably had a solid seven hours a day to do nothing. Other than look at the media," Grandeau told me when interviewed recently in his home office in Colonie, a suburb of Albany.
He started to notice ads that began appearing everywhere. Some of them attacked the governor at the time, George Pataki, for trying to bring casino gambling to Monticello, in the Catskills. Some of them attacked the the St. Regis Mohawks, a Native American tribe trying to run the casino. One showed a picture of a hypodermic needle and portrayed the tribe as drug dealers and smugglers with connections to organized crime. The ads were signed by a group in Rome, New York, which is 160 miles from Monticello.
"I didn't think any organization in Rome, New York, called the Institute for Law and Society, would have the necessary resources to run an ad in The New York Times," Grandeau said. 
The ads specifically targeted the communities that would be affected by a casino the St. Regis Mohawk tribe was proposing to build on the site of the old Kutsher's resort in Sullivan County — far from its tribal land on the Canadian border. Under a complex law, the tribe could have engaged in a land swap to run the casino. The ad campaign was aimed at convincing state lawmakers to stop that from happening.
Rowena General, the tribe's spokeswoman at the time, said the tribe was caught off guard by the breadth and vitriol of the ads. "The ads in themselves were blatantly racist in that they painted the entire St. Regis Mohawk community as being a haven or community of criminals and drug dealers," General said.
Grandeau thought the massive ad campaign might constitute illegal lobbying. So he began investigating. He called up the Institute for Law and Society and spoke to its executive director Thomas Hunter. Hunter, it quickly turned out, wasn't what he seemed. "He was a magazine subscription salesman. Well that doesn't add up. So you dig a little deeper. And lo and behold, there's Roger Stone."
It's hard to sum up everything deceptive Roger Stone has done in politics, but suffice it to say he began as a dirty trickster for President Richard Nixon.  He's got a track record of misleading reporters, and an unusual propensity to catch politicians in compromising positions, like being mysteriously caught up in the investigation that caught former Gov. Eliot Spitzer with a prostitute. Also, Stone organized the 2000 riot in Miami-Dade county that stopped the election recount; many thought it was decisive in giving George W. Bush the presidency.
Grandeau demanded phone records, bank statements and invoices, all of which he preserved and turned over to WNYC. It turned out that Stone had hired Thomas Hunter, an old friend, to set up the Institute for Law and Society. Together, they misrepresented  the group as a 12,000-member grassroots organization of conservative New Yorkers opposed to gambling.
But in fact, Stone hired the lawyer to incorporate the group. He wrote and paid for all the ads.  He wrote the robocalls, the mailgrams, even the talking points that Hunter used when speaking to reporters, like me.  It eventually came out that Hunter didn't even understand some of the words that Stone put in his mouth, like "panacea."
Grandeau summoned Stone to Albany, to be deposed under oath. He got Stone to admit that the Institute for Law and Society was a sham. "Everything they did you completely controlled?" Grandeau asked in the deposition. "Yes," Stone acknowledged. 
But everything Stone did was completely controlled by someone else.  During the deposition, Stone admitted that everything he was doing, he was doing on behalf of a man who had no objection to casino gambling. He just didn't want competition for his own casinos, in Atlantic City: Donald J. Trump. The Institute for Law and Society was a Trump front group.
"It didn't exist. The only reason it existed was so you could hide the actions of Trump?" Grandeau asked. "Yes," Stone said.
"From the public?"
"Yes."
"And you did that?"
"Yes."
"Over and  over again?"
"Yes." 
Stone said every single thing he did on behalf of Trump, Trump approved. We don't have to go by his say so, because Grandeau preserved thousands of pages of documents that Trump tried to keep hidden on a CD-Rom. When Trump entered the presidential race, Grandeau made some copies and waited for reporters to call. When we contacted him last month, he said no one else had reached out.
"We had two sets," Grandeau said recently. "And in those two sets of documents were invoices. And I can't remember specifically which media company this invoice was from. But on the document we got from Trump, the invoice had the amount, the date, everything, but no other writing on it. The invoice we got from Stone, was the identical invoice but it had a note on its side, clearly in Mr. Trump's handwriting, I've seen quite a bit of it, that bold, up-and-down stroke."
A copy of the ad with hypodermic needles, blaming the Mohawks of bringing drug dealing to the Catskills, has writing on it. It says "Roger, do it — Donald." On another, it says: "This could be good."  Trump signed off on the bills for the television and radio ads and the anti-Pataki ads. Trump spent over a million dollars on the ad campaign, which were placed by a media-buying firm controlled by Hank Sheinkopf, who usually advises Democrats in New York.
There were more pieces to the campaign, too. Stone spent tens of thousands of dollars on a private investigator to dig up dirt on the Pataki administration, which Stone shopped around to reporters. Trump signed off on that, too. 
The documents show that Trump bankrolled and controlled a lawsuit against Pataki brought by two New York state Democrats, Keith Wright and Larry Seabrook. On one of the documents, Stone explained that the two were Trump's lawyer's plaintiffs, and described the Institute for Law and Society as a "pass-thru." Trump wrote on those documents, too.
Seabrook is now in a federal penitentiary for an unrelated money laundering case, and a prison spokesman told us, "inmate Seabrook refused to be interviewed."
Wright still represents Harlem. In a telephone interview, he could barely remember the group's name on whose behalf he'd brought a lawsuit. "New York State — what did you say the name was again? I don't remember how they approached us at all," he said.
At the time, Wright was the chair of the Black and Puerto Rican caucus. The group was opposed to gambling, they were opposed to Pataki. Wright said fine, he'd put his name on the lawsuit. Later he learned it was on behalf of Trump.
"I can tell you this," Wright said. "Mr. Trump is viewed as a pariah in my community because of his treatment regarding the Central Park Five and him taking out full page ads saying they should be put to death."
In a settlement where they admitted no wrongdoing, Trump and Stone were fined a quarter of a million dollars for their fake lobbying campaign, the largest amount in New York history.  Trump signed a statement saying the groups "apologize if anyone was misled."
Reached by cell phone, Stone, who still advises Donald Trump, says he stands by everything that was said in the ads and that everything he did was perfectly legal. Trump's campaign didn't respond.
The secret lobbying campaign took place in 2000. The St. Regis Mohawks spent the next eight years trying to get their casino. And the ideas Trump introduced into the public discourse lived on. In 2008, the New York Post ran editorials rehashing some of the charges Trump himself had raised in those ads — drugs, violent crime.  The Mohawks finally gave up. 
Today, Trump no longer has a stake in whether there's gambling in New York.  Just this month, the sign on the Trump Taj Mahal was removed from the Atlantic City boardwalk, the last remnant of Donald Trump's casino businesses.
There's a coda to this story. More than a decade after this investigation, Grandeau, now a private consultant, went to work for Trump. He still has Trump's phone number. When I asked a new ethics commission controlled by Gov. Andrew Cuomo for the documents related to the case, I was told they couldn't find them. But Grandeau held on to the records and waited for a reporter to call.
"Why? Because  I'm an egomaniac. I'm a press hound. I love people writing about these things," Grandeau said. "Now I didn't reach out to you now and I didn't peddle the fact that I had those that CD-ROM to anybody. But I was waiting and hoping and wasn't going to to say, 'I'm not going to talk about it.'"