SchoolBook
Friendly Jousting Over Bloomberg's Legacy on Testing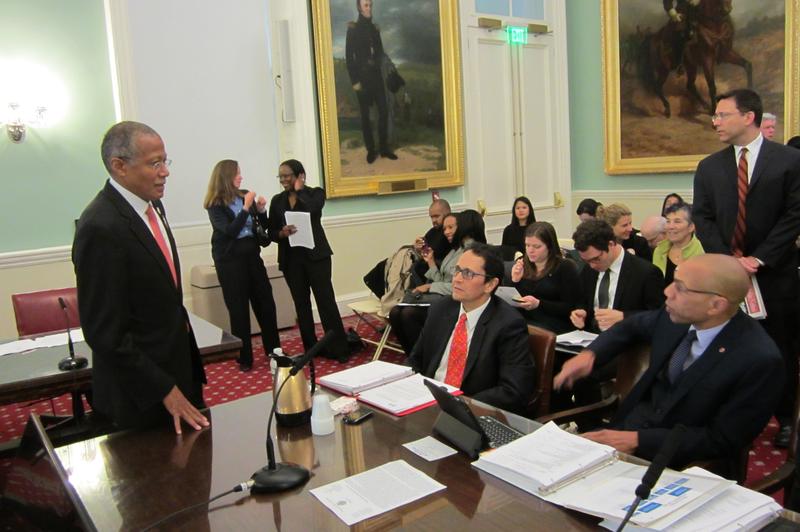 With just over a month to go before Mayor Michael Bloomberg's departure, members of the City Council's Education Committee held what is likely to be their last public hearing debating a major legacy of the Bloomberg era: the reliance on high-stakes standardized tests.

But the hearing felt more like a low-stakes exam of little consequence, in which the examiners (council members) and the test subject (Chancellor Dennis Walcott) were all relaxed and in good humor because they know they'll be graduating soon.

When repeatedly asked about whether the tests were worth the anxiety they caused both students and teachers, Walcott calmly stated that he and the council members had a "philosophical disagreement" about the role of standardized tests. He defended test anxiety as nothing new, recalling the pressure he felt in third grade about whether he would be promoted to fourth grade.

"A lot of new has taken place this year and we respect what people are saying," he said, referring to this year's implementation of the state's Common Core learning standards. But he said students need more skills now to succeed in college and careers.

Fewer than 30 percent of New York City elementary and middle school students were deemed proficient on this year's math and reading tests, the first batch aligned to the new Common Core standards. Walcott predicted students will do better as they and their teachers get used to the new approach, and to tests that are less reliant on multiple choice questions.

Michelle Kupper, a member of the Community Education Council for Brooklyn's District 15, came to speak against testing Monday. She supports a non-binding City Council resolution that would call on the state and city to use multiple measures to evaluate students and teachers instead of high-stakes tests.

"Giving these kids tests over and over again is like taking their temperature and being surprised, 'oh you still have a fever,' but without giving them any real medicine to get better," said Kupper.

In addition to the two annual state exams in math and reading for students in grades 3-8, the D.O.E. acknowledged schools are typically giving another two or three assessments over the course of the year to determine whether their students are making progress.
Walcott, who leaves office on Dec. 31, told reporters that he and his staff have prepared a thick briefing book for the new mayor's team, which he compared to the size of the high school directory. He said his administration is talking with mayor elect Bill de Blasio's transition team.
 
"Because if something should happen like a snowstorm, we want to make sure that the operation side is covered and definitely from an education side with the teaching and learning that is taking place in classrooms we have that responsibility as well," he said.

De Blasio has signaled he will rely less on standardized tests for measuring schools, and potentially roll back some of Bloomberg's school reforms.