The Frequent Flyers of Rikers Island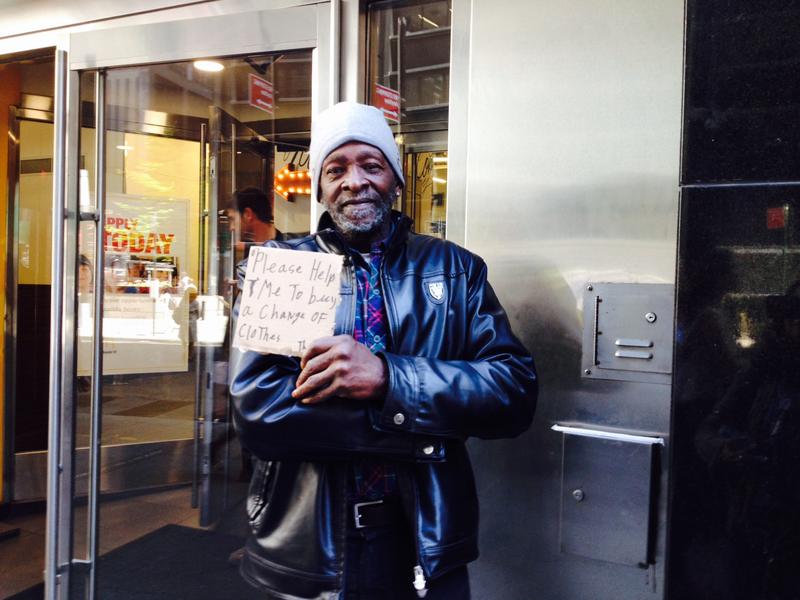 The sidewalks near Wall Street are prime real estate for panhandlers like 65-year-old Irrae Davis. There are plenty of tourists, office workers and well-heeled banker types who could potentially help a down-on-his-luck man asking for a few bucks. 
"I have a sign here and I let them know this is what I need," Davis said one morning earlier this year. "I need a change of clothes, you know."
Davis is well-liked in the area. The guys who clean the streets brought him white sneakers that someone tossed in a garbage can. Someone else left him a bag of purple grapes. He said he's never pushy about asking for help, but the police keep saying he is.  
"It isn't right for them to lock me up for nothing, " Davis said.  "I'm not asking nobody for nothing. If they give, they give from their heart."
Davis said he sleeps inside a tunnel near the ferry in Staten Island. During the day, he panhandles. 
"I do it because I be needing help," he said. 
Since 2010 this senior citizen has racked up 56 convictions, was in jail 28 times and spent 446 days behind bars. Davis was arrested five times in three months last year, at the McDonald's on Broadway. Twice police alleged he had a crack pipe on him, but most of the charges were for what's called aggressive begging.  
The city has studied 800 people like Davis who go in and out of jail so often it's become a routine part of life. Together, they were admitted to Rikers more than 18,000 times in the last six years and spent more than half-a-million days behind bars, according to an analysis by the city's Bureau of Correctional Health published in the American Journal of Public Health. Within law enforcement, it is said these chronic recidivists are serving life sentences 15 days at a time.  
The group is older and sicker than the general jail population, and roughly 95 percent of the top charges against them were for non-violent offenses. They are a vulnerable population within a jail system where inmates prey on the weak.  
The study found the following characteristics: 
97 percent abuse drugs or alcohol
72 percent are African-American
19 percent had a serious mental illness
52 percent are believed to be homeless
54 percent were charged with petit larceny and/or criminal possession of a controlled substance
Rikers is the end result of a cycle that begins when a police officer makes an arrest, a prosecutor moves forward with charges and a judge sets bail or sentences someone. Nowhere in that process do they address underlying issues like drug addiction and homelessness that plague chronic recidivists. Davis had just left Rikers a few days ago. He couldn't afford the $1000 bail, so he pleaded guilty to get out of jail.
"I stayed in there six days until I went back to court," Davis explained. "When I went back to court the judge gave me time served because he know it was nothing."
But the conviction adds to his lengthy criminal record and increases the chances of harsher treatment down the line. Public defenders call this the criminal justice vortex, and it's difficult to escape. Irwin Shaw, attorney-in-charge of Legal Aid's Manhattan office, said low-level offenses such as panhandling or being in a park after hours should be handled administratively, like a parking ticket would be. 
"Why should that be brought into the criminal justice system?" said Shaw. "Number one, it takes up the time of an assistant district attorney, it takes up the time of a judge, it takes up the time of the defense."
It is an expensive process. Serious recidivists need more medical care than the average inmate. They're also more likely to be sick with withdrawal symptoms. But what costs the most is admitting them to Rikers Island, a jail system struggling to institute reforms.  
Deputy Warden Joseph Vasaturo described the lengthy process while walking through the rundown corridors of the Robert N. Davoren Center, one of several jails on Rikers Island. On a recent fall day, 732 inmates were incarcerated there. 
"It's just amazing how some of these men just keep coming back," said Vasaturo, an amiable 27-year veteran of the Department of Correction. "It's almost like seeing a distant relative you might see at a funeral."
Once an inmate arrives, there are body searches and body scans even of a person's mouth, to ensure no weapons are being smuggled in. New arrivals get uniforms and shoes. There are background checks to determine the level of threat an inmate may pose. Once that's complete, the inmates enter a medical clinic where they wait inside a holding pen to get full physicals. 
"They take blood, they take urine....they check to make sure the person doesn't have tuberculosis," Vasaturo explained. "They will also give the person the opportunity to be tested for HIV, but that's optional."
On top of full physicals, new inmates also see a dentist and psychiatrist if they meet certain criteria. The entire workup gets repeated each time they enter Rikers, even if they were only out of jail a day. 
"There's a chance that the person might have picked something up," Vasaturo said. "We don't want that spreading into the rest of the population." 
The group of 800 inmates the city analyzed cost $129 million over six years — three times as much as the more typical inmates.
Hear Campbell and five others discuss alternative-to-incarceration programs and their struggle to stay out of jail and prison by clicking on the audio above. 
Across the country, law enforcement has begun to question whether incarcerating chronic recidivists is smart policing. In Seattle, instead of booking people for low-level drug and prostitution crimes, police are connecting them to case managers who help them get social services. And just last month, police chiefs and prosecutors from Chicago, Houston and Los Angeles called for fewer arrests and more treatment for petty criminals. Manhattan DA Cyrus Vance is part of this national movement. 
"As a general matter, I think you've got a number of people who come into the criminal justice system on low-level offenses, non-violent, and I think we ought to be looking for options to prosecution," Vance said. 
For now, he's focused on young defendants.  A pilot program in East Harlem gives 16 and 17-year-olds arrested for non-violent misdemeanors the option to do community service instead of being prosecuted. Two dozen teens completed the program as of September 1st. Vance said it is a way to stop the cycle of recidivism before it begins.
"Certainly when it comes to kids...with little involvement in the criminal justice system at that point in their lives, we ought to be trying to give them the benefit of the doubt," he said. 
But on the streets, Manhattan has a reputation for being the worst place to be arrested, because prosecutors rarely back down. Vance's office prosecutes 96 percent of misdemeanor cases brought to them by police, according to a 2014 study by the Vera Institute of Justice. Researchers found 23 percent of those cases ultimately get dismissed. They recommended prosecutors to do a better job of weeding out weak cases early on so people don't get held on bail unnecessarily. Vance's office said some of those cases were dismissed not because they were weak, but because defendants were given a break. A spokeswoman added that it's a challenge to screen cases thoroughly when defendants must be arraigned within a 24-hour period. 
In addition to young defendants, Vance's office is supporting the de Blasio administration's effort to divert the mentally ill from Rikers Island. He recently committed $40 million dollars to help create two drop-off centers — places where officers can take disturbed people instead of booking them for a minor offense. But not if they have drugs on them, and that's one of the most common reasons why recidivists get arrested. 
Nearly all the 800 frequent flyers in the city's study have substance-abuse issues — 85 percent use crack or cocaine. Many are homeless and have been struggling for decades. Denise Clement's 53 year-old brother Frederick has accumulated 55 convictions since 2010. 
"I mean, I love my brother," Denise Clements said, seated inside her modest public housing apartment in Harlem. "If he comes here and he's been in the street, I let him take a shower. If he's out there a couple of days, I'll tell him to lay down and rest."   
In July, Frederick got 21 days for stealing two fans from CVS. He's done dozens of short stints at Rikers and has spent nearly two of the last five years in jail. Denise said her brother is not a criminal, he's a drug addict, and jail is not solving his problem.
"It seems like he gets out of jail. He goes back to his wife. His wife kicks him out. Then he's back in the street again. Then he's back on drugs again. Then he's back in jail," Clements said, her voice tinged with frustration.   
The city acknowledges that for many, jail is no longer a deterrent or a rehabilitation. Trish Marsik heads the Mayor's Task Force on Behavioral Health, charged with looking for ways to divert people from Rikers Island. Marsik said that like many problems in 21st century New York, this one comes down to housing. 
"Because there are many, many things you can get arrested for doing outside that you and I do all the time under our roof and within our four walls, even if it is just going to the bathroom," Marsik explained. 
The city is using a database to identify people who go in and out of jail or use the shelter frequently. Then they'll offer them housing. The city has set aside 237 apartments with onsite social services. Half are expected to be filled before the end of the year.
The hope is that having a place to live will change the behavior of people like Irrae Davis more than jail has been able to.