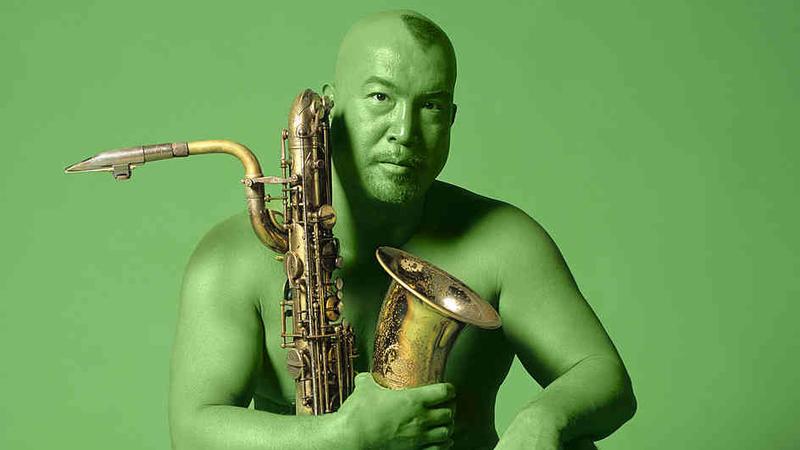 Fred Ho, the baritone sax player, composer, and bandleader, died this weekend in Brooklyn, N.Y. He was 56. And that tells you nothing you need to know about Fred Ho.
Ho was one of the most colorful characters I've come across. Some of that was the clothes. I've never believed that "clothes make the man," but in this case, the man made the clothes and they reflected who he was. Brilliantly colored and clearly referencing his own Asian roots, Fred's shirts and jackets were as much a statement of who he was and what he stood for as his music.
But it was more than that: Fred Ho was a powerfully built man with a shaved head and a ready smile. I'd occasionally see him bicycling around Brooklyn -- because he refused to buy a car -- and if he saw me he'd stop and we'd catch up. The last time was probably around five years ago, when he was already two years into his war on cancer, as he insisted on calling it. It was a war he could not win, but that didn't stop him from fighting it, loudly and publicly.
It also didn't stop him from continuing his life's work of writing and producing ambitious, multi-media stage works that used music, martial arts, dance, and visual art. These pieces had titles like Deadly She-Wolf Assassin At Armageddon!, or Once Upon A Time In Chinese America, or his opera Warrior Sisters: The New Adventures of African and Asian Womyn Warriors. They dealt with political activism and radical feminism; they raised a caution flag about our rush to embrace technology without stopping to consider its possible side-effects; and they were full of bracing tunes, played by musicians who were committed to Ho and his music.
I first knew him as Fred Houn (his birth name was Fred Wei-Han Houn), when he released an LP in the mid-1980's called Song For Manong. It caught my ear because it included a southern Philippine kulintang ensemble (a metal "gong-chime" style related to Indonesian gamelan music). Over the next ten years, Fred's music would refer ever more clearly to East Asian music and culture, and he named his own band The Afro-Asian Ensemble. There was a strong influence from Charles Mingus, both in the size and sound of the group and in its often political stance.
The New York Times obituary mentions Ho's stint in the Marines, "where he learned hand-to-hand combat." The truth seems to have been somewhat darker. While he wouldn't go into it on the air, about 20 years ago Fred told me, off-mic, about being in a "special division," where he was taught numerous ways to kill a man with his bare hands. He said this without a trace of pride -- it was in fact something he'd rebelled against, and seemed to continue to rebel against.
Like many dangerous men, Fred carried himself with an easy grace. And make no mistake -- Fred Ho was a dangerous man. His ideas were dangerous to the political establishment, the corporate establishment, to long-held beliefs about patriarchy and women's rights. And of course there was the danger that besets any musician who attempts to combine the political and the musical: the risk that the latter overwhelms the former, turning songs into screed. Ho was aware of this threat, and his solution was to put on a show. Whether live onstage at BAM or on CD, a Fred Ho composition was full of life and movement and joy.
To hear the man himself, listen to this 1997 edition of my other program, New Sounds.
The Eco-Music Big Band, a group dedicated to continuing the legacy of Fred Ho, will be performing some of his music, including his final big band work, on April 23 at Red Rooster in Harlem.