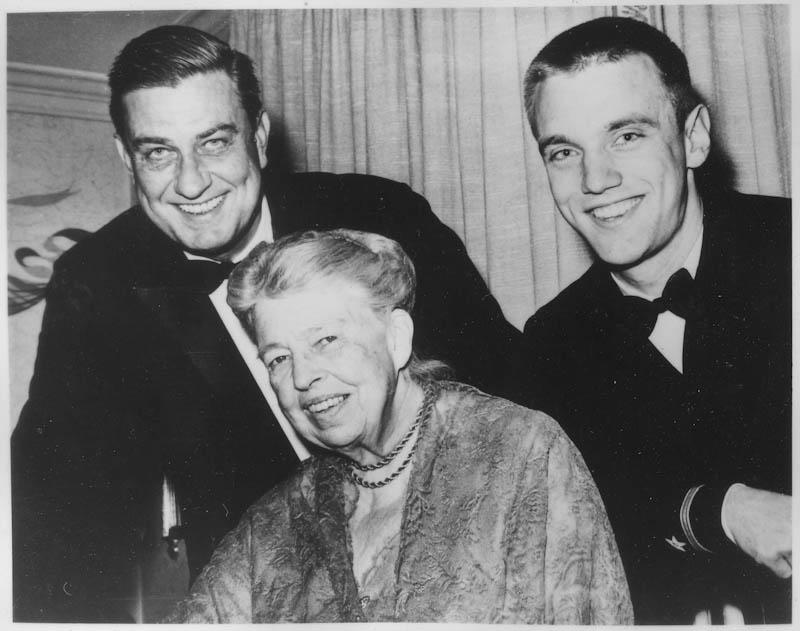 Summary
This episode is from the WNYC archives. It may contain language which is no longer politically or socially appropriate.
Gabe Pressman hosts. FDR, Jr., answers questions about his bid for Governor of New York.
Panelists: Ursula Mahoney of Hunter College, Fred Goldsweig of the Heights Campus of NYU, and Bob Krauss and Martin Birmingham of Washington Square College.
Questions:
He's unsure of whether or not he will win the nomination. Important issues for the campaign and upcoming term. Unemployment, taxes. Farm aid. Governor Dewey has not been working in the interest of New York City. Importance of having a democratic governor. Psychological guidance in schools to spot problem children. Critique of Governor Dewey. Program for state highways. Bring in more industry. Cheap power. Minimum wage law.
Audio courtesy of the NYC Municipal Archives WNYC Collection
WNYC archives id: 71922
Municipal archives id: LT2997
Transcript
This is a machine-generated transcript. Text is unformatted and may contain errors.
Congressman Roosevelt do you think you're going to win the Democratic nomination for governor what do you think the chief issue will be in the November campaign do you think Governor do we will run again or are you positive that Mayor Wagner won't run if he's drafted for the answer to these and other questions listen now to the W N Y C campus press conference a transcribed program in which college editors interview persons in the new and here now to introduce his panel of college editors is Gabriel Pressman staff writer for The World Telegram and Sun Good afternoon and welcome to another edition of campus press conference our guest today is Representative Franklin Delano Roosevelt Jr candidate for the Democratic nomination for governor of New York here to one of you Congressman Roosevelt are four editors and representatives of college newspapers are still Mahoney of Harvard College Fred gold Why give the heights campus of New York University Bob Cross and Martin Birmingham and Washington Square College and now the first question from Fred gold was Congressman do you feel assured that the Democratic nomination for governor will be yours this November when Mr gone so I guess the answer to that is no. Business of politics as and then the other business you're never sure of anything until until the eggs of hives to the chickens but one of the major opponents for the nomination would be the Mayor Wagner and he's in so to speak out that out. What Mayor Wagner has said repeatedly and as I answered the question from the press a couple of days ago he has told me personally that he is not a candidate on there any circumstances because he feels he has a. Large obligation to the people of the city of New York who elected him only. Nine months ago he has an obligation to carry out his program for the city of New York well this leaves then only one of the first of well known Democrats for the nomination that would be Mr Harriman and this to Herman has been the unfortunate circumstance of being a perennial candidate for nomination well that's your statement not mine Mr Hyman is has a long record of I've standing public service. Under the administrations and through the appointments to public office by both my father President Roosevelt and also President Harry Truman his availability for other elective office is an entirely different question. And I'm not going to comment on that that the crowd of Congressman Roosevelt What would you think will be the chief issues in the coming election. Well of course this nine hundred fifty four election is both an election for a new Congress and also here in New York State as in many other states it's an election of new state governments therefore I think that the issues are going to be both national and. State issues in the area of national issues that oddly the record of the Republican eighty third Congress the confusion in Washington under the present Republican administration they failed to carry on. Till an act programs requested by President Eisenhower I'm going to be important issues the tax based tax relief of the coupon clippers and the failure to give tax relief to the lower income groups. A business which primarily as is helping big business is not worrying about the unemployment is not worrying about little business and administration which is passed a very controversial farm bill these and many of the national issues as well as other national issues are going to be of importance on the state level I would say that in a nutshell Perhaps the campaign might be summarized by saying that the Republican administration Governor doughy has paid no attention to milk bread and butter and by that I mean that under this administration of the dairy farmers of our state are slowly going broke that's part led government to do is responsibility and as well as the failure of the Republican Congress in the wash. And to enact legislation to help the dairy farmers while it was an acting legislation to very emphatically help they will growers for example will growers get one hundred ten percent of Paoli their dairy farmers only seventy five percent the other point is that under the doing administration no attention is being paid to the fact that while farmers are going broke consumers are paying higher prices today and only a week ago in Washington the consumer price index went up once again there are many other state issues such as the condition of our state highways as distinguished cost from the thruway project the whole development of cheap power from the last flight of industry from our state with the loss of jobs thereby the whole problem of juvenile delinquency rehabilitation the physically disabled the problems involved in mental care mental health. These are some of the issues the problems involved in adequate schools which is particularly a problem here in New York City the and I might say mentioning New York City the question of the relationship between New York City in New York State but Mr Kraus That's the question I was going to ask was on the relationship between the municipal government in New York City and the Albany administration do you think that government really has been treating New York City fairly No I would say the government has done everything he can to make the relationship between the New York City government and New York state government a political football and I think that a good example of that is Governor do is very arrogant treatment mayor Wagner's request some ten days ago renewed request to appoint a commission of five nominees of the governor. And five nominees of the mayor of eminent citizens of our city and state to examine this whole question of the relationship between the city and the state government government always very arbitrary and arrogant way of turning down a request by the mayor of which made sense to a great many people Mr Rose when he turned that down didn't say that two of the thirty's would be nothing on a very family. You can say that study is being conducted because studies are always being conducted but in this case and government doing referred to studies by his own budget director and his own state can Republican state comptroller I don't think that New York City after twelve years of Mr DEWEY making political and making a political football out of this relationship can be expected now to expect. The appointees and the Republican associates of government do it to do anything but go along with government do is approach Well don't you think if we had a Democrat nominee then this friction between city and state would be yes I certainly do I think that if we have a democratic government. Determined to arrive at an equitable solution to this problem and remember this is not only the problem of New York City this is the problem of Buffalo Albany Schenectady Syracuse Rochester Utica Binghamton Poughkeepsie and other cities in our state that I think that if we have a Democratic governor who is determined to arrive at an equitable and a sound solution who is not going to try and make political capital or make a political football out of this then I think that you will find that we will arrive at us an adequate and a satisfactory solution that everyone concerned very quickly then you are for giving more money to New York City that is not necessarily the case for example the whole question of the city is right to impose its own system of taxes you see Governor do it under the present shot a has the of the state legislature and therefore governor do we who owns the Republican state legislature. The city must apply to the legislature for permission to impose taxes on the whole tax structure of the city perhaps on. To be reviewed I want example the people in a referendum some two years ago authorized the city of New York to impose as I remembered about one hundred million dollars worth of real estate taxes the governor has only allowed the city to impose fifty million dollars worth of real estate taxes only recently when the mayor brought up Mayor Wagner brought up the question of broadening the sales tax one of the lead cities leading real estate leaders. Proposed that it would be sounder for the city economically to broaden the real estate tax and to broaden the sales tax and so this whole question of taxes is one good example of where a governor to do it has maintained a stranglehold over the city and the city is not allowed to make its own decisions and you know in an area affecting eight million people those last two questions were from Ursula Mahoney and Martin BERMAN Now Fred go to a congressman you laid the responsibility for juvenile delinquency to the Republican administration however can the Republicans and the nonaligned write them that you know what I would they want to be issue yes I said it's an issue I don't like the responsibility because this is not a question of Lang the responsibility when I do feel is very strongly that while juvenile delinquency has been increasing the. Police the state administration of government do it has been shortsighted and has not taken a dynamic interest in attacking this problem but could you argue that occurred in the Republicans argue rather that the Democratic administrations in New York had been taking a short sighted view of this problem within their the limits of the revenues of the city of New York which as I said before largely in the hands and determined by the Republican state did ministration the legislature within the limits. Of its income a bit revenue the city has been doing all of it can but this is large of them just New York City for example in one of the upstate communities not so long ago I read in the papers that a judge said in almost plaintively what am I to do with this young juvenile delinquent and this was in a small town upstate he said there is no place for me to send you. By that he meant that just sending him to jail is not going to cure him he said there is what he meant was there is no corrective institution no Institution where he's going to get psychiatric guidance no Institution where he's going to the be the problems within that boy are going to be corrected and that govern to do in the Republican administration has not taken a leadership in that in a sound and I don't say that this need to be an expensive. Proposition I think that we need for example provide more psychiatric. Assistance in our schools at the educational level one good psychometrist can cover a good many of our schools here in New York City and a good many of our schools throughout the state and many of our teachers should get more training in psychiatry and that whole area so that they could spot problem children and they could take them to the proper. Place on the proper individual so that they could get psychiatric gotten some psychiatric care before they become delinquents before their problem is in is so bad that they end up in a in a mental institution this is the kind of thing which I think you spend perhaps a dollar today but it's going to save you four or five dollars tomorrow and you're going to save a can a human being for a constructive role in the community instead of letting him slide into. A criminal. Are you becoming a charge on society where you are greater than with the preservation of it that more policemen are needed rather than psychiatric psychiatric facilities I think that undoubtedly we do need a larger police force in New York City but I am not one of those who say simply that the solution to this problem is the bigger and better use of my state I think with some kids perhaps a little a little pintle spanking at an early age is a good thing but I don't think that that is a solution or an end result in its final solution in itself and I think that would be the wrong final approach to the problem a question from a small horny Mr Rose as an invalid candidate who nomination what do you think you can do for the state of the governor doing hasn't. Well I would say that there are many things that government do we had not done which can be done for example in the few want me to go through the whole list the categories I will for example I think that the Democratic Party and if I am its candidate and if I am elected one of the first things I would try to do is to restore morale up to a an ethics and honesty and decency to the state government I think that the disclosures of the even the whitewash disclosures of them all and that commission in which we saw a great many top Republicans very close to Governor doughy have made literally millions of dollars out of the race tracks they trotting tracks. Was a disgrace to the state and nobody can tell me and I don't think they can tell the people of our state the governor do we didn't know what was going on he must have known what was going on so I would say that just in quickly passing over a very important issue I would say that one of the first things the most important things is to restore a sense of morality decency of honesty in government which has not been the case in the under the in the twelve years on the government do it with the kind of new deal for the state this is there is nothing new in decency and honesty in government this is a fundamental American principle and and I think it's high time we got back to it here in the state of New York I think that another issue for example is to develop an up an adequate program for of the state highways and this of course is different from the thruway the state highways throughout our state I just give you a couple of interesting figures if you won't get bored in one thousand nine hundred eighty nine Mr Talent made the Commissioner of Public Works reported to Governor Dewey in the state legislature that we had out of some sixteen thousand state road miles there were about five thousand dangerous on the lap of dated road miles in the state. By nine hundred fifty three and after spending four hundred eighty million dollars That's almost a half a billion dollars instead of five thousand dangerous road miles it is now over eight thousand dangerous road miles so we spent almost a half a billion dollars And we have three thousand danger more dangerous road miles now than we had in one nine hundred forty nine are you saying it's money with misspent No I'm saying that it was the failure to recognize the condition of our roads earlier and governor of those administration he did not start a construction program a capital construction program until nine hundred forty nine although he was elected office in one hundred forty two now I agree could not start until one thousand nine hundred five because of the war but from forty five to forty nine he wasted four years and our road system lost eight road system went very rapidly downhill and that is something that I think the new Democratic administration will have to face up to and will have to do something about the