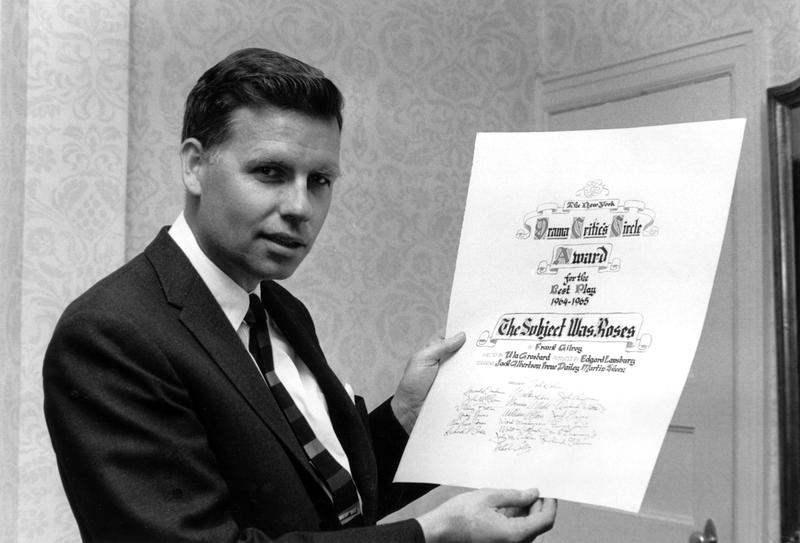 Summary
This episode is from the WNYC archives. It may contain language which is no longer politically or socially appropriate.
Frank D. Gilroy, playwright of "The Subject Was Roses," and author of "About Those Roses or How 'Not' To Do a Play and Succeed," a daily diary of the plays production. Gilroy speaks briefly about the importance of Broadway to New York. He mentions that eight major theaters are currently empty and that his play is one of only two dramas currently on Broadway.
Ulu Grosbard, the play's director, also speaks. He discusses the roles of the playwright, director, actors and the play itself.
Jack Albertson, one of the three actors from the play discusses how he almost passed up the role, but that Frank Gilroy insisted that he fill the role of John Cleary.
Question and answer section regarding specifics of the play. Also, Gilroy answers questions about the difficulties of getting a play to Broadway and the writing process.
Audio courtesy of the NYC Municipal Archives WNYC Collection
WNYC archives id: 70549
Municipal archives id: T629
Transcript
This is a machine-generated transcript. Text is unformatted and may contain errors.
My very great pleasure to introduce Frank Gilroy they say it's a cliche that every newspaper man wants to write The Great American Novel. Certainly every newspaper man wants to write a book and our members do produce one book a week on a year round basis. And I'm sure that to some of us. In our highest ambitions would like to do a play a Broadway play and the book has now been written. Telling us how not to do a play and succeed. About those roses which will be published tomorrow it tells the fantastic story of how one of the very great serious plays of this decade had to struggle like a as Frank Gilroy himself said Rose is it's like a diamond lying in plain view on the street no one picks it up because he just films that if it were it were real value someone would have grabbed it and for an extraordinary and unique insight into the difficulties facing the serious drama test on Broadway and for a discussion of a book which is a major contribution to the whole literature of the theater it's my pleasure to introduce Frank Young. I'm not exactly sure what is all going to happen after his ex-wife make plans on the same I'm nothing but generalizing my wife is here today to find him and she might allow me just one generalization coming out of the hotel it's money and I. Look on the board behind the ticket brokers I do that to see how we're exactly where we're positioned and I notice that there were about. I'd say at least eight major theaters on Broadway that are empty right now and quite a few of them I think have been empty for most of the season and that in conjunction with the fact that was out last night with Party backers fine actors most of them going to want. And the thought occurred to me. That New York City. Derives a large part of his identity. From the theater. If you really think about it that New York didn't have the ear YOU EVEN lot of people who don't go would would miss it and a lot of restaurant owners were in hotel owners and. Many people who were you know everybody on the pier appears. And no one pays any heed. To something that every farmer and I was an adult is that if you don't put something back in the bunch we are not going to have anything. And I want to with the. The whole history of dramatic literature to choose from. And with all the wonderful acting in the rhetorical town that is available in New York. And with eight. Great barriers all I'm saying. What. What's happening why can't. I can always elements be combined. Why don't we have any plays it's a little embarrassing to me. That our players one of the two drummers now exist on Broadway that exerts was curious sort of pressure it throws a spotlight on us which. Is nice. But we didn't demand the entire spotlight we don't want we were there were twenty plays twenty straight plays are going on. Where you were the game we only know what we learn from our own experience. But. I wonder about these things and. Wonder what New York would be like if this present trend continues I don't know where to land. And I want to how many people don't realize that they derive a benefit in the theater one might find one day that they don't we have nowhere to turn now to get back that's at all of the general was a. Egnor. Whose Name another be announced correctly. And Jack. Are part of. Our company and we meet quite regularly I think it's quite unique the that we've been running almost the year was the word to see each other I think that's rather unprecedented. The overall experience has just been. Just been fine. I soon or something about roses and one of you just look at the downturn squad we are not we are not a bonanza by any means but. The show that we end up in the black but Tenach of the years. When the grosses and everything else along the overall experience will be something that I'm about right it's really a lot of very bad. I don't know what's going to follow here. And over all available the questions I don't know what's going to happen when it's nice to be here and I thank you. I wish that we could have some questions from this to Gilroy Association would you like to say something Mr Lansberry. Come up. Well. I'm not very I'm not prepared to say very much except that I'm delighted to be here today and your friend don't want to write here but with the MCGURN. Started on him he quoted from. Journals to the effect that. Several so many months ago perhaps years ago Frank had written something with roses and the play was sitting there and he puts it like a diamond lying in the street. And everybody thinks is a fake and pass it along and leave it lying there I was fortunate enough to come along and take a second look at it and pick it up and that's why I'm here today so I have a great deal but he's not built for. Me my highs are always in the gutter. But only right just the whole experience has meant a great deal a friend has meant a great deal to me also. And. Thank you Lou has something to fight. Over here on the road from that is our mouth right yes at the forget the director of the fly and you know I was just telling him I think directors are just as important as writing. The of. Justice is a short take it back Frank and now we want to hear how it feels to be a director of a show that was slated. For disaster and has turned out into a great success Mr Le Gros was far. I'm not sure I've I'll be able to do what you want me to do which is to have to tell how I feel about it. I don't know that the play was slated for disaster. But anyway I think. I think if I start speaking about my feelings about it I mean I think we'll end up with hides and flowers I think Jack should come up out of bed but in any event I think it has been true and I think it is exceptional I think the experience has been exceptional and I think it's an exceptional one even with the little experience I've had in the theatre I think I think we're all aware in a curious way while we're doing it and while we're doing what we were doing according to our own lights we had a curious sense of we know enough about what goes on in the professional theatre with you know around it it's not in it long enough to have a sense it was not the usual situation either including from the start on really right through the production and I think if you read Frank's diary I think it's it's I think it comes across very clearly that. It came about in a very in a way in which professionals you know and we had some professional friends of course in the theater told us that what we accomplished were trying to do was was something pretty amateurish since we were trying to bring in a play for very little in at the at the at the wrong time with the wrong people all of us you know having very little experience from the you know in terms of a track you know track record and I think we did it we we did it we didn't. We play the game according to our own rules and we had a set satisfaction at least of you know gaining some recognition and I think what more can one ask for so I was a very satisfying experience for me and I'm sure the probably here to thank you. For your weight. I think as far as I think as far as I think there's one thing I want to I'll give I'll do it generalizations I've been thinking about this in the past few days I think it applies particularly in this in this and in this instance I think the when you have I think a common at a prize I think as a theatre is I think although I do disagree with you I think the playwright is the anchor of any theatre I think the a play is the anchor for anything that happens on stage and what I think that the director and the cast have particularly the director I would say has a great deal of. Power to do harm. More so I feel than to do good in the sense that I feel it finally and I think I want to quote because then I think the record finally is a temporary storage between the between the play and the and the cast because I think he steps in he helps bring about a certain life onstage realized the playwrights vision of playwrights conception with the help of the actors and then he steps out of the actors take over and it's there it's their mission so the speak to keep that life going every night. But I think one of the key elements in this enterprise was trust I think it was a trust in the respect I think that. The people had for each other and I saw there was you know also the key I think to the success of this play Thank you. Mr Brothers for I'm going to Mr Gryce part has interpreted what I meant and that is that the director if he doesn't try to find out what's the best that his important place is to try to find out what the writer means and help the writer develop and believe me if director doesn't do that and he says the first act or to be third in the third act or to be first he can fix supply pretty badly. Sometimes they can rescue the ship now before we go on to question we want I know you want Jack Albertson to come and tell you a story Jack Albertson is one of our great performance he's been in the theater he and we are yelling over here again on a baseball team together and he's been in the theater as long as I have and that's a very long time Mr Jack it's. Frank to say get up to defend yourself for. I would like to say of course that. My claim to fame here seems to be the fact that will you all and I played alongside one another on the baseball team. And fiber correctly will still say that I was good field no hit but that's neither here or there. When it was first suggested that I give my address I was about to say that my address is every night forty eight rows whatever. Los Angeles California but I think that doesn't bear repetition. I would like to say. At this time that this operation is you need in the annals of the upper history the people with their will bomb I've been associated in this project without doubt the finest that I have ever known I have been associated with many many. Broadway theater ventures. I've done quite a bit of work of television television pictures but I have never found a more congenial group and a more dedicated group I take particular note of the fact that without Mr Gilroy I would not be here because of it was his tenacity courage and integrity. Which. Proves the deciding factor. Frank saw me in a play out on the coast and insisted that I was the only man for this part and for well over a year went through the tortures of any writer who was trying to get a play on Broadway with some seven or eight sets of producers insisting. Upon leaving the spot I advocated several times by God most of your oil would have none of it he was a man with great courage and integrity as I said before the success of this play again is due to the courage of these people. And reference to the diamond lying on the street I almost passed up because my eyesight is very bad. But. They were aware of the merits. Of. This play and they had I keep repeating the word courage the only word I can think of that. Is applicable these gentleman. Once again I would like to say that my thanks to Frank the wetlands brain and it will grow. For what they have done more power to them in the future thank you all. For a price and I see we have not quite a few people at the press table and are there any questions from the press state Bruno this song one of our. Club members and very distinguished gentleman. The questionnaire. The question is. When the mother goes out with fifty dollars in our pocket and sales of the whole day and comes back with out does Mr Gill Roy have any Heidi of what he thinks she does I'm sure. That's a question that I was not as many times I presume I was going to be asked after the play opened it's only been raised a few times and I thought it would come up more and more often. There are any number of explanations logical ones that I could account for her time any number and I I write new spaces you don't have to explain in a way the things that you can explain. There's an air of prior life about it I think that in every person's mind they can relate and now we came to an interesting problem we had to face the problem. I had my own concept of a. Question of the actress came to the point. And actually probably was the gross budget answers but. She has an explanation for herself as an actress and I think that who is aware of they work something out how the other two characters on stage have never heard her own explanation of what she is using in her mind to account for the time which has been I don't know what it is now we said we agreed on this not to have her in mind as we just didn't seem to be essential for us to put into account for spending fifty dollars and where she was not isn't maybe a problem we'll have to again face when it comes to the Motion Picture. Shall we actually show where where she's going but I would say from my own point of view that when. One of thing is easily explained you can feel or the reality of it that I I then would not I would not bother to it by now since I've only been asked the question I'd say maybe about four or five times people evidently do work out there's some. I don't know if they take it to some home some secret place of their own everybody has some place or they go to retreat to or whatever I don't know what it is but actually if that had come up tremendously I mean if it bothered people. Want it then we would have said well then we've been deficient. And we should and we should explain but it is not as not seem to affect. The understanding of the play or the feeling of. Not. Your choice but. I. Think. Yes. That's right. Yes. Yes. Yes. Yes. Yes. Wow. Well I just. But I find it interesting that you said the other five people with you did not occur to them and that's more significant to me that there was a life there and if they didn't question a particular bonnet that may have stayed in your mind they apparently fill it in I believe myself and leaving the gaps and respecting the audience's intelligence and imagination and allowing them. To fill in certain things up for them so that maybe my my style and it may be wrong and I please everybody but I did not feel and do not now be over need to work go into that. This is to go back a few a few years I remember when they did streets I suppose everybody's seen streets and the man goes the husband goes away and he comes back in a little while and his wife is in the room with the milkman and I said to Elmer Rice when we were in rehearsal I said Did he really intend to go to Harvard. I got had this all puzzled and Elmer said to me oh you'll have to ask Mr Kennedy was a man who was pretty said I Mr Killen said I had worked that out only the actor knows what he intended and that's very interesting I think because I've always thought that that must be that must open something to the actor to know something that the other acto