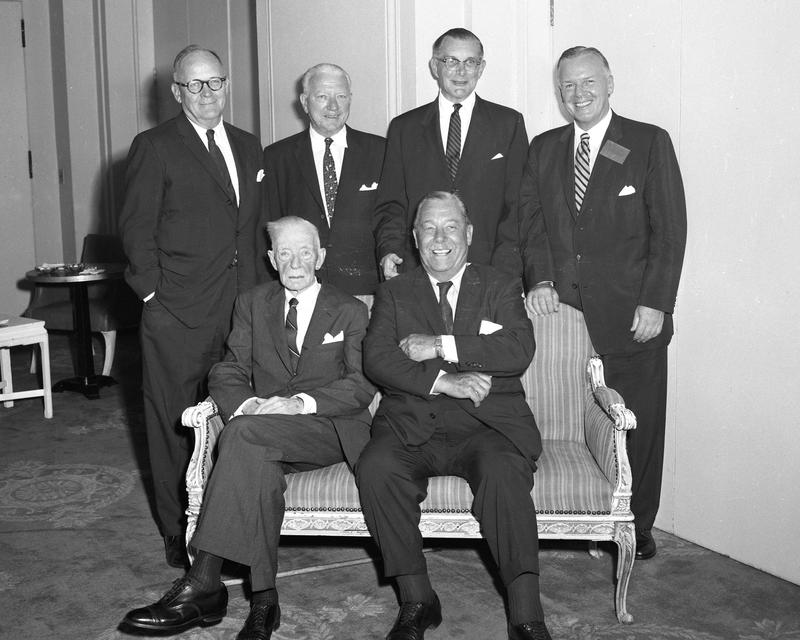 Summary
This episode is from the WNYC archives. It may contain language which is no longer politically or socially appropriate.
Jay Nelson Tuck moderates.
Guest is Frances W. H. Adams, former Police Commissioner of N.Y.C.
Panelists include: Jim Farrell, Ed Stover, and Frank Zeller.
Questions:
Adams does not believe that "gangsterism" is an issue in the upcoming election. He says the bigger issue is if a "phony liberal" will be accepted or if Averell Harriman will be re-elected. He believes that Rockefeller is trying to distract the public with the focus on "gangsterism" so they will not notice his lack of experience in government.
He responds charges by Republicans that the his selection as a potential replacement for District Attorney Frank Hogan was done without Hogan's consent/ Adams points out that he has not been officially selected yet, and that Hogan has not yet been elected to Senate.
The Police Department has claimed their wages should be equal to those of the FBI, Adams believes that the salary should be higher, and that the NYC Police should have training equal to the FBI. He also thinks the Police Department should not be allowed to unionize.
Go on to discuss crime rates under Harriman, and some possible misrepresentations by Rockefeller.
Audio courtesy of the NYC Municipal Archives WNYC Collection
WNYC archives id: 72131
Municipal archives id: LT8254
Transcript
This is a machine-generated transcript. Text is unformatted and may contain errors.
Well it is office day by a partisan is organized crime flourishing in New York State is gangsterism a real issue in the current campaign for the answers to these and other questions listen out of your city stations campus press conference each week at this time in this transcribed discussion edges of college newspapers question and use where they personality Jane Nelson talk noted editor newspaper minutes moderator of the series now to introduce the panel and tonight's guest here is Mr Tuck good evening the police job of catching criminals and the legal task of prosecuting them are usually thought of as two separate and distinct things but our guest this evening is a specialist in both his Francis Wu Adams former police commissioner of the city of New York and he is also the man who has been publicly chosen by Governor Harriman to become district attorney of New York County if Frank Hogan who presently holds that office is elected to the United States Senate a week from Tuesday Mr out of his first public service was as an assistant United States attorney here and he runs rapidly to become United States attorney for the Southern District of New York at the age of thirty during World War two He was an associate public member of the National Defense Mediation Board and he also served as an arbitrator for the wall Labor Board in various industrial disputes most around him is now engaged in the private practice of law and he is also a member of the Board of Education and as chairman of the boards Law Committee he is an independent Democrat who has generally supported the liberal wing of his party and who most recently managed Thomas' case in letters campaign for the Democratic nomination for United States senator first to Adams is also helping the city to celebrate the one hundredth birthday tomorrow of another head of the New York police there are rows about Mr Adams as chairman of the city's third are Isabel Centennial Commission. Here tonight to question him three young college auditors all from Fordham University they are Ed Stubber Jim Farrow and Frank Zella of the for the likes of Graham which is the law school paper and since Mr Adams themself is a graduate of Fordham Law School it looks like an all night Frank you have the first question Mr Adams is gangsterism a real issue in the current campaign I would think not I think the real issue in this campaign is whether we're going to accept a phony liberal. Trying to avoid the fact that he is actually a Republican and controlled by the banking and industrial and conservative groups or whether we're going to continue in office a genuine liberal such as a real Herman Mr Arkell is trying to make gangsterism an issue by citing such instances as the lake Appalachian convention what is your explanation for this approach for his approach I think he's trying to deflect the public from what the real issue is which is his own incapacity for governing for government. QUESTION Yes Mr Adams It has been charged by the Republicans that your selection to fill the office of district attorney if Mr Hogan is elected as senator was made without Mr Huggins consent now is this charge accurate I actually can't answer it. I think that in the first place I have not been chosen to be district attorney I think there's some misapprehension on that subject the governor asked me if. Proper circumstances arose whether I would consider it and I said that I would. That's as far as the matter is GOD I WAS far as Mr Hogan is concerned is high recall of he said some very pleasant things and I certainly have the very greatest admiration for him. Sir if Mr Hogan is elected Senator do you intend to accept the position that is a question which even my wife doesn't know the answer to yet I have refrained and I naturally would refrain from making any kind of a commitment until the circumstances arose when I had to make a decision obviously as President Roosevelt used to say that's a very iffy question and I'm certainly not going to indicate whether I would accept the position until this position is available to accept him but also at the risk of asking another every question if. Mr Hogan is promoted out of the D.A.'s office by the election to the Senate do you think that in light of the opposition of the Republican Party to this so-called promotion that you would fail if you were in here to election to gain bipartisan support as Mr Hogan have enjoyed all these years I would think that Jim that that would depend entirely how the person who becomes district attorney operates the office I think that if that office is operated fairly honorably that the person who operates it will be entitled to public support and to nonpartisan support I think that is particularly true of a true of a district attorney's office which in my view should in its operation not be involved in politics but you think the Republicans have been giving the choice of a candidate a fair chance and they have been attacking that to disappear for trying to take over the D.A.'s office do you think any choice of the Democratic Party in other words has a chance of getting official Republican organizational support. I certainly would think that they have Mr Hogan had it for many years Mr Hogan is a Democrat and a fine Democrat I see no reason why any man who operates that. Office honorably and keeps it free of politics should not merit and obtain nonpartizan support Mr Adams and that reminds me of a question it's frequently cited at least by Republicans that the chief reason most to decide the all want to Mr Hogan in the Senate was so that he this Apia could take over the patronage of the D.A.'s office and that it was to block this charge that Governor Harmon still to take over the job could you tell us how much patronage is in the office what could a district leader do with that if it were Feliz control not a district leader or a county leader I have only the most general knowledge as to talk but I have my present recollection is that there are something in the neighbor of seventy five or eighty positions as assistant district attorneys and then there are other positions in the office how much they are I don't know why are these positions all valuable to young lawyers most of them say don't pay very much now they don't pay very much but in my own experience years ago as Mrs United States attorney it's those positions provided a wonderful opportunity for a young man to get a quick good experience particularly in litigation Jim Walters and face have been charged of a political football do you think that any different method should be adopted in selecting at the school I have in mind the fact that Mr Brownell when he became attorney general and missed a lot of what he became attorney general of New York State have adopted a sort of undergraduate induction system do you think some adaptation of this plan should be incorporated into a D.A.'s office. I'm not sure of it but I think that Mr Hogan also has he has that same system and that he has encouraged young men to come directly into the district attorney's office from the law schools just occurred to me Mr Adams maybe all three of these fellows are bucking for a job. Well what I say to. Be delighted to have the reply where they're at has a question for us sir as a former City Police Commissioner would you favor the formal unionization of City policemen I emphatically would not I think that the unionization of the New York City Police Department would go very far to destroy the effectiveness of the department why would you elaborate a little bit on that place in the first place and a police force particularly the New York police force is a military organization and requires the absolute loyalty and discipline of any any military organization as soon as you. Provide any method by which the commissioner who is charged by law with the duty to operate a department can be overruled then you have lost control over the department and it's just effectiveness is largely destroyed. Jim the recently retired head of the Patrolmen's Benevolent Association Mr John Carter has insisted that the police department of New York should be paid wages to match that of the F.B.I. and he has been answered by the charge that the bank ground and training necessary to be a New York City policeman is not equivalent to that of the F.B.I. Do you think Mr Crighton request should be granted I think the challenge. Position is a very sound one of course it is not the entire answer and I don't know whether you can compare it entirely with the F.B.I. in the first place I think that we have to have a wage for our policemen which is high enough to remove any economic pressures upon them and which is fairly competitive with what they could make in private industry Secondly I am convinced that our policemen should have just as high a degree of training as the men in the F.B.I. or any other law enforcement agency when you say Mr Adams a policeman should not be unionized this raises a question from the point of view of the individual cops apology as a grievance against his superior Is there any way that such a grievance can be processed without except through you know is there any way that's fair to them and to considering the position they certainly is Mr Tuck in the first place I think that the public does not understand that under the rules every member of the Department. Has a right to a personal interview with the commissioner and that right is freely exercised and I never heard of a commissioner who did not honor it and secondly quite apart from that individual personal right the heads of the line organizations such as the sergeants Association and the other associations always have an opportunity to bring in any kind of a point that they want to discuss with the commissioner so that you have as the system presently exists a better system then you could possibly have if you had have if you had a union Well I think with the caliber of commissioners that we've had recently that's certainly true but suppose we have one who is not regarded as Fab by them and then what do they have any recourse or should they have a. I think that one answer to that is that you wouldn't have a commissioner very long that didn't discharge his job well and honorably I think that the man backed by public opinion would someone see to it that he was out of office Frank do you think that by paying the police more that would give an answer to the crime in New York that is would it reduce crime to some extent. I think that if you in an indirect sense Frank it would. Because then you would be able to attract more man to the department in competition with private industry but the real answer is more policeman I think you have to have both things both more money and more policeman Jim went to battle to get more policemen your successor commissioner Kennedy has pointed out at least he did two weeks ago on a television broadcast that the Lions residence was banned on his way and a line of recruitment of men from people outside of New York City and he advocated the repeal of the law as to that particular aspect however he insisted that once hired as a member of the city police force that policemen should be required to reside in a city you agree with Mr Kennedy's approach to the problem yes Jim I too entirely the. Perfectly claim that we are not able to recruit man that we should be able to recruit but maybe live even in Nassau County or Westchester across the river in New Jersey As a matter of fact it's a mazing fact that the city of Los Angeles recruits policemen right in New York. Now I think it's we have to meet that kind of competition but on the other side of Commissioner Kennedy's position that the men should live in New York I am heartily in favor of that because there you have a great many problems of. The deployment of your force discipline your ability to move them around your ability to handle the personnel during emergencies all those things require that your men are in a position where you can get at them and they can get to a post at any moment think would be pretty tough if a cop didn't get off to midnight the last train home to Jersey left a quarter of one. But that may be also true if he left out on the Nassau County Line Oh I Far Rockaway or so but you usually can assign to take care of that problem at once or I hope this is not another healthy question but since you were already about aspirin for the office of district attorney what steps would you take to eliminate any possibility of organized crime flourishing in New York State. Ed let me suggest to you that the word aspirate if I recall my Latin includes the conception of hope. I have no hope in that sense what steps that can be taken to eliminate crime in New York. State or city very large problem one I've touched upon the increase in the law enforcement groups both in the state police in all the local police is the police department particularly in the York next to a greater degree of coordination and cooperation among all of the law enforcement agencies there is a high degree now but that can be improved communications can be improved those are some things that come to mind off hand I think a greater public awareness of the problems is important I think there's a great job think done on public relations now but there's a great deal more to be done so that we can secure a higher degree of cooperation from the public and I said Well sir when you mentioned cooperation among various law enforcement bodies abroad to my mind this question do you feel that every public an attorney general as we now have in the person of Mr Lefkowitz in a Democratic administration. Has any effect in impeding this cooperation which you say we should have I think that that depends entirely upon the. Person who may be attorney general I don't think you can answer that question in a specific sense I feel that as that as it presently happens that the Democratic candidate for attorney general is a first class man and would make a good attorney general Jim do you think his opponent a fellow for a man to let's go it has conducted his office in such a way as to make it uncomfortable for a or cooperative the I cooperated with the local authorities here namely Mr Hogan I don't know enough about it because I'm not close to it I've known Louis last quits for a good many years I think he was in the law school about the same time that I was but I have I'm not well enough informed to know what his position has been. Also to roll over Iraq as they put it also rock solid. Rock charge that the crime rate that the crime rate but the amount of crimes in New York City has arisen under the Democrats he views this as a campaign issue what is your answer Jim is the first time I heard that it is it is it said one more example of how badly informed Mr Rockefeller is. There was never came in one thousand ni