Four Signs the South Bronx Is Gentrifying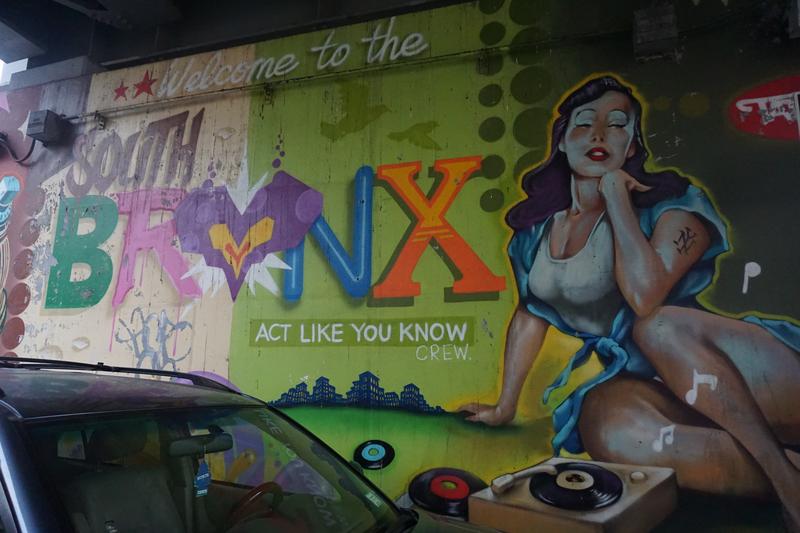 This year, WNYC is taking a close look at New York City's affordability crisis, one neighborhood at a time. And we're starting in Mott Haven in the South Bronx. It's a community that's struggled for decades with crime and poverty. But like much of New York, it's gentrifying. Here are some of the tell-tale signs. 
1. Developers are staking a claim
Somerset Partners and the Chetrit Group have bought up old warehouses along an industrial stretch of the Harlem River waterfront, just like developers did in Dumbo and Williamsburg years ago. They're planning six residential towers plus restaurants, a coffee shop, beer garden, food hall and boutique nearby. "We want to respect the heritage of the community, the people and at the same time provide opportunities for individuals and families both existing in the community and new to the community," said Somerset partner Keith Rubenstein. 
2. Artists and millennials are moving in
Galleries are sprouting up along the waterfront, and the new coffee shop is a hub for recent college grads who've been priced out of other boroughs. Developer Rubenstein has partnered with designer Jerome Lamaar to open a boutique. Lamaar says he wants to do for the Bronx what Jay Z has done for Brooklyn. "My goal is to make it into a hub for creativity, because I love art, I love fashion, I love culture," he said. "So for me this is a representation of the way I've always seen the Bronx." 
3. Housing costs are spiking
NYU's Furman Center recently listed Mott Haven among the city's top gentrifying neighborhoods, with rents up 28 percent since the '90s. Rowhouses are being snatched up at foreclosure auctions, renovated and flipped. And residents are worried about getting pushed out. "It's real good to live in the Bronx, but the rent is crazy," said lifelong resident Sonia Santiago. "Maybe they want to move these people and bring the white people."
4. Community leaders are mobilizing
Developer Rubenstein and his partners got flak for trying to rebrand the neighborhood The Piano District, after the old piano factories that used to be there. Then many community members were outraged when he hosted a party for celebrities and local politicians a year ago that had burning trash cans and bullet-riddled cars as decor. Most recently, he teamed up with Bronx-born producer Swizz Beatz for an art show that was criticized for failing to include enough local and Latino artists. Rubenstein says he didn't mean to offend anyone, and is committed to working with the community. But Ed Garcia Conde who writes the blog Welcome2TheBronx calls it the Columbus effect. "First you think, 'Oh that's nice, that we are no longer being overlooked,'" he said. "Then all of a sudden you realize this isn't for us. This isn't for anyone who lives in the Bronx. This is clearly for people from Manhattan or Brooklyn who are being pushed out of other boroughs."
For the next few months, WNYC producer Sophia Paliza-Carre will be at the Mott Haven Library to hear your thoughts. If you live or work in the South Bronx, stop by, or continue the conversation online at #motthavenspeaks.