SchoolBook
Six Things the New Mayor Should Do for NYC's Schools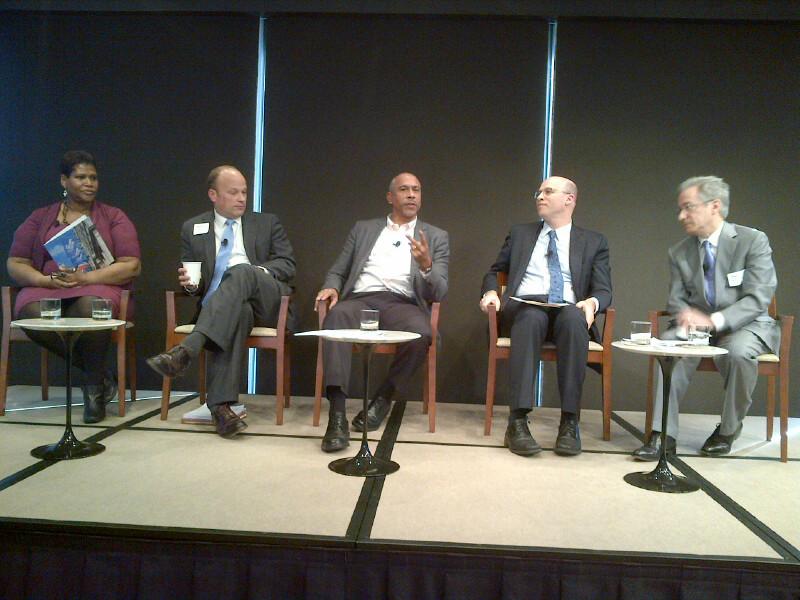 Education leaders and funders outlined what they see as the top priorities facing the next mayor and schools chancellor, including literacy help, more support with college planning and using a wider range of performance measures than test scores. 
The six priorities were debated on Thursday by a panel that included Pedro Noguera, an education professor at New York University, Ocynthia Williams, a Bronx parent leader with the Coalition for Educational Justice, and New Haven schools superintendent Garth Harries, who previously worked for the New York City Department of Education. It was moderated by former state education commissioner David Steiner.
When asked what they feared most in a de Blasio administration, Harries, who helped drive many of Mayor Michael Bloomberg's education reforms, said he was concerned about "oversimplification" in the recent mayoral campaign when it came to complicated issues such as charters and school choice. He said he hoped the rhetoric would be toned down.
Chief Academic Officer Shael Polakow-Suransky acknowledged the school system is currently managing two major education reforms -- the implementation of the Common Core learning standards and a new teacher evaluation system -- and that administrators could face another big change with the arrival of a new administration.
He acknowledged "the jury's out" on the city's Common Core materials, but he said teachers needed time to adapt.
"We're still in the third month of implementing these curricula, and some teachers are seeing really positive stuff, others are struggling to adapt it to the needs of their kids, and there's tremendous amount of professional development that we're doing now that started last year," he said.
For Noguera, the biggest challenge facing the new mayor is poverty. He also encouraged de Blasio to rethink the current system of networks, in which schools are no longer clustered according to geography. 
During his campaign, de Blasio's signature education proposal was the expansion of prekindergarten, by taxing the wealthiest New Yorkers -- something Albany lawmakers would need to approve. And he said he wants to charge rent to some charter schools that use space in district school buildings - depending on their resources.
The group's recommendations were in a paper written by the Center for New York City Affairs. It was the third in a series of reports by independent researchers looking at which of Bloomberg's education reforms worked, and which didn't.
De Blasio is expected to name a new schools chancellor next month so that he or she could begin work right away. Chancellor Dennis Walcott has said his last day will be December 31st. Some education observers are lobbying for the search to be public. Parent leader Williams said "parents should be able to weigh in on who this chancellor's going to be."
But Noguera said he has mixed feelings about that. "I'm skeptical about a very public process, that it might scare away some very talented people."