The Takeaway
Former Bush Deputy AG Comes Out Against Comey's Action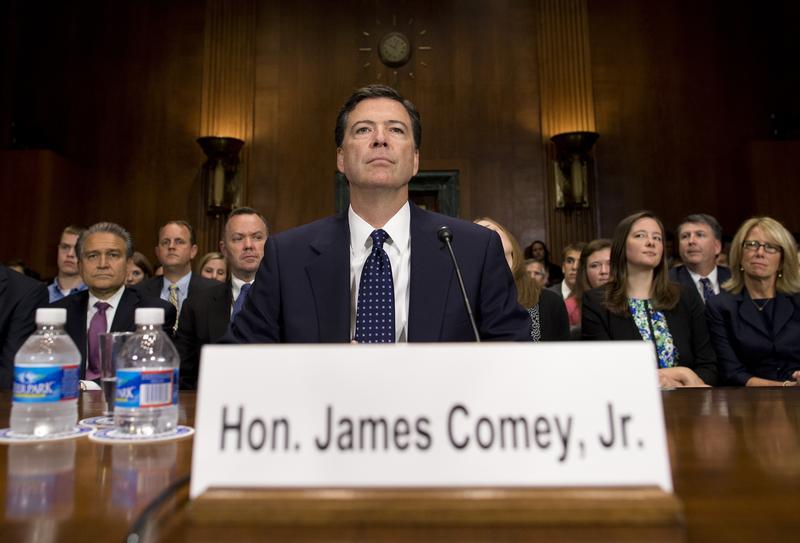 Click on the 'Listen' button above to hear this interview.
The FBI has begun its search through the some 650,000 emails sent to and from Clinton aide Huma Abedin, which were found on the laptop of her estranged husband, Anthony Weiner. It's unclear whether the review will produce any results before Election Day, though the FBI is using a new computer program to expedite the process.
Nonetheless, the political fallout from FBI Director James Comey's decision to inform Congress of the review has sparked outcry from both Democrats and Republicans.
White House Press Secretary Josh Earnest says that President Obama doesn't think that Comey was acting in a partisan manner as others like Senate Minority Leader Harry Reid have suggested, but he left the door open for "significant criticism."
"The president doesn't believe that [Comey's] secretly strategizing to benefit one candidate or one political party," Earnest said Monday. "He's in a tough spot, and he's the one who will be in a position to defend his actions in the face of significant criticism from a variety of legal experts, including individuals who served in senior Department of Justice positions in administrations led by presidents in both parties."
Donald Ayer is of those former senior Justice Department officials crossing party lines to criticize Comey. He served as deputy U.S. attorney general under President George H.W. Bush between 1989 and 1990. Click on the 'Listen' button above to hear our full conversation with Ayer. 
---
Interview Highlights 
On Director Comey's statement on the Clinton email investigation in July and subsequent letter to Congress issued last week:
What I think is interesting is to think back to the statement he made back in July, when Hillary Clinton supporters held their breath and were relieved and pleased that he decided not to [prosecute] — the evidence didn't support her prosecution, he made that utterly clear. 
And then, somewhat not to their liking, he went on and on and on about various aspects of things he found – poor judgement and various things — that were not at all to their liking but, [many thought], 'On balance, we'll take it, right? Better not be indicted.' I think that got him into a situation where he had decided to do something quite improper, and I didn't think of it at the time either, I have to say.
But the idea that a prosecutor in our system, or one charged with a decision-making role to decide to prosecute or not, would, when deciding not to prosecute, then go on at length about evidence that was less than complimentary to the person investigated. In an ordinary case, we would all be appalled, and the power that would put in the hands of government officials to tar the reputations of anybody would be enormous.
Yet, it happened here, and we sat and listened and thought it was fine. Well, I think he had become the commentator-in-chief, in a sense, on this most important of all immediate issues. And so when a few — whatever it is that straggled in, we don't really know what it was — but when a bunch of emails, which may all be repetitive and maybe nothing of all of any consequence, when they straggled in, he needed to keep commentating.
I guess the focus of that is, apparently, he felt strongly that he'd said things to folks on [Capitol] Hill that meant for his integrity and honesty, and he needed to update. The key point is, he had no business whatsoever, doing commentary on an investigation — either as its ongoing, or after a decision's made to not prosecute — to talk about the bad stuff they found.
On whether Comey was in a "Catch 22" situation: 
I think there are burdens that come with being a government official who has to make these decisions, and if you can't stand the heat, get out of the kitchen. The prosecutor who makes a decision not to prosecute a mob boss or makes a decision not to prosecute a drug dealer because they don't have evidence — whatever the decision — it can always be second guessed. And if it's high enough profile, sure, you can end up looking bad and maybe you can end up looking bad no matter what you do. But you know what? That goes with the job.
One of the things about Jim Comey, he's had an extraordinary career of enormous successes and exultation, really, and I think he deserves a lot of it. I think he's done a lot of good things, and you have to compliment what he's done. But none of that justifies taking the job he had to do here, which fell to him here for some peculiar reasons to decide whether to prosecute and turn it into a running commentary on Hillary Clinton and or the investigation as it may or may not be rejuvenated later.
On whether Comey should've picked a different strategy:
Eleven days before the election, it's hard to imagine words that would suffice to set off no alarms and cause no one to misunderstand when you essentially say, not in these words but the message is. 'We're reopening the investigation.' I question whether that's ever possible, but even if it's possible, the letter he wrote didn't do that. And frankly, I think what he ought to do now, if he wakes up to the fact that he's made a dreadful blunder, he ought to put out words that try to do that.  
The letter said that they'd found material that appears to be pertinent to the investigation. Well, pertinent is a fuzzy word, and you can attach various meanings to it. Pertinent can mean, 'Well, gosh, it's stuff that somehow related to Hillary Clinton; it's some sort of email.'  Or pertinent can mean it actually has some logical bearing, i.e. it's something other than what we've already seen. Who knows what it means, you know? He did say later on, but it's buried in the bottom of the letter, that they didn't know if the information was "significant."
What he needs to do now is make a mea culpa statement acknowledging he's made a terrible mistake — he never should have been out there talking about this stuff, he never should have sent the letter. But now that it's out there, let me tell you, we don't have any information, and no awareness at this point, that there's anything that might change the outcome of that decision.