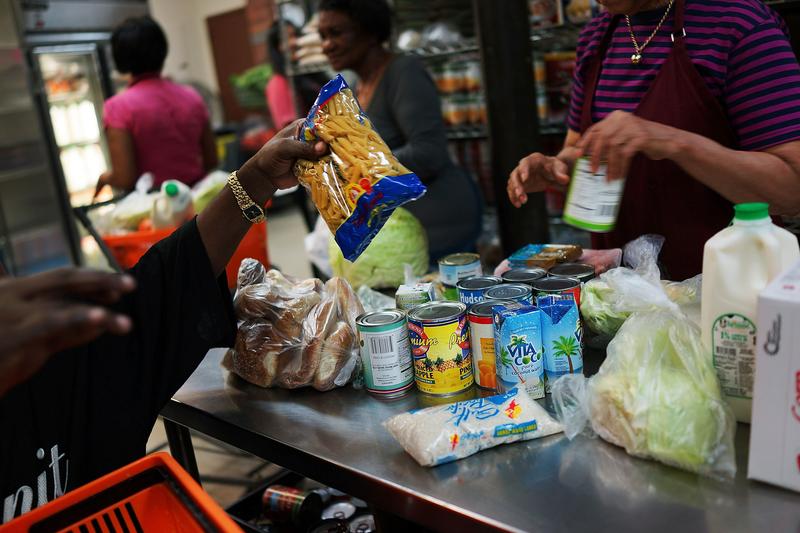 For this week's installment of our series Strapped: A Look at Poverty in America, Joel Berg, Executive Director of New York City Coalition Against Hunger talks about food insecurity, hunger, and obesity among the poor in New York and across the country.
The term "food insecurity," Joel Berg said, "is the best description of hunger in American context. People rationing food, choosing between food and rent, choosing between food and health care, parents going without meals to feed their children, children sometimes having to go through the dumpsters in back of their school to get a meal."
If people can't afford enough food, they often end up buying cheap food. "There's no question that hunger and obesity are flip sides of the same malnutrition coin. If you can't afford healthier food which of often more expensive, if you live in a low-income neighborhood where you can't even find healthier food, there's no question that one of the top coping strategies is to buy less healthy, less expensive food that you can just fill your bellies, fill your kids' bellies, more calories but its less healthy. That's why we have this amazing irony in America: you can be food insecure, you can be hungry, you can be low-income, and you can still be overweight."
Compared to other industrialized nations, the United States has the highest rate of food insecurity—49 million people, including 16  million children, live in food insecure households in this country. SNAP benefits (food stamps), WIC benefits, and free and reduced school lunch and breakfast are some of the federal programs that many food insecure families depend on. Berg said the recent cuts to SNAP benefits are having an impact, making it harder for food stamp recipients to buy enough food for the month.
Berg sees hunger as a political issue, and that reducing hunger requires advocacy and action. "If you really want to end hunger in America, you need to join with groups like New York City Coalition Against Hunger to fight for living wage jobs, to fight for an adequate safety net, to ensure that eligible families get the nutrition assistance they deserve," Berg said. "And that's what's going to end this problem in America."