A Flurry of Snow Day Poems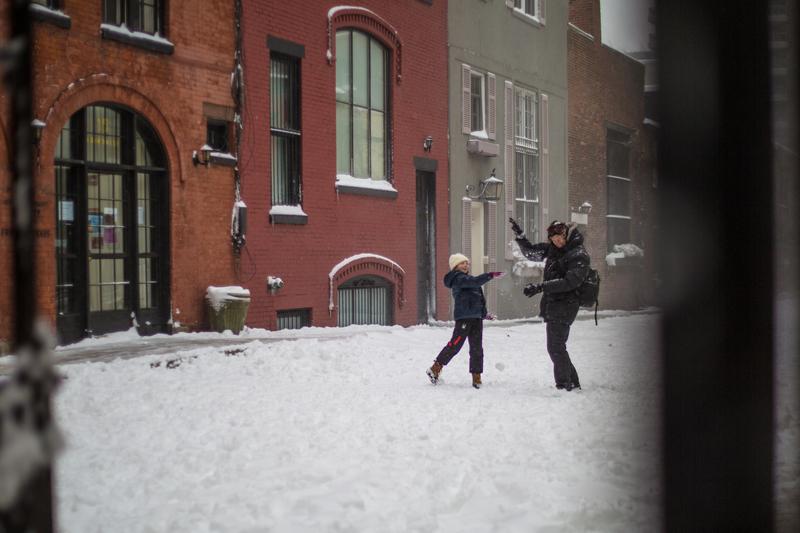 This late-winter storm has brought every kind of snowflake today: flurries, big wet chunks, icy rain drops.
So we asked listeners to send us all kinds of snowetry — that is, snow day poetry — and tweet it at us using the hashtag #snowetry. We received a mix of originals and well-known favorites, haikus and limericks and otherwise.
@WNYC @shubasu I heard! Poem by me :)@WNYC
Once I was blizzardly,
Miserly, frigid, and feared -

But then you,
Like a salt truck, appeared.#snowetry

— Josh Lefkowitz (@jelefko) March 14, 2017
i bought snow boots for
next year, but need them today
thanks, global warming! #snowetry #snowku

— Molly Ward (@mollyalisonward) March 14, 2017
A little #snowetry for this blizzard-not-blizzard morning. Share your favorite snow day poem with @WNYC — and be sure to include the author! pic.twitter.com/MqdAbCOwn0

— Brian Lehrer Show (@BrianLehrer) March 14, 2017
Soaks the jacket
Drips from a cuff
Merciless, freezing, nasty stuff
Ah, wintry mix
Up to old tricks --
Begone! #Snowetry

— Cheryl B. Klein (@chavelaque) March 14, 2017
Kids, let me show you
how to cut out a snowflake.
"We YouTubed it, Mom."#snowetry

— Peyton Price (@Suburbanhaiku) March 14, 2017
@WNYC
Choice
A man trudges
leans away from the weather/present
The dog frolics
even at the end of a leash seizing the snoment
#snowetry

— Lori Doyon (@LoriDoyon) March 14, 2017
@WNYC Winter Storm Stella?
This naming has to stop
as well as media frenzy
over a storm that may well flop
#snowetry

— Charlie Spademan (@CharlieSpademan) March 14, 2017
@WNYC Dug today out of blizzardy blow
coverd in white from head 2 toe
Finished the job & wadayano
New Orleans dream emergd from the snow! pic.twitter.com/jWiUqMKgoU

— Jill DeGroff (@saloonartist) March 14, 2017
.@WNYC I want a snow day
Geez, I ransacked Trader Joes
Where are the MOUNTAINS? #snowetry

— Cynthia R. Copeland (@cynrcope) March 14, 2017
By Kondo Yoshimi translated by Makoto Ueda #snowetry pic.twitter.com/UYc8WuQMAT

— Karl Bakeman (@karlbakeman) March 14, 2017
Pellets hit the pane
and merge with slow moving drops
like icicle tears

@WNYC #snowetry #haiku

— Chibi Lexenstar (@ChibiLex) March 14, 2017
@ronisito this was penned by my son

— ronnie perelis (@ronisito) March 14, 2017
This snow hurried to meet us
It crowds our sidewalks and stairs
Covered our cars and roofs
Invites smiles and stares. #snowetry @WNYC

— Margarita v1.6 (@margarita) March 14, 2017
#snowetry haikullistration by Dani & Neena @shubasu pic.twitter.com/X1cNZE7CPM

— dani alvarez (@_danimalvarez) March 14, 2017
@BrianLehrer @WNYC @shubasu your call for #snowetry made me think of Bashō.
Winter solitude—
in a world of one color
the sound of wind.

— Alice Merchant (@AliceMerchant) March 14, 2017
#snowetry @shubasu pic.twitter.com/ItNm1AfOhD

— dani alvarez (@_danimalvarez) March 14, 2017