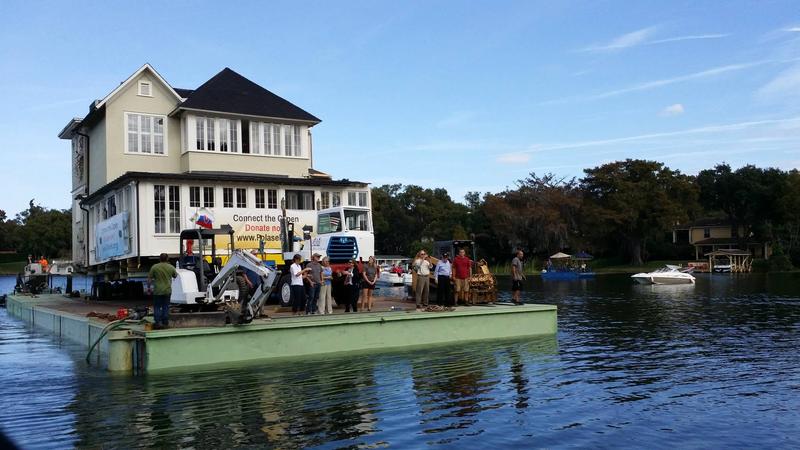 Preservationists fought to save one of Winter Park's original homes from the wrecking ball. After that battle was won, the 5,000 square foot home still had to be moved. When streets proved too narrow and tree-laden to accommodate a traditional house move, plan B involved...the lake.
The Capen House was built in 1885. It's one of only a handful of homes in Winter Park still standing from that time, so it's being moved -- one half at a time -- to its new home on the grounds of the nearby Polasek Museum.
Richard Traynor, a Winter Park resident, friend, and realtor for one of the former owners of the Capen House, watched as half of the historic home was loaded onto a barge.
"Ah, you know, If it works, it works, I think the engineers know what they're doing," says Traynor.
Carmel Delshad/WMFE
Moving the house hasn't been easy.
The total cost of the project is estimated at $650,000, and the Polasek Museum still needs to raise another $120,000 to cover the cost of dismantling and moving the home.
Transporting a roughly 5,000 square foot home by barge, over a lake, in two pieces may sound crazy.
But historian Christine French, project director of Preservation Capen, says it was the only option.
"This idea seems outrageous at first, but it's really quite practical. For us, the only alternative was to undergo this project -- or the house would be lost," says French.
Carmel Delshad/WMFE
After a delay to jack up a sunken wheel, the Capen House finally set sail.
It was followed by a flotilla of small boats, jetskis and kayaks.
News helicopters hovered overhead and even a couple drones buzzed, by snapping pictures.
About 20 minutes later, the house came ashore at the museum.
Debbie Komanski, executive director of the museum, reflects on the journey.
"It always seemed like, 'we think we can, we think we can, we think we can' but we actually did," says Komanski.
The second half of the house should make the crossing later this month.