The Takeaway
A Flip-Flop in Syria? Kerry Backtracks on Assad Regime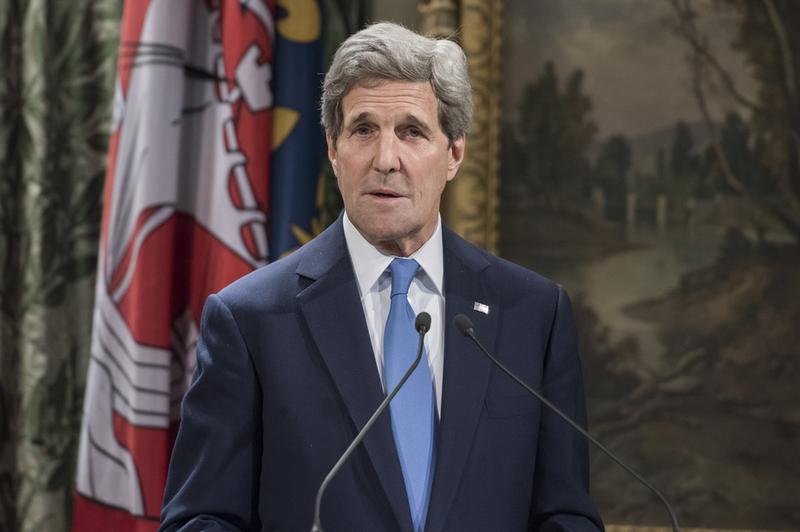 Click on the audio player above to hear this interview.
Tomorrow, Secretary of State John Kerry and Russian President Vladimir Putin will meet in New York City for another round of peace talks on Syria and the self-proclaimed Islamic State.
Earlier this week, Kerry joined Putin in Moscow for a four-hour talk on U.S.-Russia cooperation in the Middle East.
"The United States and our partners are not seeking so-called regime change, as it is known, in Syria," Sec. Kerry said during a joint press conference with Russian Foreign Minister Sergey Lavrov. "What we have said is that we don't believe that Assad himself has the ability to lead the future Syria."
The remarks appear to be a pivot by the Obama Administration, which previously supported the removal of Bashar al-Assad.
"In Syria, the only way that the civil war will end—and in a way so that the Syrian people can unite against ISIL—is an inclusive political transition to a new government, without Bashar Assad—a government that serves all Syrians," President Obama said in July.
Robin Wright, distinguished scholar at the Wilson Center in Washington and the U.S. Institute of Peace, examines Kerry's remarks and the potential for U.S.-Russian cooperation on ISIS. Wright, the author of "Rock the Casbah: Rage and Rebellion Across the Islamic World," explains whether this pivot is a bid for Russian allies in the fight against ISIS, or a long-term strategy for greater stability in the Middle East.
What you'll learn from this segment:
Where the Obama Administration currently stands on the Assad regime.
What the fate of the Assad regime and the Syrian opposition might be.
What we can expect from the peace talks on Friday.