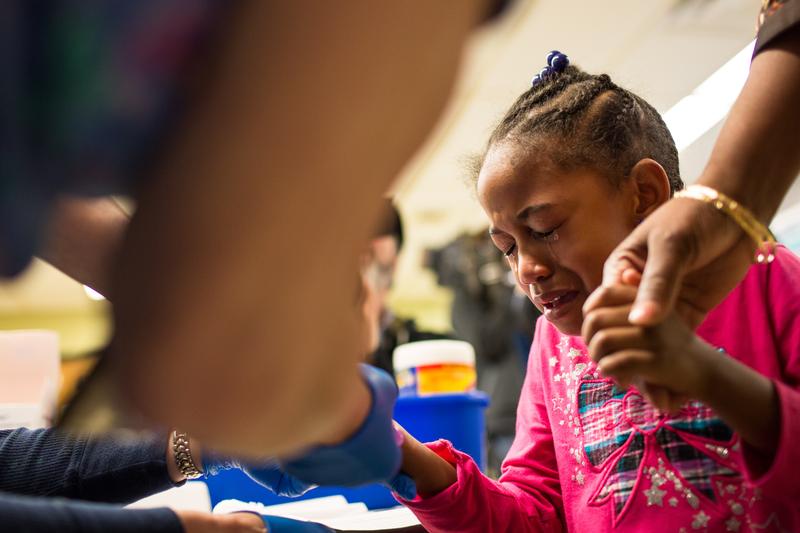 Click on the audio player above to hear this interview.
The nation is responding to the water crises in Flint, Michigan, with shipments of bottled water and truckloads of filters. Groups of volunteer plumbers are also converging on this city of around 100,000 residents as it deals with the fallout of lead-tainted water, something that's led to brain damage in some children.
See Also: What's in Your Water? Flint Raises Concerns About Toxic Taps
In Washington, D.C., law enforcers are expanding an investigation into Flint's water troubles, including the FBI, which announced Tuesday that they are going to join a criminal probe focused on the water crisis.
Lawmakers are holding their own session in Congress today where they are expected to hear from Michigan and federal officials about Flint's troubled waters. Former Flint Emergency Manager Darnell Earley will not be on hand. He says that his current position overseeing the ailing Detroit Public Schools, which he is leaving at the end of the month, is preventing him from testifying.   
Even with federal and state funding allocated to fix the infrastructure and future challenges faced by the children of Flint, the harsh reality is that psychological and psychiatric issues also need to be addressed immediately.   
Vicki Johnson Lawrence is a professor of public health and health sciences at the University of Michigan-Flint. She worries about what will happen to residents once the political clamor dies down.