SchoolBook
Five Things You Need to Know About NYC Scores on State Tests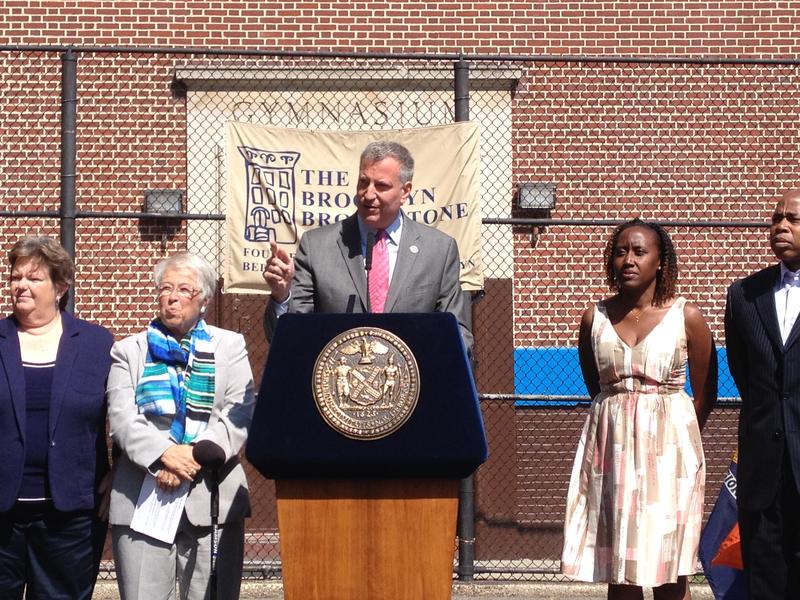 1) New York City posted bigger gains in English than the state average: Statewide, just 31.4 percent of students were proficient in their English Language Arts tests, a measly one tenth of a percentage point increase since last year. In New York City, there was a 2 percentage point increase, from 27.4 percent last year to 29.4 percent this year.
State Education Commissioner John King speculated on Thursday that the city showed more gains because it began training groups of teachers and principals in the Common Core learning standards a few years ago, ahead of other districts. Mayor Bill de Blasio recognized this, too.
"They were right to put additional substantial investments in education," he said of former Mayor Michael Bloomberg's administration. "They were right to focus on the Common Core curriculum."
2) The city's "achievement gap" increased: Across the board, the difference in proficiency rates grew between white and Asian students and their black and Latino counterparts in both math and English this year.
The gap is biggest between Asians and black students in math. Sixty-eight percent of Asian students scored proficient or higher while just 18.5 percent of black students met that mark, a difference of 50 points. That's a 4.8 percentage point increase from last year.
"The racial achievement gap, which the Bloomberg administration kept claiming it was closing, remains a major problem that the schools and the new administration must focus on," said Michael Mulgrew, the president of the United Federation of Teachers.
Statewide, the picture was pretty similar although the gap shrank, by 3 percentage points between white and Hispanic students in math.
3) Charters Did Better: The percentage of charter school students who were proficient in math climbed by 9.1 points, compared to an increase of 4.5 points for students at district schools. In English, charters saw a proficiency increase of 3.2 points, compared to 2 points for traditional schools.
Overall, 44 percent of charter school students were proficient in math, compared to 34.3 percent for the rest of the city. But 28.2% of charter school students were proficient on the ELA tests compared to 28.5 percent of students in regular public schools.
4) English Language Learners and Special Education Students Still Struggle: Just 3.6 percent of English Language Learners scored proficient on the ELA tests, virtually unchanged from last year. While there was improvement in math, 14 percent of these students were proficient compared to 11.4 percent last year.  
Steven Choi, executive director of the New York Immigrant Coalition said, "We simply must do a better job."
He said curricular materials should be adapted better to students who do not speak English, and that their teachers need better training. 
Students with Disabilities also continued scoring at the bottom, though they improved slightly. Overall, 11.4 percent scored proficient in math and 6.7 percent were proficient in English.
5) Mayor de Blasio plays down role of test scores: The mayor made very clear Thursday that "tests like these are only one measure" and that a school is not the sum of its scores.
He and his chancellor have pledged to do away with A-F letter grades for schools. But it's not known what the next generation of school report cards will look like. In the past, they have relied heavily on test scores.
De Blasio said he would use "multiple measures" but that test scores would still be part of the picture. The chancellor said the city would use quality reviews and that every school will get two of these visits in the coming year.
Meanwhile, the state has ordered districts to stop using the tests as the main criteria for admitting students to competitive schools. New York City has many "screened" middle and high schools that previously gave priority to students who scored at Level 4.
Schools Chancellor Carmen Fariña said she would ask schools to look at "multiple criteria" such as attendance and grades. Committees are looking at the matter; she said she expects an announcement at the end of September.
With reporting from WNYC's Brigid Bergin