Five Takeaways as Bridgegate Testimony Wraps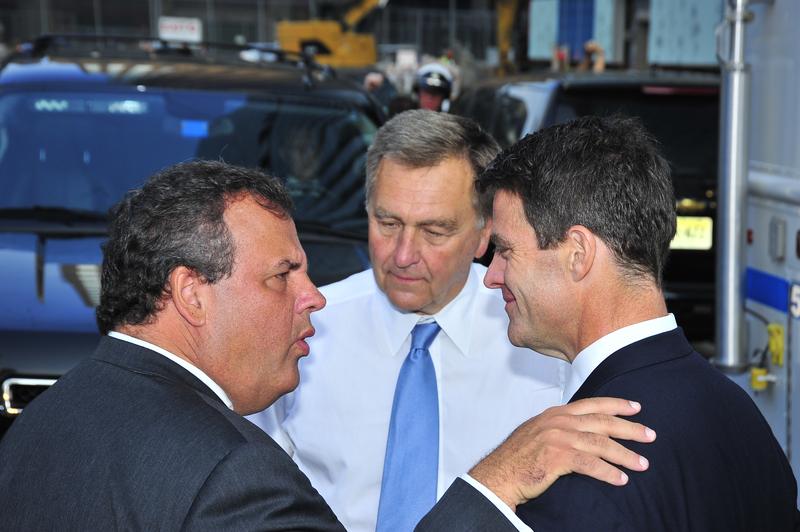 "Are you innocent of these charges," Bridget Anne Kelly's lawyer, Michael Critchle asked her Wednesday.  "Yes," she replied, in a small, high-pitched voice.  That brought to a close six weeks of testimony and three years of speculation about why a massive week-long traffic jam was beset upon Fort Lee and who should be held accountable. The jury will now hear closing arguments and begin deliberations on Monday. After listening to all the testimony, here are five takeaways:
 1. Chris Christie was a hands-on, often vengeful governor.  Before the Bridgegate trial, there was a widespread belief that Christie had "created the culture" where Bridgegate could happen. But during the trial, evidence was introduced that Christie himself kept tabs on who was toeing the line, and punishing those who weren't.  At one point, he told defendant Bill Baroni to tell a union leader who'd criticized Christie on the radio to "go f*** himself." When Baroni tried to demur, he testified, Christie said "You like your job?"
On another occasion, according to testimony of a Christie underling not on trial, and confirmed by the target of Christie's wrath, Christie threatened Monmouth County freeholder John Curley.
"Who the f*** do you think you are, calling me a fat f***?" Christie said. "I'm the f***ing governor of this state," going on to threaten the official that he'd better be at the podium of an event the next day or "I will fucking destroy you."
And then, there was the water bottle incident, when Christie, unhappy with Kelly's briefing before a session with business leaders in Seaside Heights who'd lost their businesses in a fire, threw a water bottle at her, demanding, "Who do you think I am, a f***ing game show host?"
2. There's clear evidence that Christie was personally involved in using government resources to retaliate against a Mayor who wouldn't endorse.  That mayor was Mayor Steve Fulop, of Jersey City, who, after a long dance with Christie's top campaign aides, said he wasn't going to endorse Christie for re-election. Kelly had taken a month to set up a mayor's day with Fulop for him to meet with a wide selection of Christie cabinet members.  But shortly before it was to occur, Kelly was ordered by Christie's campaign manager, Bill Stepien, and his chief of staff, Kevin O'Dowd, to cancel the meetings, one by one. 
"No one is entitled to a f***ing meeting," Christie said to Kelly, after she'd canceled the meetings as requested.
Later, Christie friend and Port Authority Chair David Samson was getting pressured by Fulop for a meeting. Wildstein checked with Stepien, then wrote: "100% Order that Fulop be frozen out comes directly from Gov."
3. The Port Authority was used as a "goody-bag" to help with Christie's re-election. In January, 2014, just after the Bridgegate scandal broke,  I wrote a story that described the Port Authority as Christie's "political piggy bank." Turns out I was a lot closer than I knew at the time.  Bridget Kelly and David Wildstein referred to Port Authority assets as a "goody bag."
That goody bag included everything from bits of burnt steel from the World Trade Center which was handed out to Democratic mayors who were being courted for their political endorsement to hundreds of millions of dollars spent on a land deal to court the mayor of Bayonne. The land deal, known as MOTBY, was widely derided by Port Authority's professional staff, and ended up not purchasing the endorsement after all.
4. There's evidence of widespread knowledge among Christie's senior staff of the true purpose of the lane closures and a cover-up. On January 9, 2013, in his mea culpa press conference after the release of the "Time for some traffic problems in Fort Lee" email, Christie recounted how he'd tried to probe the lane closures a month earlier, directing any staff with knowledge of the closures to speak right away with his chief of staff, Kevin O'Dowd, and his chief counsel, Charlie McKenna.
"Over the course of the next hour, Kevin and Charlie interviewed each member of my senior staff, came back and reported to me that they all reported that there was no information other than what we already knew."  So Christie went out and told reporters that day, December 13, 2013, that none of his top aides knew anything. 
But there's widespread evidence that was entirely false.
Kelly said she'd discussed the lane closures in mid-August with Christie and O'Dowd, and then twice with Christie during the closures. Wildstein said he'd discussed the lane closures with Christie at the World Trade Center's 12th anniversary memorial service, and that "he laughed," when hearing that Fort Lee Mayor Sokolich wasn't getting his calls returned. And Baroni also said he and Christie discussed a "traffic study," on that day.
But even if you don't believe any of the defendants, current close Christie aides testified they spoke with McKenna and O'Dowd as early as October, and then with the Governor in early December.  Michael Drewniak, his press secretary at the time, said he knew of Stepien and Kelly's involvement by October 18, and spoke with O'Dowd and McKenna of it. He'd emailed O'Dowd "A new high-level of sh*t is hitting the fan." 
And Mike DuHaime, Christie's chief strategist, testified he told the Governor of Kelly and Stepien's involvement prior to his December 13 news conference. It's the first time, after two months of swirling questions, that Christie addressed the lane closures head on: "I've made it very clear to everyone on my senior staff that if they had any knowledge about this that they need to come forward and tell me about it and they've all assured me that they don't," he said.
5. Christie surrounded himself with intimidating men.  People were afraid not only of Christie, but of David Wildstein and David Samson. Even Christie's counsel, Charlie McKenna, who'd been a federal prosecutor for eighteen years, testified "I couldn't tell Samson what to do."  Baroni called Samson "General," after a one-year stint as New Jersey Attorney General. 
Wildstein had a record of firing career employees at the Port Authority.  Kelly said she didn't have the "power, or anything like that" to decide how to allocate Port Authority resources. Baroni testified he'd been elbowed out by Samson and Wildstein, who both had a direct line to Christie. 
Kelly's defense relies on her argument that she was relatively powerless.  Even if she was in on everything, the power relationships were clear.  She earned a lot less money than any of Christie's top men, she didn't attend weddings or social events with them, she wasn't part of the bro-club. When Wildstein sent her emails like "they are the children of Buono voters," referring to kids stuck in school buses in Fort Lee, Kelly said she felt powerless.
"Who was I to question?" she testified.