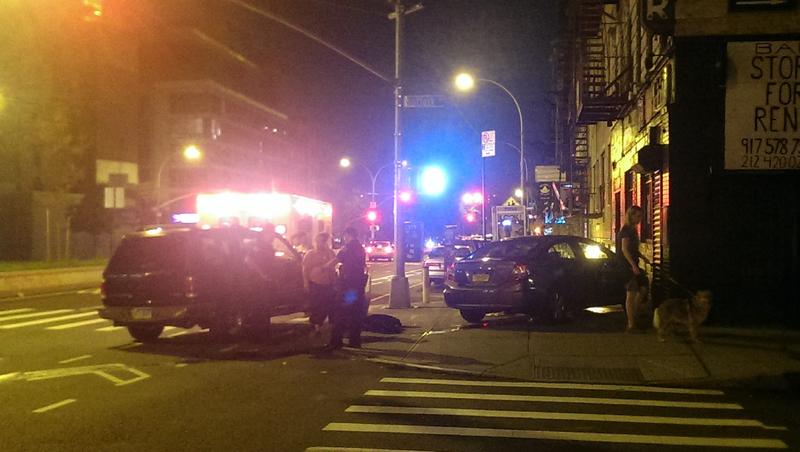 When the driver of a Honda Pilot hopped a curb in Queens last week, striking several children, that action triggered an NYPD investigation -- meaning the driver could face consequences. Here's why that's unusual in New York City.
Because of a legal loophole, officers who don't directly witness careless driving can't even so much as write a ticket.  Not even when the driver is driving on the sidewalk.  That's unless the special NYPD unit tasked with investigating serious traffic crashes gets involved, and before now, that almost never happened unless there was a dead body.
Some background: last Thursday, during prime walk-to-school hours, 40-year-old driver Francis Lu "accidentally hit the accelerator instead of the brake," according to an NYPD spokesman. After jumping the curb, Lu's car hit five students between the ages of 12 and 13. While at least two of the victims had broken bones, the NYPD described their injuries as non-life threatening.
A spokesperson for the NYPD said the incident is under investigation by the department's Collision Investigation Squad.
That in and of itself is a break from the past, said Juan Martinez, general counsel for the advocacy group Transportation Alternatives.
"What's interesting about this," he said, "is that the CIS got involved at all. Six months or so ago, that wouldn't have been the case."
Earlier this year the NYPD instituted reforms to its then-named Accident Investigation Squad, whose 19 officers covered the entire city and only investigated traffic crashes resulting in death. Now, the newly renamed Collision Investigation Squad is taking a harder look at more crashes.
Moreover, a 2010 law known as Hayley and Diego's Law imposes penalties on drivers "whose failure to exercise due care results in injury to pedestrians or bicyclists." Taken together, you'd think enforcement would be up in New York City.
But that's not entirely clear. Here's the catch: a legal loophole prevents the NYPD from implementing that law.
According to Martinez, if the AIS doesn't get involved, the NYPD says officers are unable to write careless driving tickets for infractions they don't physically witness. So even if a driver cruises down a sidewalk and admits it, unless that act is seen by a police officer, the driver won't get cited. 
"If the CIS doesn't come in," said Martinez, "they can't even slap him with careless driving."
The NYPD didn't immediately respond to questions about how many officers are staffing its Collision Investigation Squad.
Steve Vaccaro, an attorney with Vaccaro and White (a firm that represents injured cyclists and pedestrians) said recently City Council passed a law that makes it a misdemeanor for cyclists to ride on the sidewalk. But "there is no comparable law for motorists," he said.
There is legislation pending in Albany to close the loophole. S3644A would allow officers to issue violations to the driving law "even if the accident did not take place in the presence of the police officer if the officer has reasonable cause to believe that the violation was committed by such person."
"It would mean more work for (the NYPD), but it would not be different than the investigation of any other crime," Vaccaro said. "It would just mean that police officers would investigate the crime, gather evidence, take witness statements, and make a determination."
Transportation Alternatives calls the bill a "targeted, simple fix" which would allow officers to simply enforce laws already on the books.
Earlier this month, a WNYC analysis of NYC crash data found school-age children make up almost a third of all pedestrian accidents in New York City in the hours immediately before and after school.
A surveillance video of the crash (warning: graphic) is below.