Studio 360
The First Sexy Country Song: Laura Cantrell Sings Kitty Wells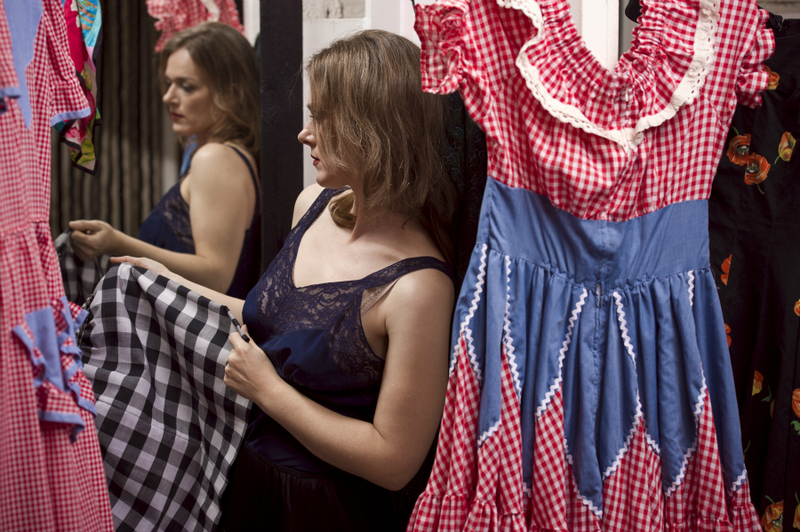 When she died in 2012 at age 92, Kitty Wells was the oldest living member of the Country Music Hall of Fame. Her music can still surprise unsuspecting listeners. In the 1950s, Wells was the reigning Queen of Country Music. But despite her demure gingham dresses and sweet plaintive melodies, Wells was a radical. Some of her songs all but declare infidelity and promiscuousness:
I don't claim to be an angel, My life's been full of sin.
"I Don't Claim to Be an Angel" wasn't the first time those issues had been broached in country music, but Wells made hits. The Grand Ole Opry tried to ban the song, but, as Laura Cantrell tells Kurt Andersen, "the horse was out of the barn." Wells revolutionized what a woman could sing about and paved the way for Loretta Lynn and Tammy Wynette a generation later.
Cantrell — a singer and songwriter, and a former tour guide at the Country Music Hall of Fame — was raised on Wells' music. Her record, Kitty Wells Dresses, is a top-to-bottom tribute. Cantrell visited Studio 360 to play a few Kitty Wells tunes with her band.
Cantrell's new record is called No Way There From Here. 
(Originally aired June 17, 2011)
Bonus Track: "When the Roses Bloom Again"
Laura Cantrell performs the song, from the album of the same name, live in Studio 360.
Video: Laura Cantrell performs "I Don't Claim to Be an Angel"
Music Playlist
I Don't Claim to be an Angel

Artist: Laura Cantrell

Album: Kitty Wells Dresses

Label: Diesel Only

No Way There from Here

Artist: Laura Cantrell

Album: No Way There From Here

Label: Redeye Label

Don't Love You Anymore

Artist: Kitty Wells

Kitty Wells Dresses

Artist: Laura Cantrell

Album: Kitty Wells Dresses

Label: Diesel Only