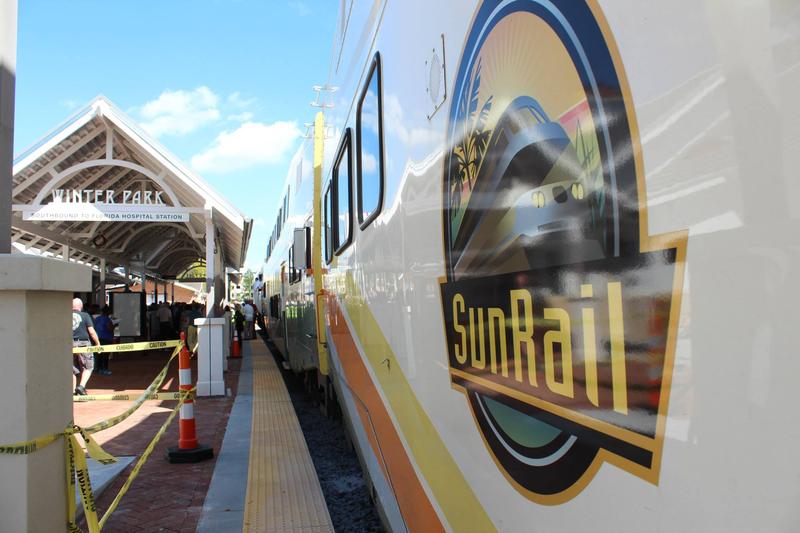 Officials are cutting the ribbons on a string of new SunRail stations that will start serving the Orlando area this spring.
Phase I of the new SunRail line will span 32 miles, from DeBary to Sand Lake Road. While test trains have been running for some time, SunRail's passenger service will formally open for business on May 1.

The city of Winter Park just unveiled its new station and let members of the public take a look inside. Steve Olson of the Florida Department of Transportation was on hand, and said he expects the trains to exceed their goal of roughly 4,300 passenger trips per day.
(Carmel Delshad/WMFE)
"This is going to be a shift for folks," he said. "I think what they're going to find is that this will be a money saver and a time saver for them."
The double-decker train cars are equipped with on-board restrooms, electric outlets, and come with complementary wi-fi.
Every station along SunRail's 32-mile route will have a base fare of $2 plus an additional $1 for every county line or zone crossed. 
(Carmel Delshad/WMFE)
"Let's say you're coming from Volusia County and you're going downtown to Orlando," Olson said. "It's going to cost you $4—and that's before discounts one way and then $4 the other way. But if you look at the wear and tear of your car and how much it costs to insure, drive and park downtown, that's a bargain."
A map of SunRail's phase I stations