SchoolBook
Teen Leaders-in-Training Get Boost from First Lady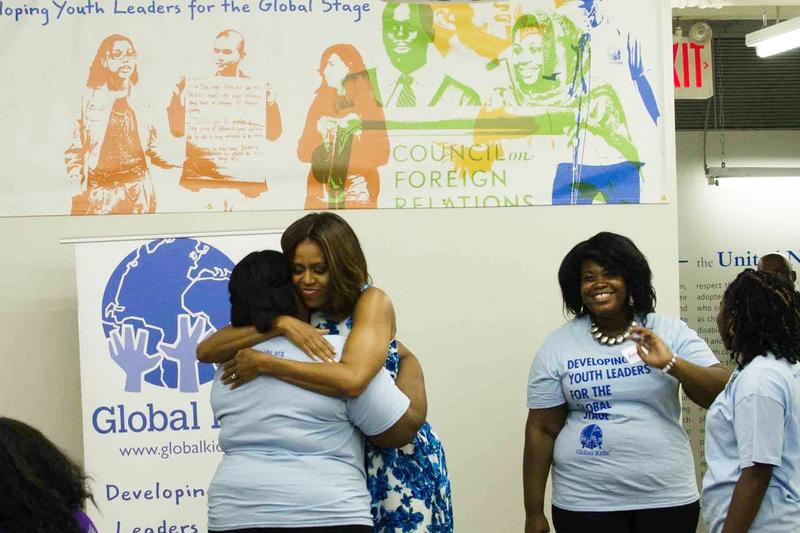 A group of about 20 students sat around a clump of tables. Their excitement was tangible, broad grins erupting from their faces. When First Lady Michelle Obama stepped into the room after an anxious wait, one girl set to greet her at the door began weeping silently.
On Thursday, Obama visited Global Kids, a non-profit group that teaches leadership and activism in about 20 public school across the city. 
"We were able to show her we know a lot about foreign issues and foreign policy," Shyann Holder, 16, said. "Yeah, we're kids but we're thinking about making a change in the long run."
Obama's visit was born out of a whimsical invitation. Annie Willis, 17, from Long Island City High School, first met Obama at a summer learning summit in Washington D.C.. She and another student invited the First Lady to visit the Global Kids headquarters in New York. A few weeks later, Obama took Willis up on her offer.
"It was awesome. The best moment of my life, a dream come," Willis said. "I just couldn't believe it."
Many of the students have worked with Global Kids for a number of years. Some have traveled to Bosnia. Others have worked on rooftop gardens and still others on creating socially conscious video games. They have plans to meet with Schools Chancellor Carmen Fariña to urge her to introduce climate change curriculum at public schools.
"We're working with students who come from under-served communities students who maybe have been identified as at risk for dropping out, students that a lot of people maybe think can't handle very sophisticated content on international affairs," Evie Hantzopoulos, the organization's director said. "But we know that they can."