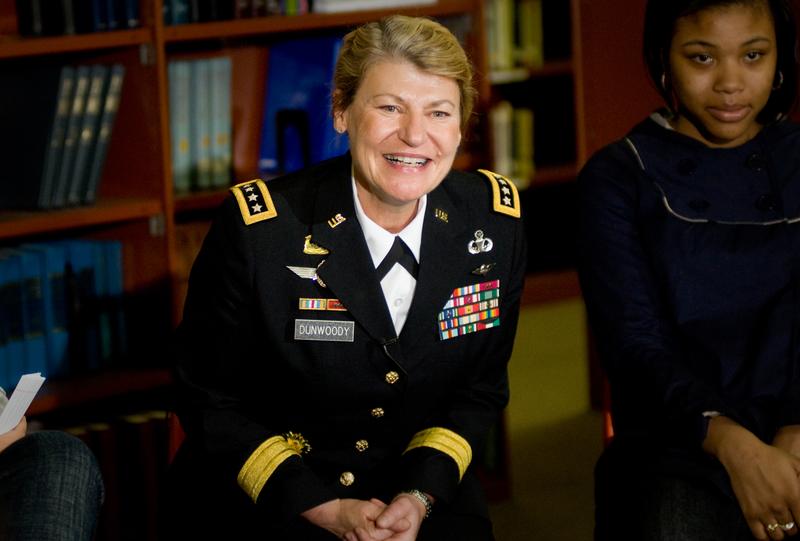 Since the early days of the U.S. military, there have been women in action. They may not always be in uniform or on the front lines, but women have always played a crucial role in the American armed services.
During the Revolutionary War, women served as as nurses, cooks, and laundresses at military camps. One woman, Deborah Sampson, even disguised herself as a man to serve in General George Washington's Army. (She was later discovered and honorably discharged.)
By World War I, women were officially allowed to join the military as support staff, and more than 33,000 enlisted as nurses or signed up for other service jobs. More than 400 died in the line of duty.
Today, women serve in 95 percent of all military positions, and women make up nearly 15 percent of America's active duty force.
However, those changes have also brought big problems, like issues of sexual assault in the military and questions of who can and cannot serve on the front lines.
Ann Dunwoody was the first woman to become a four-star general in the U.S. Army. Her new memoir is "A Higher Standard: Leadership Strategies from America's Four-Star General," and she talks with The Takeaway about the lessons she's learned about both leadership and teamwork.
"I joined the WAC [Women's Army Corps] in 1975," says Dunwoody. "Shortly after that, they disbanded the Women's Army Corps and began this integration of women into the regular Army. My first assignment as part of this integration...was to Fort Sill, Oklahoma as a platoon leader with Sergeant First Class Wendell Bowen."
Dunwoody says that she was initially not committed to the military—she says had joined because the Army offered her $500 per month during her senior year of college for a two year commitment. She was also enticed by the prospect that she would get to jump out of an airplane.
"Even though my family was steeped in military history, I was gonna be a coach and a phys-ed major," she says with a laugh. "Sergeant Bowen, when I met him, he embraced me and told me he was going to make me the best platoon leader—not the best female platoon leader but the best platoon leader—in the Army."
Dunwoody says that Bowen guided her during her early days in the service and taught her to set her standards high—he taught her "what right looked like," as she puts it.
"He was a professional and the reason I stayed longer than my initial two years," Dunwoody adds.
Though Dunwoody found a quality mentor in Bowen, not all women in the military have positive experiences. According to the Defense Department's annual study on military sexual assaults released last week, about 9,600 women were sexually assaulted or were the victims of unwanted sexual contact in 2014. That figure averages out to about 1 in 20 female service members.
"I've had younger females work for me, and they have confided [in me] or made complaints about behaviors that were inappropriate," says Dunwoody. "You have to investigate. You can't ever turn the other way. There may be nothing there, there may be something there, but you have to investigate and you owe it to that individual to check out those circumstances and then enforce—you have to hold people accountable."
Dunwoody acknowledges that the Army is struggling with "holding people accountable for their actions and following up on what that accountability is." However, Dunwoody argues that the military is a self-policing organization that should continue to monitor itself.
She agrees with U.S. Senator Claire McCaskill, an advocate for eradicating military sexual assault who believes that accountability should be left within the chain of command. On the other hand, U.S. Senator Kirsten Gillibrand, another lawmaker pushing for reform, believes the issue should be handled outside of the chain of command.
"I appreciate what Senator McCaskill and Senator Gillibrand are doing to highlight the significance of the issue. One assault is too many," she says. "But I personally believe, having spent half of my career in command billets, that the commander must be accountable and responsible."
Though she believes some things should be left the Defense Department, Dunwoody acknowledges the value of the healthy friction between U.S. lawmakers and officials and the military leadership.
"Our military works for civilian leadership, and I do believe that our leaders always provide their best advice and counsel to the civilian leadership," she says. "My toughest job in the military was my three years in the Pentagon as the Chief of War. That friction that existed, and trying to bridge that...you might have differences but you have to talk about them."
Four important C's—communication, collaboration, cooperation, and compromise—are the oil that makes the wheels of America's civilian-military leadership turn, says Dunwoody. And though most Americans will never weigh in directly on the crucial challenges faced by those in U.S. leadership positions, Dunwoody says that everyday civilians can still make a difference.
"Less than one percent of the American population will ever serve," she says. "Not everyone's cut out for the military, but everyone I believe can do something to give back to this great country."