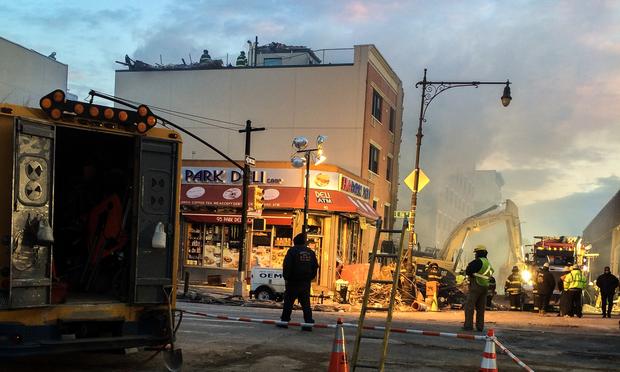 (Stephen Nessen/WNYC)
Rescue and recovery operations at the East Harlem site of a fatal explosion continued Thursday, as firefighters worked to extinguish remaining pockets of fire.
As first responders remained on the scene, the exact cause of the fatal explosion that claimed at least eight lives was still undetermined, and officials said the remaining pockets of fire must be extinguished before first responders can dig deeper into the rubble.
"What we need to do is get to the basement," said Fire Commissioner Sal Cassano. "We need to clear the area out, get all the debris out, and then get to the heating units, get to the meters, places that could possibly be a source of ignition or a source of the leak."
The National Transportation Safety Board also officially launched its investigation into the explosion on Thursday, although investigators are waiting for the all clear from the FDNY before they can get close enough to examine a main distribution pipe still in the ground in a large crater.
Once they're allowed closer access, the NTSB's Robert Sumwalt said pressure tests will be conducted on that pipe and adjoining service lines. He said the board is operating under the assumption that the explosion was caused by a natural gas leak.
"There is no, obvious to the eye, no apparent leak location and that's what the pressure tests will be used for, to determine the location," Sumwalt said.
City officials urged residents in the immediate vicinity — within a block of the explosion — to take some precautions while the fire is still burning. Tom Matte, Assistant Commissioner at the city's Department of Health and Mental Hygiene, said structural fires can increase the amount of particulate pollution in the air.
"Our advice to people is to avoid visible smoke, heavy smoke, by being upwind, by being indoors, keeping their windows closed."
Many residents of the East Harlem buildings that exploded, as well as residents of nearby buildings, have been evacuated, and remain displaced. Some are staying in a Red Cross shelter because the area remains a disaster site. 
Emerging from the Red Cross shelter on 125th Street and Third Avenue Thursday morning, clutching the hands of her twin 9-year old daughters, Elizabeth Alvarez said it was a rough night.
"I haven't slept, it was horrible," she said. "I'm just glad I'm with my neighbors. We looked out for each other and each others' kids."
One of her daughters, Savanah, said at least they had the family pet.
"We didn't want to leave our dog so we took her with us," she said, smiling. "Even though she didn't get her shots yet."
Red Cross officials said 44 adults and 25 children stayed in the shelter Wednesday night. It is located in the Salvation Army Community Center, which offers services for the poor, such as a daily soup kitchen.
For the next few days various city agencies will be there helping the displaced apply for aid and housing. The city said it will try to place them in affordable housing nearby. During a news conference Thursday, Mayor de Blasio stressed that help is available for all who need it.
"Anyone affected by this tragedy will be helped," he said. "Anyone, regardless of immigration status. And it's very important to get that message out."
At the site of the explosion on 116th Street, the building was still smoldering on Thursday, filling the area with acrid smoke. Residents walked around wearing surgical masks or covering their faces with scarves. A backhoe filled a dump truck with wreckage from the leveled buildings.
Flanked by several religious leaders, Pastor Thomas Perez held a prayer vigil near the disaster site. He's head of the Spanish Christian Church, which was on the ground floor of one of the buildings that's no longer there. He said he lost five members of his congregation in the blast.
"It's God's will, although we won't understand his doing," Perez said. "But we have the peace that he gave us and we're just trusting it's going to be better with the help, with the blessing of the Lord."
Pastor Perez said he planned to visit several of his parishioners who remain in the hospital.
More in:
Stephen Nessen reports for the WNYC Newsroom and can often be heard live on Morning Edition. 

Annmarie Fertoli is an Associate Producer at WNYC, working with the afternoon news team to produce All Things Considered.

Before joining the station in 2010, she worked as a news anchor and reporter for WFUV at her alma mater, Fordham University. She's also worked for community newspapers in Queens and on Long Island.

Annmarie's interests include culture, veterans' issues, and mental health. She's contributed pieces to WNYC's Adjusting to Home series, documenting the struggles of returning service men and women. Annmarie has also won awards for her work from the Society of Professional Journalists and Public Radio News Directors, Inc., for her news anchoring and for her documentary, The Beauty of Madness.