Films to Watch Before You See 'La La Land'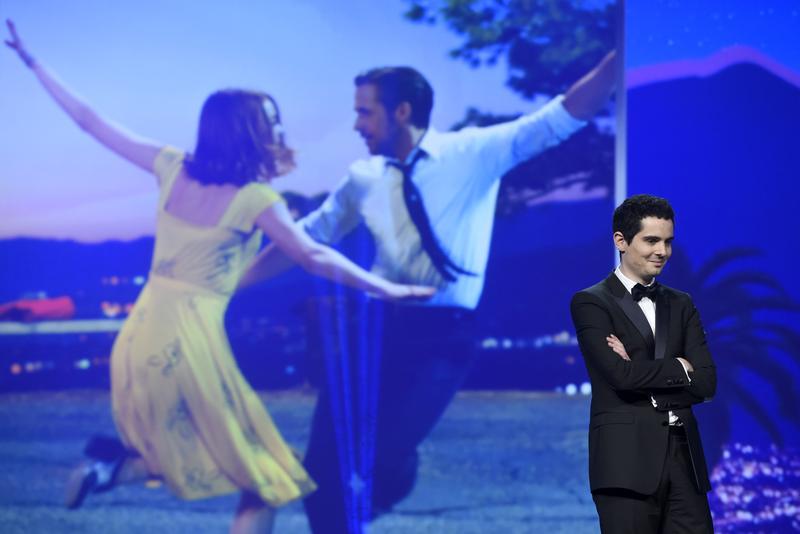 The new musical film, La La Land, is raking in millions at the box office and accumulating quite a bit of Oscar buzz, with six Golden Globe nominations already under its belt. The film is an ode to famous musical movies produced by MGM, Warner Bros, and RKO Pictures. The story focuses on a jazz pianist (Sebastian, played by Ryan Gosling) and an aspiring actress (Mia, played by Emma Stone) who fall in love in Los Angeles. From the second the film opens to a bright CinemaScope logo on the screen, the audience is immersed into a modern musical romance, with a big bow to its predecessors. Writer and director, Damien Chazelle, has cited many musical movie inspirations that helped create La La Land, and here are a few scenes that sum up what you have to look forward to!
Singin' in the Rain 
In La La Land, Ryan Gosling takes on the type of romantic male lead Gene Kelly became famous for in films like Singin' in the Rain. The smooth dancing, amiable disposition, and nuances of Gosling were deeply reminiscent of what made Gene Kelly such a hit. In Singin in the Rain, much of Don (a famous silent film actor, played by Gene Kelly) and Kathy's (a stage actress dancing in the ensembles of movies) relationship is rooted in their desire to rise above the shallow nature of Hollywood while inside the Hollywood bubble. The lives and careers of Don and Kathy would be pretty foreign to a modern audience. So, to keep things exciting but realistic for the characters in La La Land, Mia works her day job as a barista in a coffee shop on the Warner Bros. lot, which allowed for many scenes to take place around movies sets and costumed actors.
The Young Girls of Rochefort
La La Land's director, Damien Chazelle, has been very vocal about the influence of the colorful 1960's musical by Jacques Demy and Michel Legrand. Several of the major song and dance numbers in the film feature the bright costumes and theatrical choreography found in a film like The Young Girls of Rochefort, as well as West Side Story and Sweet Charity. Despite being set in modern times, the film doesn't try to erase the impossibility of a musical. 
An American in Paris
La La Land is equally about the love story and the careers of two artists who are so close to their big breaks that every bump on the road nearly derails their dreams. However, the looming optimism keeps the story fun and exciting much like the 1951 film, An American in Paris. The film also makes a huge nod to the long dance finale that closes out Singin' in the Rain, An American in Paris, and The Band Wagon. La La Land ends similarly but with an added twist!  
Top Hat
A lot of what makes La La Land's stars Ryan Gosling and Emma Stone great for this film is their Fred and Ginger like chemistry. When the two made their onscreen couple debut in the 2011 film, Crazy, Stupid, Love, they were noted for having incredible onscreen chemistry, an obvious nod to another famous onscreen couple was to introduce the two main characters of La La Land and have them not like each other for their first few encounters. In Top Hat, Dale Tremont (played by Ginger Rodgers) is annoyed with dancer Jerry Travers (played by Fred Astaire) after their first interaction. However, when she meets him again she mistakes him for his producer, and the two end up falling for each other similarly to Sebastian and Mia.
La La Land is in theaters now.