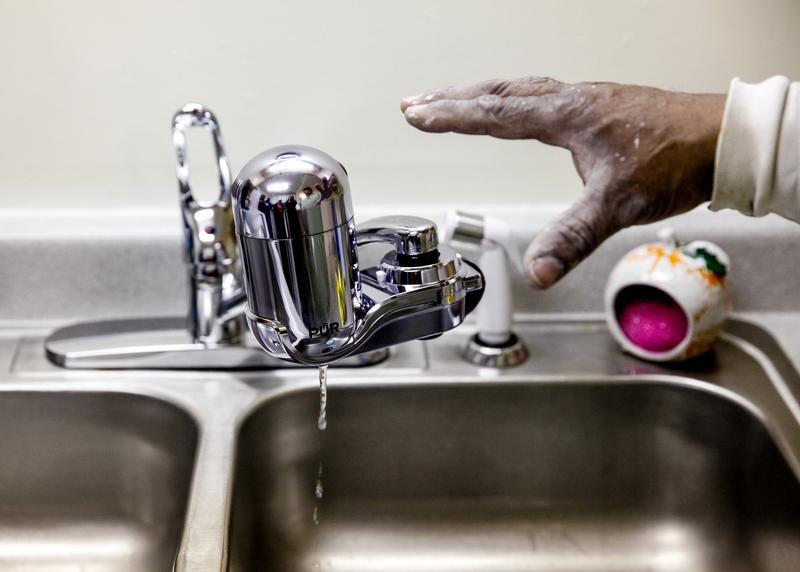 Summary
For over a year, Flint, Michigan's water crisis has unfolded largely without national attention. State officials denied and dismissed claims that city water was poisoned with lead, even as evidence mounted from independent water researchers, a pediatrician, and a muckraker from a non-profit advocacy group. Curt Guyette, investigative reporter for the ACLU of Michigan, tells Brooke how his reporting helped get the story out, and why it took so long for Flint to make headlines.
Song:
"White Man Sleeps" by the Kronos Quartet
Transcript
BOB: From WNYC in New York this is On the Media, I'm Bob Garfield.
BROOKE: And I'm Brooke Gladstone. This week, the Flint water crisis -- poisons accumulating over nearly two years -- finally got the national spotlight. The President in Detroit Wednesday:
OBAMA: And I know that if I was a parent up there I would be beside myself that my kid's health could be at risk.
BROOKE: Lead. Heavy metals. Trihalomethane, a byproduct of chlorine. E. Coli. So how did this happen? In an apologetic State of the State address on Tuesday, Michigan Governor Rick Snyder promised more transparency… likely because his state is one of only two that shields the governor's office from open records laws:
SNYDER: Tomorrow I will release my 2014 and 2015 emails regarding Flint to you, the citizens, so you will have answers to your questions about what we've done, and what we're doing to make this right for the families of Flint.
BROOKE: The 247 pages of emails released this week include only the Governor's communications --- not emails among his staff. They also miss 2013, the origin of the crisis. They're also heavily redacted. But they do shed some light:
MADDOW: This is to Rick Snyder from his chief of staff in September. The subject line is Flint Water. It says (quote) I can't figure out why the state is responsible.
BROOKE: So here's what we know: In late 2013, Flint -- a city in such dire financial straits that it has an emergency manager in charge -- decided to cut ties with Detroit's costly water system. But the new system Flint had chosen wouldn't be ready for two years, so in April of 2014, the city decided to tap the polluted Flint River. Four months later, e coli was detected. The treatment, chlorine, brought other problems, as residents told Michigan Public Radio:
[CLIP MONTAGE]
WOMAN 1: My eyes are burning in the shower and I was like, 'oh my goodness, like, what's going on?' I get out the shower and I can't see…
WOMAN 2: I had lost a bunch of hair. At one point I had lost all my eyelashes. I still wear fake eyelashes because my eyelashes did not grow back to what they were before.
BROOKE: Even the local General Motors plant stopped using the tap water because it was damaging their car parts. The river water also was eating away at lead pipes:
[CLIP MONTAGE]
NEWSCASTER 1:Researchers at Virginia Tech say they've analyzed hundreds of samples of Flint water and what they found I mean it's shocking. some samples contain lead levels high enough to meet the EPA's definition of toxic waste.
NEWSCASTER 2: The team is led by professor Marc Edwards who started testing in Flint this summer at the urging of water activists.
NEWSCASTER 3: They're even warning of lead poisoning in children and pregnant women. When we asked city officials about that, they said the water is safe and that it meets all state and federal guidelines.
BROOKE: Denials -- despite mounting evidence from water researchers, a pediatrician, and a muckraker from a non-profit advocacy group filling the role of local journalist. Flint's water was only switched back to Detroit in October -- but because of pipe damage, it' still unsafe to drink.
That muckraker, Curt Guyette, helped expose the disaster with a cadre of Flint residents and water experts. Curt, welcome to On the Media.
GUYETTE: Thank you so much for having me on.
BROOKE: You're the ACLU's only investigative reporter, right?
GUYETTE: Correct.

BROOKE: What brought you to this story?
GUYETTE: I was hired under a grant with the specific purpose of investigating and writing about Michigan's emergency manager law. And because Flint was under the control of an emergency manager, I started looking into what was going on there, especially when the water issue began to erupt.
BROOKE: Now, before we get to the water, let's talk about the emergency manager rule: that's what happens to communities when they get into financial trouble, they go under state control. In other words, they're not longer electing the officials that govern them.
GUYETTE: Correct. They do continue to vote for city council and mayor, but all the power is consolidated into the hands of an appointed so called emergency manager, who has really unfettered authority. They're only responsible to the governor that appoints them. and they can do whatever they want. They can break collective bargaining agreements, they can sell off city assets, break city ordinances, create new ones. Really the only thing that the law specifies that they can't do is miss a bond payment. So, the banks get paid no matter what.
BROOKE: And the municipalities that end up getting governed in this way are by definition composed of poor people, these are poor communities, they're often African American communities.
GUYETTE: Almost without exception the communities and school districts that have fallen under this law are majority African American. So there's very much a racial component to this, as well as a class component.
BROOKE: Now, getting to the water. Brownish smelly water started coming out of the taps and last spring the emergency manager said that really this was a perception problem for Flint. Then in June, you got a leaked memo from the EPA and an interview with the author and that was a turning point, right?
GUYETTE: At least it was the first crack in the dam of cover up that the state and city were engaged in. Miguel del Toro is his name. He was contacted by a resident of Flint went to Flint, inspected her house to make sure that there was no lead plumbing inside the house because city tests had found very very high lead levels and city officials were trying to say it was because of the plumbing in their home. The city using state protocol was using a number of procedures that were guaranteed to skew the results low. They would instruct people who were providing samples to flush their systems the night before and take the first raw sample in the morning, guaranteeing that it would be the cleanest freshest water, water that was not sitting for extensive period of time in these lead service lines and soaking up the lead. And that's just one of the things that they were doing. Del Toro wrote the memo saying this isn't an isolated incident, the problem is that the river water is so much more corrosive than the Detroit water, and on top of that, the state had made the decision to stop playing the kind of corrosion control controls that Detroit was using.
BROOKE: You had this memo, and you repeatedly asked the Michigan department of environmental quality for comment about it. Their emails discussing your request have been made public. I have a quote: "this is what Curt Guyette has been calling about, by the way, apparently it's going to be a 'thing' now." And through FOIA requests, you also found that the Michigan department of environmental quality edited a report on Flint's tap water by deleting two of the worst testing sites.
GUYETTE: The bottom line is that all of their actions were intentionally designed in order to make sure that they remained under the federal action level. When you exceed the federal action level, you have to start paying to replace those which is very very expensive. And then they took these distorted tests and used it to try to assure people that they shouldn't believe their own eyes and noses. That the water was filthy and not drinkable.
BROOKE: I think one of the emails about you had to do with the fact that you couldn't really be objective, because you're an activist and you created a film about the crisis and so on. What do you say to that?
GUYETTE: One of the emails has me as a reporter with quote marks around the word reporter. You know, I really don't care what they think of me. When you have the documents, when you have the testimony, it really doesn't matter what they think.
BROOKE: I found it curious that the ACLU calls your position investigative reporter instead of investigator. Is that a distinction without a difference? Or was there something intentional about that?
GUYETTE: No, that is a distinction with an important difference. you know investigators provide information to the organization that they're working for. My main job is to provide information to the public. You know, digging up information but then conveying it in a way that is understandable. In a way that is compelling.
BROOKE: I'm just wondering could you have reported this story at a traditional news outlet?
GUYETTE: I worked at alternative papers for most of my life, and you know how much of a struggle it has been for them financially. By the time I left the paper I was working at, I had no budget whatsoever for filing FOIA requests. Under the grant, I had a very generous grant --
BROOKE: You mean in your current position.
GUYETTE: Yeah. I had a lot of resources at my disposal. The incredible luxury of time to really be able to dig into complicated research heavy issues like this. No, there's no way that I would have been able to do it at an alternative paper or a small or midsized daily mainstream newspaper.
BROOKE: YOu know, one of the things we always hear is the media are ignoring this, and the media ignoring that, and sometimes it's frustrating because people usually have heard about that story from somewhere in the media, but this crisis really did take a long time to get attention. Why do you think that is?
GUYETTE: Sometimes the bigger the story is, the longer it takes to get traction. Accusing the government of poisoning a town is a pretty significant charge to be making. And I think that a lot of people are reluctant to report something that is really almost unimaginable. We would not be sitting here anyway talking about this now were it not first and foremost about the relentless efforts on the part of Flint's citizens who refused to believe the lie their government was telling them that their water was safe. And so they found Miguel del Toro at the EPA. They found Mark Edwards at Virginia Tech, they found me at the ACLU of Michigan, and together it was really a unique collaboration to expose this catastrophe.
BROOKE: Curt, thank you very much.
GUYETTE: Oh it's been my pleasure.
BROOKE: Curt Guyette is an investigative reporter for the ACLU of Michigan.