The Takeaway
Amid New Era of Struggle, Black Communities Turn to Kwanzaa for Reflection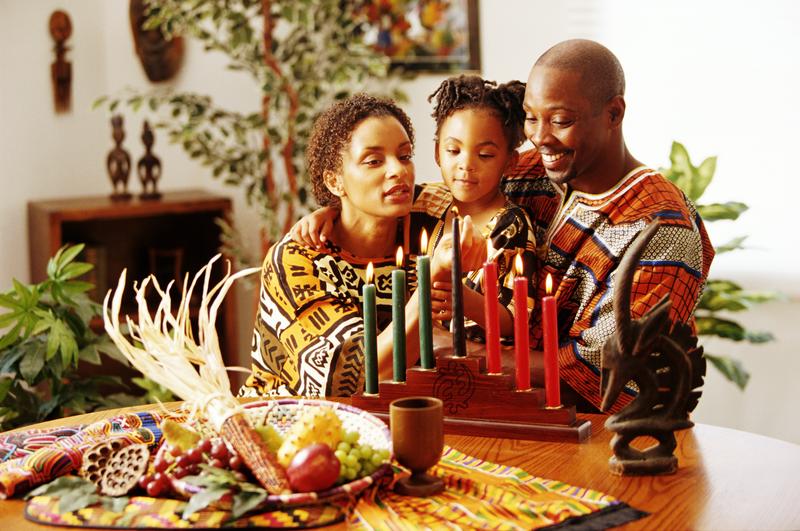 Click on the audio player above to hear this interview.
This week marks the African-American observance of Kwanzaa. It was created 50 years ago and began in 1966 as a celebration of cultural reaffirmation at the height of the Black Nationalist Movement. From the day after Christmas to New Year's Day, seven basic principles are taught: Unity, Self Determination; Collective Work and Responsibility; Cooperative Economics; Purpose; Creativity and Faith.  
At its peak in the 80's and 90's, musical numbers and Sesame Street segments illustrated Kwanzaa's importance in celebrating black culture and heritage. In recent years, Kwanzaa is still celebrated across the nation. But despite postal stamps, public celebrations, and some good-natured humor,  the public discourse has died down.  
As the African-American community continues to be plagued by police shootings in black communities across the nation, setting off waves of protest and calls for action; is there a benefit in re-embracing the tenets of Kwanzaa, or is it time to come up with a new set of ideas?  
Christina Greer is an associate professor of political science at Fordham University and author of "Black Ethnics:  Race, Immigration and Pursuit of the American Dream."
While not all African-Americans feel a real connection to Kwanzaa, Greer argues that the holiday's key principles can still open the door for some much-needed reflection on what it means to be black in America today.
What you'll learn from this segment:
How an era of social unrest lead to the creation of Kwanzaa.
How the seven principles of Kwanzaa are being applied in black communities today.
How celebrations like Kwanzaa help African American communities that are feeling under siege.