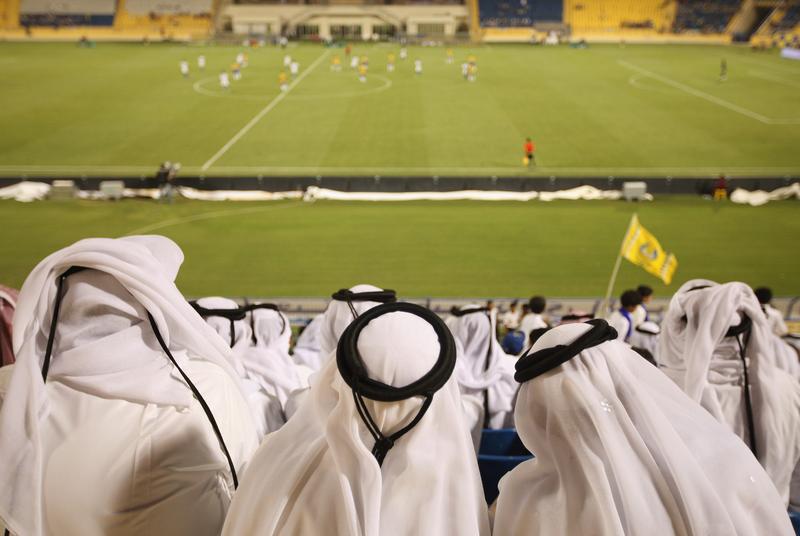 There's nothing bigger in global sports than the World Cup, and later this month, 2014 World Cup hysteria will kick off in Brazil. In the soccer world, FIFA—the governing body of the sport—is something like a cross between the United Nations and the Kremlin.
But this weekend a report by The Sunday Times revealed damning evidence that FIFA members were bribed and bought off to support Qatar's bid for the 2022 World Cup. 
Andrew Jennings, the author of "Omertà: Sepp Blatter's FIFA Organised Crime Family," weighs in on the alleged plot to buy the 2022 World Cup.
"The story in yesterday's London Sunday Times was absolutely brilliant," says Jennings. "They say that they've got hundreds of millions of emails and bank payments showing that Qatar was systematically paying anybody who moved in FIFA."
It's not just The Sunday Times shedding light on potential FIFA corruption. In addition to the allegations of bribery, an investigation by our partner The New York Times reveals an elaborate match-fixing scheme that took place during the 2010 World Cup in South Africa. According to the report, referees were paid large sums of money to throw matches. Jennings, however, compares this to "low level crime," like running a traffic light. 
"There are only two big games that I know which were fixed that matter, and FIFA fixed them," says Jennings.
One match that Jennings says was fixed happened during the 2002 World Cup in South Korea.
"As soon as the South Korean team went out of the contest, attendances would slump in the stadiums, so they had to keep them in until the final 16," says Jennings. "[South Korea] beat Italy and Spain on match-official decisions just for economic grounds. It wasn't for gamblers, it was just to keep the bottoms on the seats. Nobody's ever taken FIFA to task for that because the Spanish and Italian people at FIFA, well they're closer to FIFA than their own countries."
About 12 years ago Jennings started looking into FIFA as an investigative journalist—he found that the organization is highly secretive.
"They don't publish anything—you can't find out what (FIFA President) Sepp Blatter earns, you'd have to nail him to the floor and then he probably wouldn't tell you," says Jennings. "I could smell organized crime. I looked at the way it operated, and it's very simple—loyalty comes out from 209 national associations. What you think, I think, and all listeners think is irrelevant as long as Blatter's got 209 national associations kissing his posterior. One of them is U.S. soccer, and the Brits, we're just as bad—he's in power and we can all go take a walk off the plank."
Jennings believes the allegations brought forth by The Sunday Times, saying that the decision to select Qatar as the site of the 2022 World Cup was likely motivated by bribes.
"People at FIFA don't care," he says. "I'm damn sure that I know what happened, and so do a lot of people: It involved large bags of money."
The report by The Sunday Times alleges that a former FIFA's executive paid more than $5 million to other senior officials officials in exchange for support for Qatar's successful bid for the 2022 World Cup. Jennings believes there was likely more money spent.
"FIFA has been mobbed up for a very long time," he adds.
Listen to the full interview to hear more analysis from Jennings.