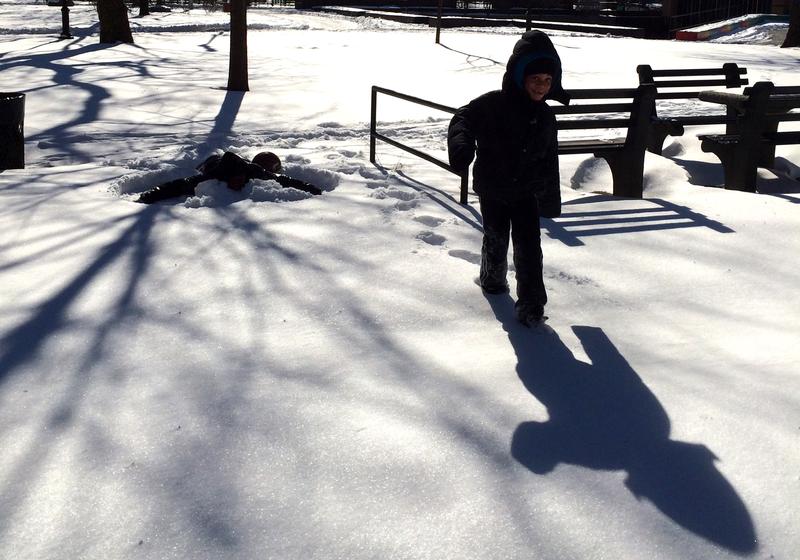 Many New York City schools had to change up their approach to classwork and rejigger schedules to accommodate lower-than-usual attendance on Wednesday.
The city's daily attendance data show that only 47 percent of students attended school Wednesday, the lowest attendance rate by far this school year, according to preliminary estimates. The year's previous low was 73 percent on Jan. 7. Typically, citywide attendance in January hovers around 90 percent.
As for how many staff members showed up, the Education Department does not provide same-day numbers, but several school staff members reported to WNYC that attendance for teachers was far lower than normal at many schools.
With low attendance for both students and staff, John Adams High School in Ozone Park, Queens, developed "Operation Snowflake" to group students by subject area. Teachers — those who made it in to school — then met with students for individual or small-group instruction.
"Probably a delayed opening would have helped with the attendance, because it was easier to get in later on than it would have been at 6 a.m. or 7 a.m. — the times that our students have to leave to get to school for an 8 a.m. start," said Meghan Duffy, a history teacher at John Adams. The school had a 22 percent student attendance rate. Duffy said about 30 percent of staff members were not able to commute to work.
Several Queens schools seemed to have particularly low attendance, since many teachers commute from Long Island and students tend to commute to school by bus rather than subway.
At J.H.S. 74 Nathaniel Hawthorne in Bayside, about 50 percent of staff members reported to work, said Anthony Armstrong, the school's principal. He said student attendance was less than 70 percent.
Less than a third of students made it to Hillcrest High School in Jamaica Hills. Stephen Duch, the school's principal, said about 65 of the school's 165 teachers were absent. Many staff members live on Long Island. Like Duffy, Duch said that a delayed start to the school day could have helped attendance.
Education officials countered Wednesday that, in a school system of this scale, a delayed opening can potentially be more disruptive to families than canceling school altogether. And, in the case of this storm, the department said factors did not add up to a decision to close schools.
Chancellor Carmen Fariña announced last night at about 11 p.m. that schools would remain open Wednesday, and that all after-school activities and sports games would operate as usual.
Mayor Bill de Blasio defended the decision Wednesday, saying that the snow slowed at about 10 p.m., giving city workers time to do a good job clearing streets.
"If we can make the school day work, by law, that's our obligation," said de Blasio.
He acknowledged that mass transit and school buses functioned well, but not perfectly.