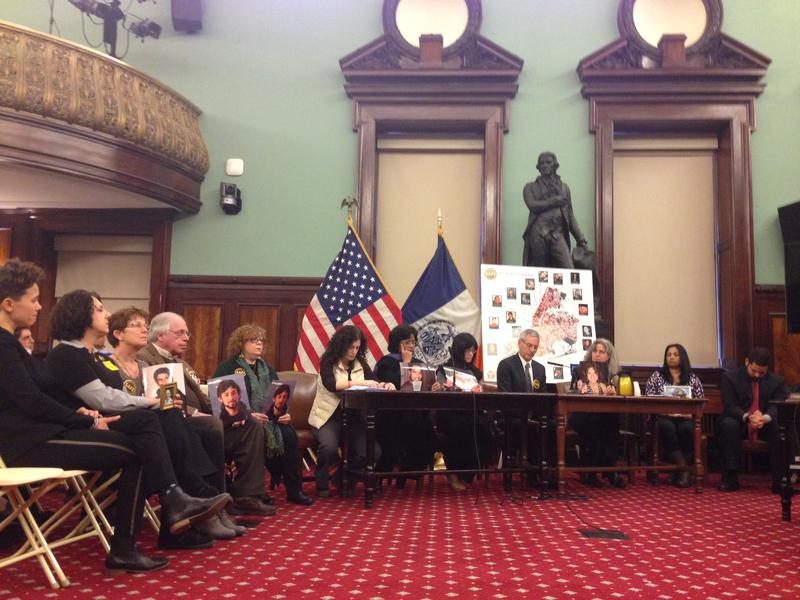 New York's City Council wants specifics on how much it will cost to implement Mayor Bill de Blasio's plan to reduce traffic deaths, and how fast it can happen. But at the council's first hearing on Vision Zero Monday, city officials offered few details.
"We would like to get some feedback from you on timeline, and money," said Councilman Ydanis Rodriguez, chair of the Transportation Committee. "When can we say that New York City will be fully implementing Vision Zero? Can we say three months from now? Six months from now?"
"I can't tell you when we're going to have it all accomplished, because not all of it is in our immediate control," answered Department of Transportation Commissioner Polly Trottenberg.
Trottenberg noted that the DOT has "hit the ground running," convening an internal working group and launching outreach efforts. But full implementation of the Vision Zero plan depends in part on Albany, she said, and on shifting the culture among drivers, cyclists and pedestrians.
The NYPD's Thomas Chan, who heads the department's transportation bureau, promised increased enforcement of the most dangerous moving violations, including speeding and failure to yield. But that was met with some skepticism.
"This is a big change in NYPD culture and structure. Recruits don't sign up for the police academy in their minds to write speeding tickets," Councilman Brad Lander said. Lander questioned where the resources for  increased policing would come from. "I know from talking to my commanding officers, if they're going to put more here, either they need more or they to have to put less somewhere else. It's that simple."
Chan said more ticketing won't take more money, because it will be folded into routine patrol duties. The NYPD is also investing in 200 more laser speed guns, which are currently in use in 32 precincts across the city. The highway safety patrol will also get 70 more members—up from 200 now—but speeding on arterial streets like Broadway and Atlantic Avenue will still be handled at the precinct level.  
Members also pressed the DOT and NYPD about another resource issue—school zones without crossing guards. Commissioner Trottenberg said the Department of Education will be actively involved in Vision Zero implementation, as will the MTA. Council member Rodriguez urged the city's District Attorneys to join the effort, and look at opportunities to bring more dangerous drivers to trial.
While no agency head offered a detailed timeline, the overall goal of Vision Zero is to eliminate traffic deaths by 2024. For Amy Cohen, that's not soon enough. Cohen was among nine parents and relatives who spoke at the hearing as part of Families for Safe Streets, a new group representing those who have lost loved ones to traffic crashes.
"Within ten years, if the current rates continue, that will be another 3,000 people like Alison Liao, Lucian Merryweather and my son Sammy Cohen Eckstein killed in crosswalks and on our sidewalks," she said. "Ten years is too long to wait."