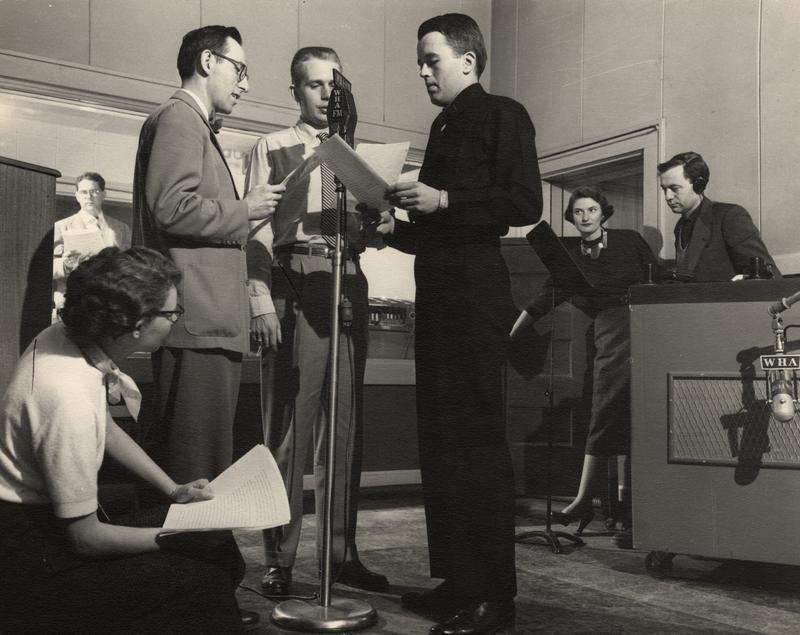 The Fevered Land is an unusually frank series of sketches about racism and discrimination circa 1946 produced by WHA in Madison, Wisconsin.  The vignettes highlight common stereotypes about and attitudes toward African-Americans, Jews and immigrants, to illustrate the "contagious disease of discrimination."
WHA Players 
The WHA Players was the name of the troupe at WHA (primarily University of Wisconsin students) who presented plays over the air and worked as actors in any WHA program needing them, like the Wisconsin School of the Air or Wisconsin College of the Air series. They had a regular timeslot in 1941-42 for a series called "The Playbill of the American Theatre," which was broadcast live from the theatre at Wisconsin Memorial Union. They were also used as the talent for a 1955 series called "Mind of the Writer," presenting plays like 'Nicholas Nickleby' and 'Ah, Wilderness.' Bill Siemering was a member of the WHA players during his student years in the 1950s. After a stint at manager of WBFO-Buffalo in the 1960s, he went on to become the first program director for National Public Radio, wrote its mission statement, and developed "All Things Considered."
Karl Schmidt/Producer
The Fevered Land was produced by Karl Schmidt, a longtime employee of WHA Radio, the flagship of the network now known as Wisconsin Public Radio.
Schmidt came to the University of Wisconsin-Madison in 1941 as a freshman. He soon discovered WHA and what would come to be his life's work. After his military service in World War II with the Armed Forces Radio Network, he returned to Madison and to WHA where he became the primary reader for "Chapter a Day," a program that serialized literature for radio. It had debuted as a summer program in 1932 and had become a year-round offering in 1939. It remains on the air today; it's one of the longest-running broadcast programs in the world. 
Schmidt was also heard on a variety of other programs. He was color commentator for University of Wisconsin football broadcasts and he also lent his talents to the Wisconsin School of the Air, a series of programs broadcast for use in school classrooms around the state. 
Schmidt eventually became the state network's Director of Radio, then stepped down from that role in 1971 to found Earplay, a national program that had a mission to produce radio dramas for public stations in the United States and Europe. For the next decade, Earplay distributed audio works by playwrights like Edward Albee, David Mamet and Archibald MacLeish, and included the work of actors like Meryl Streep, Tony Roberts, Bruno Kirby, Jean Marsh, Howard da Silva and others. 
Schmidt played a key role in the development of National Public Radio as a member of its founding board. He won two Peabody awards and two Major Armstrong Awards as well as the Prix Italia. Many consider his masterwork to be his radio adaptation of the classic post-apocalyptic novel "A Canticle for Leibowitz." The fifteen-part series aired over Wisconsin Public Radio several times, and won both a 1983 Gabriel Award and a 1984 Ohio State Award. 
After his official retirement, Schmidt continued to read books on the air for "Chapter a Day," up to shortly before his death in April of 2016 at age 93. 
Don Voegeli/Organist
The organist heard on this segment is most likely Don Voegeli, WHA's longtime music director.
He was heard on a variety of programs and was the accompanist for the Wisconsin School of the Air's regular music program. He teamed up with Schmidt to found the National Center for Audio Experimentation. The outgrowth of the Center's experiments with electronic music was a series of albums distributed to non-commercial radio and TV stations. They contained musical themes for use in local broadcasts. Many stations still have these LP records in their libraries and used their themes at some point. Most public radio listeners have heard Voegeli's work: he wrote the theme for NPR's "All Things Considered," a variation of which remains in use today. He died in November 2009 at age 89. 
WHA-AM 
WHA is that flagship of the Wisconsin Public Radio network. It debuted as University of Wisconsin experimental station 9XM. It began a regular "broadcast" on December 4, 1916 (the state weather forecast by Morse code) and began a regular schedule of voice broadcasts in January 1921. It's the oldest non-commercial radio station in the U.S. It teamed up with Wisconsin-owned WLBL in central Wisconsin in 1932 to share programs and built a network of FM repeaters around the state during the years 1947-1952. Counting translators and affiliates, WPR now is heard on 34 stations with three simultaneous programs streams.
WHA has a long history of taking on serious topics in its programs. Here's a sampling:
"Exploring Americana:" a Wisconsin College of the Air program from 1941-42. Host James Flint took a portable recorder to industrial Ohio to talk to immigrants, their children and grandchildren and how they made the adjustment to American society. Flint, the Congregational Student Pastor at the University of Wisconsin had used his recorder in earlier years to interview young adults on issues of the day in series like "American Youth Speaks" and "World Youth Speaks." 
"The Strong Black Hand:" an episode of the 1942 Sunday series Civilians in Service which called for equality for African Americans in the war effort. (Ohio State Award winner) 
"Adventures in Our Town:" a series presented as part of the Wisconsin School of the Air offerings in 1946-47. It explored problems in human relationships with regard to differences in appearance, ability, race, religion or culture.
 "How to Live A Hundred Years…Happily:" a 1949 special on psychosomatic illness presented by Dr. John Schindler, from nearby Monroe, Wisconsin. The program generated so much response it was offered to others stations nationwide and a print version was excerpted in various magazines including Reader's Digest. Schindler later wrote a book on the topic, which was printed in numerous languages. 
"The Inner Core:" a week of programs done in conjunction with WHA-TV in 1968 focusing on the issues facing inner city Milwaukee (the TV offering garnered WHA-TV the first Emmy ever awarded to an educational station).
 "Youth on a 4-Day Trip:" a 1968 series of five programs on drug and alcohol abuse among teens and other issues affecting young people (WHA-TV also did eight similar programs). 
"The Darker Brother:" a Wisconsin School of the Air series from 1969-70 for fifth and sixth graders that focused on race relations in the U.S.
"We Are The Other People:" another Wisconsin School of the Air presentation from 1970-71: this one on prejudice as experienced by various ethnic groups in the U.S.
And, check out WHA's 100th anniversary site!
_____________________________
Randall Davidson is the Director of Radio Services at the University of Wisconsin Oshkosh as well as Wisconsin Public Radio historian and author of 9XM Talking: WHA Radio and the Wisconsin Idea.
Special thanks to Mike Crane, the Director of Wisconsin Public Radio for permission to stream, The Fevered Land and to Digital and Media Archivist Catherine H. Phan at the University of Wisconsin-Madison Archives.