The Takeaway
New Peacekeeper Capt. Johnson Cools Tension in Ferguson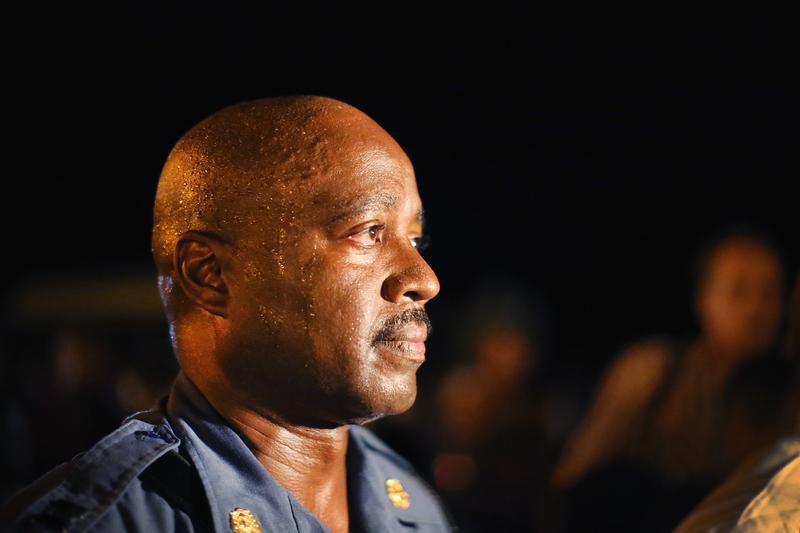 This week in Ferguson, Missouri, protests over the death of 18-year-old Michael Brown, an unarmed black teenager killed by a police officer, turned violent and were met with a militarized response from law enforcement officials. 
Relations between the police and community seemed to hit a tipping point this week. Yesterday, Missouri Governor Jay Nixon announced that St. Louis Police Department would no longer be taking the lead in securing the region.
"The immediate security responsibilities will now be directed by Missouri State Highway Patrol, who have proved themselves time and again when Missourians have needed them the most," the governor said.
The images coming out the St. Louis area have had eerie resemblances to the civil rights era, or in some cases, to war zones being fought around the world.
Photos of a mostly-white police force, in military-style gear, atop tanks aiming large weapons at a crowd of predominantly black protesters, flooded the internet and news media. Accounts of tear gas and rubber bullets being fired into that crowd, and journalists being arrested, dominated headlines and the thoughts of Americans across the country.
These are images and scenes that many politicians and American citizens say should not be coming out of the United States in 2014.

See Also: PHOTOS: 'Municipal Shock & Awe' in Ferguson
"This is a place where people work, go to school, raise their families, go to church—a diverse community—a Missouri community," Gov. Nixon said. "But lately it's looked more like a war zone."
In response to criticism over accusations of excessive force, Gov. Nixon named Captain Ronald Johnson of the Missouri Highway Patrol as the new leader of security operations in Ferguson.
"We are going to have a different approach and have the approach that we're in this together," Captain Johnson said during a press conference Thursday.
Captain Johnson reportedly spent much of last night with protesters, listening to their stories and marching alongside them through the streets. Troopers and tanks have also been ordered to back away, and police removed their tear gas masks, ushering in, by some accounts, a peaceful and celebratory night in Ferguson.

Don Marsh is host of the St. Louis Public Radio program St. Louis on the Air, and a long-time resident of the region. He's also someone who has considered the region's racial history deeply in a project called "St. Louis History in Black and White," produced with St. Louis Public Radio.
Don explains what the mood was like in Ferguson last night, and what the locals are saying in the area.
Though the events in the St. Louis area have undoubtedly shaken the region, nationally, the situation in Ferguson has triggered widespread criticism of the use of military-style weaponry and equipment by local forces, and calls are coming from across the country to demilitarize the police.
See Also: Police Departments See Influx of War Gear
Jack Hoban, president of Resolution Group International, a professional training organization that works closely with military and law enforcement organizations, reflects on how police departments use military gear. 
What do you make of the events in Ferguson? What does it say about modern America? Leave a comment below or give us a call at 1-877-869-8253.