Making Feminist Art with Car Hoods and Fireworks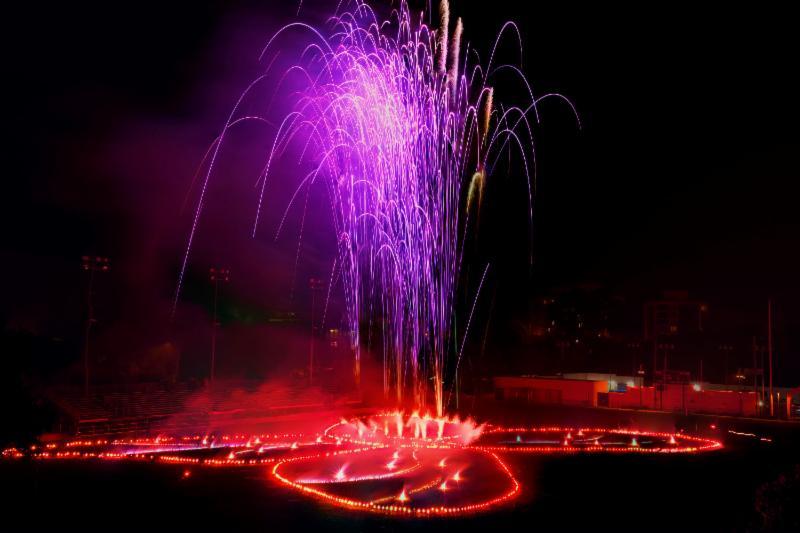 The artist behind an iconic feminist piece artwork is celebrating her 75th birthday with a new show — and fireworks.
Judy Chicago has a new exhibit at the Brooklyn Museum covering her career from 1963 to 1974, before she did her most famous piece "The Dinner Party." ("The Dinner Party" is now in the museum's permanent collection.)
It includes a piece called "Birth Hood," which has an interesting background. Chicago said she was the only woman who took a car painting course with 250 men in Los Angeles in the '60s. She said learning how to spray paint was one of the best things she ever did.
"I've spray painted everything. Automotive lacquer, china paint, fabric paint, now glass paint, because I am working in glass," she said.
"Birth Hood" is composed of geometric figures spray painted with automobile lacquer on a car hood.
"Birth Hood," made with automotive lacquer and a car hood, was created by Judy Chicago in 1965. (photo by Donald Woodman)
As part of the show, Chicago will present a fireworks piece in Prospect Park called "A Butterfly for Brooklyn" at 7:30 p.m. on April 26. The fireworks will seem to levitate and swirl.
Chicago explained she often talks about the images on the plates of her "Dinner Party" as butterflies trying to get out of their domestic enclosure. "In a way A Butterfly for Brooklyn will bring the imagery of the plates out into the world, and into the air," she said.
The artist Judy Chicago standing in front of one of her pieces. (photo by Donald Woodman)