FEMA to Incorporate Climate Change in New Flood Maps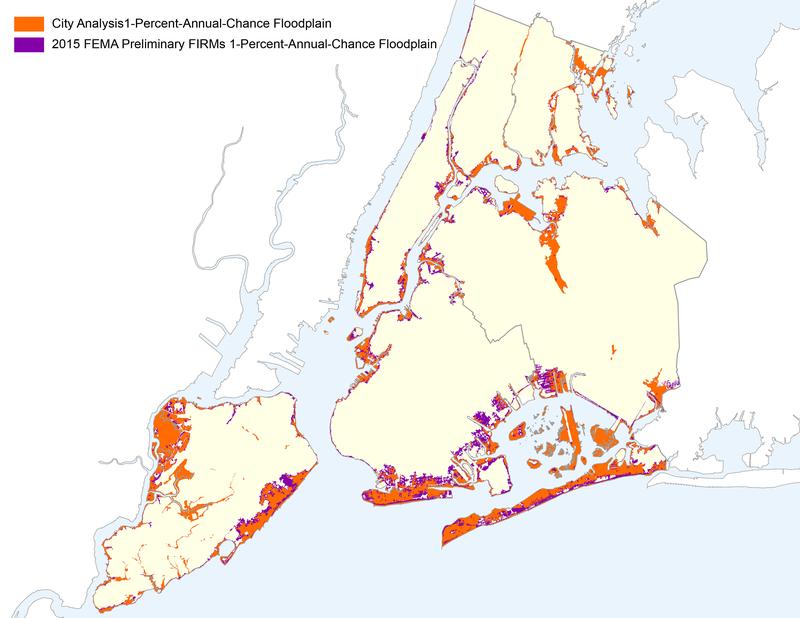 Federal officials and the de Blasio administration have reached a deal that could resolve many complaints about the way flood maps are being applied in the five boroughs.
In a statement Monday, the Federal Emergency Management Agency said it would create new maps to show which parts of the city would be inundated by a 100-year-flood at some point in the future. The announcement comes after many environmentalists and planners criticized the agency for failing to take sea-level rise into account in creating the maps, saying that a beachfront house elevated to a "safe" height today wouldn't be able to withstand a minor flood 50 years from now.
City officials, meanwhile, said they would use the new maps to determine the elevation at which the ground floors of new buildings would have to be constructed, though many details have yet to be sorted out.
"The intent of the new climate-smart flood map is to develop the tools to give us a better understanding of long-term risk, and so we can then start baking that understanding into how we build," said Daniel Zarrilli, the director of the city's Office of Rebuilding and Resiliency.
In the other part of the agreement, FEMA agreed to revise the draft flood map it proposed in January 2015, which would have doubled the number of homes and buildings in the flood zone. That proposal alarmed city officials and housing advocates because it would have severely financially strained thousands of low- and middle-income New Yorkers: property owners in FEMA flood plains must buy flood insurance to qualify for a mortgage, a requirement that can add thousands of dollars to the yearly cost of maintaining a building.
The city had said FEMA used faulty data from a storm in 1950 that threw off predictions of what should be considered a "100-year-flood."
"The result really skewed the whole analysis, because this one storm was much worse than any of the other winter season storms," said Philip Orton, an assistant research professor at the Stevens Institute of Technology, who examined FEMA's methodology on behalf of the city.
It is expected that both maps — one to guide new building and the other for insurance on old buildings — will take three to four years to finalize.