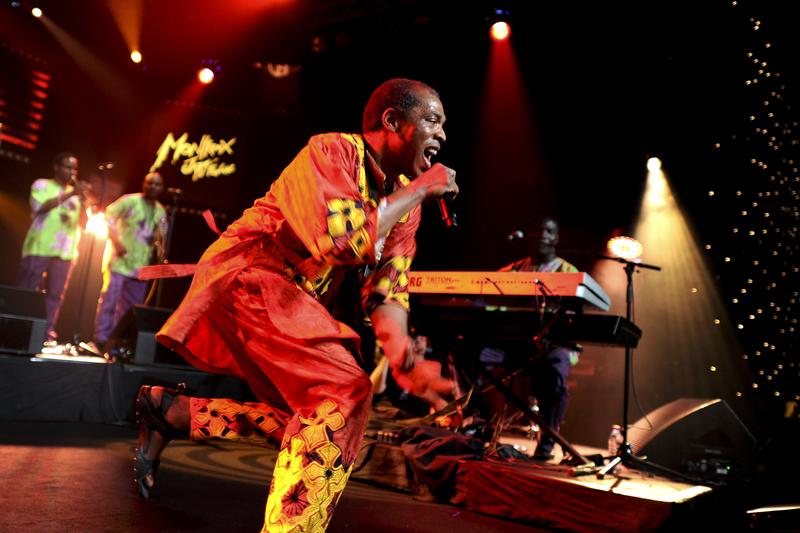 Political firebrand, musical innovator, Nigerian folk-hero, rebel, and global icon: Fela Kuti was a figure eminently of his time, and also someone who was entirely ahead of his time.
Born in 1938 to an upper-middle class family, he was the son of activist parents, and the influence of his mother, feminist activist Funmilayo Ransome Kuti, was one that would shape his views his entire life.
However, it was only after he encountered the Black Power movement in 1960s Los Angeles that Fela began to fully develop his own complete identity and vocabulary as a political revolutionary and critic of the Nigerian government.
His time in the U.S. profoundly influenced his musical sensibility too, and inspired him to begin the experimentation that would eventually lead to the creation of Afrobeat. 
The story of Fela Kuti's journey as a creative and ideological leader is the subject of director Alex Gibney's new documentary "Finding Fela," which opens in select theaters across the country in August.
Femi Kuti, the eldest son of Fela Kuti, was member of his father's band, but he went on to develop a musical identity of his own that earned him four Grammy nominations. He's featured in "Finding Fela" and he reflected on his father's life.
"The political part was very essential in the music all the time," says Femi. "He couldn't understand the love songs in Africa, with so much poverty and suffering."
Femi says that his father taught him to put the suffering of others before personal matters. Fela Kuti had a night club in the Nigerian capital of Lagos called The Shrine, which became a legend in Nigeria and around the world. On Friday nights, Fela would take to the stage to "abuse the government," as Femi put it, something that was very dangerous at times.
"I don't know if he personally feared for his life—he never showed that to anybody," says Femi. "But definitely everybody around him, including his kids and also my mother, were afraid that he would be killed. Everybody spoke to him, but he always shrugged it off his shoulders and said that wasn't going to stop him from speaking the truth."
Femi says that his father lived life as if he had a death wish.
"He did things that we never understood why—he always provoked the authorities," says Femi. "Everybody knew if you called their names, they were going to come and retaliate."
According to Femi, his father was not angry with Nigeria, but frustrated and upset by the lack of support from the government for education, infrastructure, healthcare, and more.
"What he was talking about then in '70s, Nigeria is still facing critical issues on these topics," he says. "He was just crying out loud all the time, saying, 'We need to get things straight.'"
In addition to political activism, Fela Kuti was an iconic musician. He created a new form of music—Afrobeat—which combined traditional Nigerian and Ghanaian music, jazz, highlife, and funk.
"His mother called him and told him that if he wanted to be successful as a musician, he had to form his own kind of music, and this is how the Afrobeat started," says Femi. "James Brown was very big, and I think my father just saw James Brown as, should I use the word, oppressive. Oppressive in the sense—not negatively—but he had to come up with something better than James Brown. This was a challenge of the beginning of his career. He had to come up with something that his people would love him for. And this was Afrobeat."
Fela Kuti died from AIDS, like so many tens of millions. But during his life, he denied that HIV could cause AIDS, or that AIDS was dangerous.
"You have to understand the effect of colonialism on people like my father," says Femi. "If Europe talks about AIDS or that AIDS is killing Africa, than people like him would have to fight back. There was not enough proof during my father's era that AIDS was caused by sex. I think the way AIDS was marketed—the propaganda against AIDS was not well put together by the U.N."
However, through his music, his nightclub, and his discussions, Femi believes his father was able to effect real change in Nigeria.
"If Nigerians are outspoken today, this is because of my father," he says. "Throughout the '70s and part of the '80s, everybody was too afraid to talk—you never had any human rights activists talking. Today, the youths speak openly now, and they are very critical of the governments in Nigeria and Africa, but this is due to my father giving them this voice, this power, this 'have no fear.'"