SchoolBook
Under Threat, Charter Advocates Plan Show of Force With Rally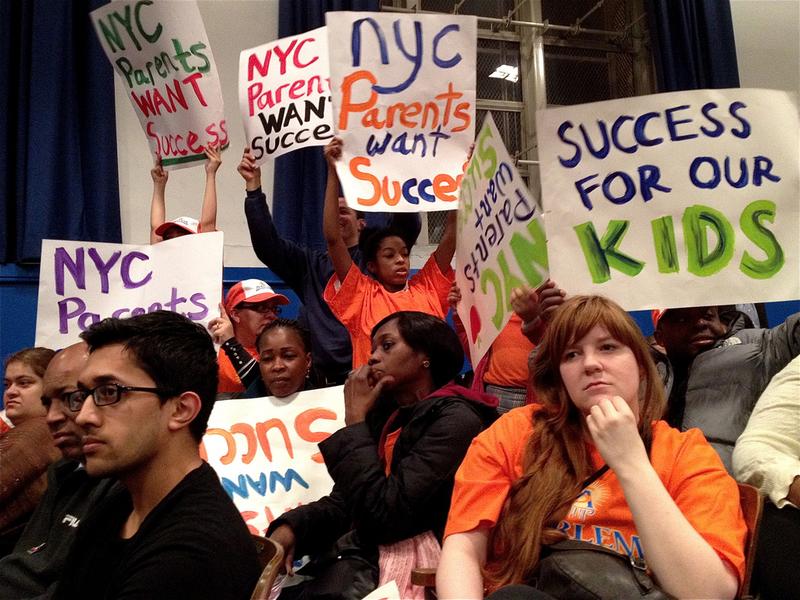 Thousands of advocates and students plan to rally in defense of charter schools with a march across the Brooklyn Bridge on Tuesday morning. After a decade of significant expansion under Mayor Michael Bloomberg -- there were 17 charter schools when Bloomberg took office and now there are 183 -- charter schools face the imminent prospect of a new mayor that's less friendly to charter growth.
"I think the message is pretty simple: We're public school families and we demand a great, free public education in the city," said Jeremiah Kittredge, executive director of the group Families for Excellent schools, which is helping to organize the event.
Kittredge said the rally was aimed at "all of our city officials" to demonstrate how important charter schools are to city residents. It's the mayoral election in particular that makes charter advocates nervous.
Bill de Blasio, the Democratic mayoral candidate and current frontrunner, has put forth ideas that alarm the charter sector, including charging rent to some networks for space in public school buildings. 
Joe Lhota, the Republican mayoral candidate, has said he would double the number of charter schools. 
Eva Moskowitz, who runs the Success Academy network of charter schools, said she was "very worried" about the future of charter schools in New York City.
"There is a lot at risk here, and it's not an exaggeration," she said in a recent interview with WNYC. "I can't look into the hearts and minds of elected officials and know what they're actually going to do in practice. But, I think it would be naive not to take these very explicit anti-charter threats seriously."
Moskowitz encouraged Success parents to attend Tuesday's rally with their children. She delayed the start of school so that students could participate, which her critics quickly condemned. (Moskowitz, for her part, defended the move, saying attendance at the rally was not required and that her students receive extra class time year-round.)
Kittredge estimates that about 10,000 charter school parents and students from 70 schools will attend the rally -- not an insignificant showing for a sector that still accounts for a small minority of New York City public school students. There are currently 70,000 students enrolled in New York City charter schools.