Feds Arrest 40 Immigrants in Five Days Around New York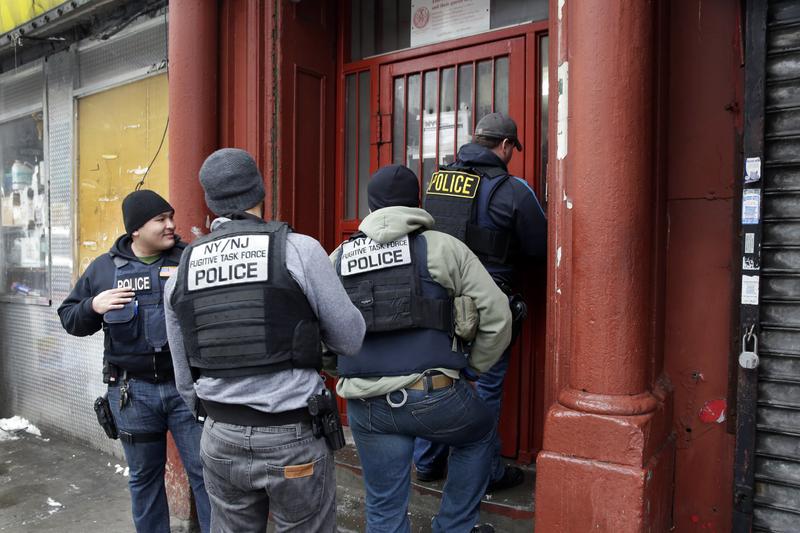 Immigrant communities and their advocates are on edge after the U.S. Immigration and Customs Enforcement agency, or ICE, arrested 40 people in the New York area over five days last week. They want to know if the raids are the start of a significant spike in the deportation of immigrants under the Trump administration.
WNYC asked ICE to put those 40 arrests in context. A spokeswoman responded by sending a press release from August about the arrest of 58 immigrants in and around New York, the last time a similar operation has occurred. "This number of arrests is not unusual for a week long operation," she said of the 40 immigrants who were taken into custody last week, adding that 95 percent of them had criminal records.
But will the frequency of the sweeps increase, and is there now a greater list of reasons to arrest an immigrant? Advocates fear the answers to those questions are, yes and yes.

The Obama administration deported a record number of people living in this country illegally. But its policy was to crack down on convicted felons and threats to national security. It placed a lower priority on immigrants without legal status who've been convicted of lesser violations, like re-entering the country after deportation.

The Trump administration has changed that. In a statement, ICE said its agents are now arresting whatever suspects they find in a sweep, regardless of the severity of the crime they may have committed. Critics said arrests and deportations are bound to go up.

City Council speaker Melissa Mark-Viverito said she expects more "dragnet raids" in New York and that they'll "destabilize communities and devastate families." ICE fired back at such sentiments in a blistering memo that was leaked to the New York Immigrant Coalition and independently verified by WNYC. The memo called reports of ICE checkpoints and other aggressive tactics an incitement to "mass panic." An ICE spokeswoman declined to comment on whether the agency would be stepping up major raids like the one last week.
The agency said it would released updated statistics and photos about the past week's arrests on Monday.