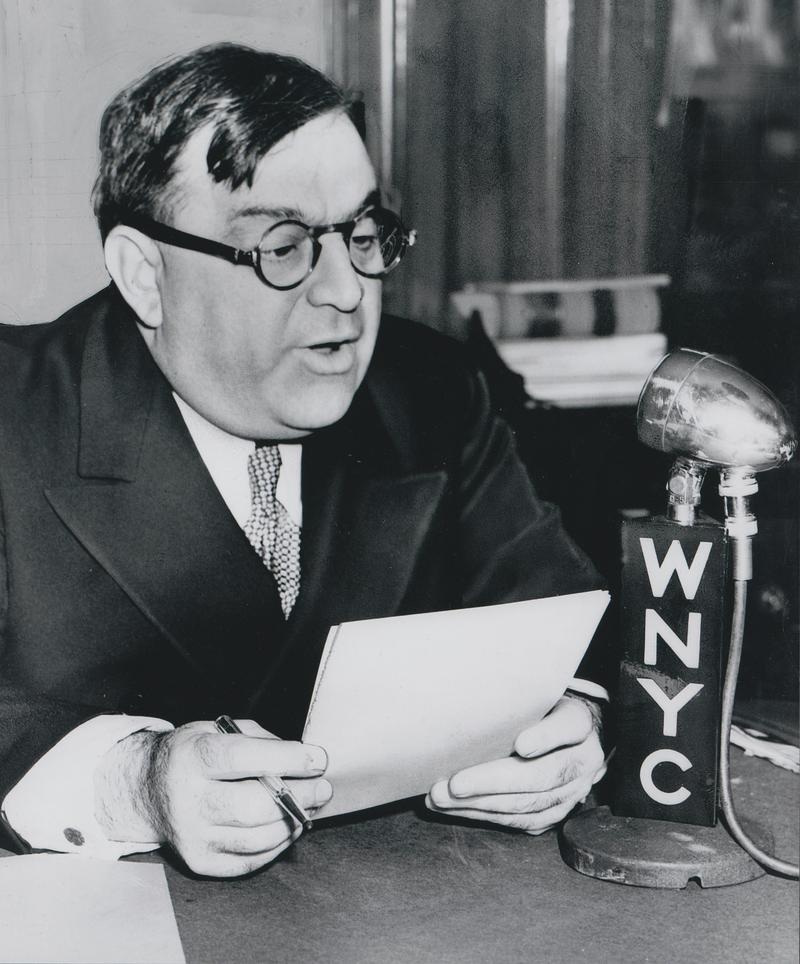 Summary
This episode is from the WNYC archives. It may contain language which is no longer politically or socially appropriate.
Exploitation of children, ceiling prices, department of markets.

Broadcast begins with a national program about the City's preparation for increasing production and employment once the war ends. Followed by the regular local program.

Extended outro includes vocals! WNYC announcer concludes broadcast.
Audio courtesy of the NYC Municipal Archives WNYC Collection
WNYC archives id: 71141
Municipal archives id: LT4039
Transcript
The original text of the WNYC radio broadcasts are the property of the New York City Department of Records/Municipal Archives. This digital edition is made available for research purposes only. The text may not be duplicated or reproduced without the written permission of the New York City Department of Records/Municipal Archives 31 Chambers Street New York, NY 10007

FOR IMMEDIATE RELEASE SUNDAY, FEBRUARY 27, 1944.

CITY OF NEW YORK OFFICE OF THE MAYOR

TEXT OF MAYOR F. H. LA GUARDIA'S SUNDAY BROADCAST TO THE PEOPLE OF NEW YORK FROM THE MAYOR'S HOUSE, FEBRUARY 27, 1944, BROADCAST OVER WNYC AT 1:00P.M. FOLLOWS:

[Audio not available beginning here]

Patience and Fortitude.

Berlin and Tokyo.


Thanks for the theme song, Maestro Spitalny. It was fine.


POST WAR PLANS

Today through the courtesy of Colonel David Sarnoff, we have company. I am speaking on a network of the National Broadcasting Company. It is because I have something of
interest, not only to our own people here in town, but to the people of other cities - Pittsburgh, Chicago, Detroit, Nashville, Schenectady, Atlanta, Grand Rapids and others. I have good news for you - news of employment for our returning soldiers and of big orders and work which will keep our plants going after this terrible war is over.


I have already reported on New York City's Post-War Program of public works. That is all ready. That program alone is a billion dollars.

But today I am going to tell you what our industry and business and transportation and communication here in New York City are going to do right after the war. Yes, and they have the money to do it. This means orders and work not only for our City, but for the heavy industry cities throughout the country, and for the hundreds of millions of dollars worth of machinery and equipment which we do not manufacture ourselves.

We are a large manufacturing City - in fact, the largest in the country - light manufacturing - and we know that when business is good throughout the country, it means that business is good in New York City.

Private corporations and industry in New York City have definite plans to spend several billions of dollars, of which much will buy your products as soon as war needs let up.

Some months ago, Secretary of Commerce Jesse Jones set up a Committee for Economic Development to plan for jobs. We will all get in line and support his program.

Here in New York we are doing just that. In addition to the work of the local Committee for Economic Development, I appointed a Committee of outstanding leaders in business and industry, chosen from the Mayor's Business Advisory Committee. Instead of waiting for the long range program of the Committee for Economic Development, it went to work at once to see what orders would be ready and to make a prompt survey of sufficient coverage to indicate the probable volume and kind of business we might depend on to make immediate employment as soon as the order "cease firing" is given on the battlefronts. We did not want to wait for the regular production of the ultimate consumer goods, for which there is an enormous pent up demand. That is the job for the Committee for Economic Development. We believe and found it true that before we can expect that flow of goods for retail sale, there is a great need for preparation by capital additions, repairs, maintenance, replacements, expansion and new construction, right here in New York City.

New York City's Post-War Industrial Committee, of which the City's Commissioner of Commerce, George Sloan, and Mr. C. R. Beardsley are the spearheads, obtained the cooperation from various business firms of the loan of engineering personnel to consult, confer and interview hundreds of other firms in order to obtain the true and real facts. I want to make clear that this was not just a questionnaire. This was a real survey by a group of trained and experienced engineers actually conferring and consulting with heads of business and industry, with the care and thoroughness of a consultation for a contract or for financing an undertaking.

During January and February, with the aid of a corps of experienced engineers, we consulted about 1700 executives of large, medium and small sized firms. These executives spoke for 1774 establishments or business units. The interviews frankly disclosed the programs of the firms which have plans. Of these, 1003 have plans so nearly complete that estimates of cost could be given as stated programs of intended purchase.

The total of intended purchase reported by the 1003 firms is $1,300,000,000. There are many more companies, some of them very large ones, with plans in progress (and others, who on our persuasion have started to plan), who have not yet completed and reported their estimates. By the time we have the promised returns they will exceed one and a half billions. Then why do I say New York City will spend several billions? It is because we have 140,000 business and industrial firms here and our reports are from less than one per cent of them. No, we can't assume that all the 99% remainder will hold up to the average of those surveyed. That is because we included most of the large ones in the 1774 interviewed. But we were agreeably surprised by the amounts reported by small business although we only sampled the small firms.

I am sure you will be interested in some of the details of items we need, much of which other cities must supply.

To indicate the nature of coverage, among those 1774 surveyed there were 454 manufacturers, 485 restaurants, 400 food manufacturers, 148 apartment house owners, 41 hotels, 75 hospitals.

56% of all of them had plans and estimates.
492 more are making plans but are not ready with estimates.
402 will need to buy, build or lease additional space.

To those who are pessimistic about New York's future in business and industry, let me call attention to the courage and foresight of these private business executives who are ready to invest money in that future. They will buy as soon as permitted by war conditions 300 million dollars worth of buildings. This means steel and cement, bricks and hardware, equipment and furnishings for these new buildings. They will buy $455,000,000. worth of building machinery and equipment, $278,000,000 worth of building repairs, etc. Apartment houses alone to catch up with their current maintenance will require thirteen and a half million dollars worth of plumbing and electrical work; 327 new elevators, 2 million square feet of windows and other building materials in proportion.

Again let me say these figures are not just wishes. They represent orders ready to go of which $129,000,000 worth is on contingent order right now "" contingent on delivery as soon as the war ends.

Our office and loft buildings are ready to spend $110,912,000. for new capital outlay and deferred maintenance; general manufacturing, $148,712,000; our transportation industry, $224,258,000; and our utilities and communications $491,560,000. There is more and more coming. We in New York City have faith in our country and confidence in ourselves.
Let me emphasize that these interviews so thoroughly detailed are confidential. We must protect the executives, who were so cooperative by not disclosing their names and the details of what they will buy.

I cannot save your salesmen shoe leather but I can assure you they have a rich field in New York City for their efforts. The orders are here.
Come and get them.

We were a little apprehensive that too much of this expenditure there might be made in the first year or so, leaving a gap in the succeeding years. Therefore, we asked for data on rate of intended expenditure. It developed that 60% of the $1,300,000,000 will be expended in the first two years and 40% in the next three years.

Consider that this is merely preparation and that actual manufacture and the regular run of business will gradually increase during the second and third years.

NoW you will ask whether these purchases are ready to go ahead. There are some matters that will need correction. Mr. Bernard Baruch has delivered his plans for postwar industry to the President. Congress may have to implement the solution of some difficulties by legislation.

Some problems are:-
Accumulation of Reserves
Renegotiation
Contract Termination
Disposal of Government owned plant and Material
Release of Raw Materials
Tax Relief

There is much confidence that needed corrections will be applied. We must be realistic.

Most of the firms stated their financing has been taken care of. On the whole the program waits only the release of materials and manpower. We must wait the judgment of military authority as to when these materials can be released without endangering the war effort.

Bernard Barch said we were not very well prepared for war and unless we get busy with planning we will be less well prepared for peace. The business leaders we interviewed were enthusiastic about the work of this survey. The war status and our marvelous production is already permitting curtailment of some kinds of war production. We cannot afford not to be ready for return to civilian production. That is what our private business is aiming at in New York City.

I want to express the hope that many other cities will benefit from our program and that in turn their private industry will also have its plans as well advanced as is possible.

Postwar activities require something more than just expression of wishes. It requires work, cooperation, unity. We must have confidence in our country and in ourselves. We must stop bickering. There is too much political talk and not enough thinking on fundamentals.
We have the resources; we have the genius; we have the intelligence. Should all of these be dissipated antagonisms, jealousies and petty politics? The country is greater than any party. The welfare and prosperity of our country is greater than the special interest of any group. That goes, of course, for both capital and labor. Now is the time for cooperation. Nothing must be done to let down a single fraction of a minute on our war effort. War production, manpower, everything that is necessary, must be devoted to the winning of the war. That means that those of us who do not have the privilege of being on the battlefront must prepare for the big war that is coming to abolish unemployment, poverty, sickness depression and stagnation. It means that we must all work harder; that we must be fair and just with each other with only one objective in mind -- the future of our country and the prosperity and happiness of our people.


CUT IN STATE AID IN EDUCATION

Now that company has gone we can have our usual little weekly talk, just among ourselves. The Legislature has adopted the Budget for the coming fiscal year. It entails a cut of $4,300,000 in State aid to education in our City. Formulae, alibis, excuses, economy and surpluses cannot change mathematics or the multiplication tables. That there be no misunderstanding later on, it means that the school budget for the coming year will be not only $4,300,000 less, but a proportionate amount of the City's share will necessarily have to be deducted. It will be readily seen that in any joint venture if one partner reduces the amount, the other partner cannot carry on normal activities. Last year in our City budget the City had to provide for debt services for educational purposes, pension contributions by the City and other school activities, $42,790,000 in addition to class room personnel. These items alone are practically fixed charges that we cannot reduce, so it will be seen that the arbitrary deduction by the State in State aid will reflect a greater reduction in the total budget. It will necessarily have to come out of the total $180,930,460.


SWEAT SHOP ILLITERACY PLAN

Talking about schools, I know that the good people of our City, interested in the welfare of our children, will be glad to hear that the Superintendent of Schools and the Board of Superintendents are opposed to the "sweat shop illiteracy plan" we heard so much about the last few weeks. This is the plan, you know, that if a boy said he didn't want to go to school at 15, or didn't like school, that would be the end of it and would be permitted to leave. What a fertile field for the exploiters of child labor and what a confession of inability, incompetency and social degeneracy of those who recommend such a plan. On February 23, 1944, the Superintendent of Schools sent the following communication of disapproval to the Board of Education.

"The Board of Superintendents and the Superintendent of Schools are unalterably opposed to the enactment of any such legislation. The maintenance of the present compulsory school law provisions has been a distinct advantage to children and to the community; and any attempt to lower the present minimum age for discharge from school, under any circumstances, should be resisted.

"We do not agree that because a student apparently cannot profit from school he should be summarily dismissed and told to find employment. The whole trend of public education is to keep students in schools as long as possible, with a responsibility on boards of education and on school heads to devise appropriate courses for their education within the scope of their aptitudes and abilities.

"If such vicious legislation is introduced, it should be opposed with all vigor."


MAYOR'S COMMITTEE ON UNITY

I have appointed a City-wide Committee on Unity. The purpose of this Committee is to promote understanding and mutual respect among all the racial and religious groups in our city. New York City is known the world over for the progress which it has made in hospitality, understanding, and good neighborliness. We must not permit any trends that run counter to these standards to disturb the peace and tranquillity of our people.

The Committee will be supported by private funds. The Committee itself will not solicit for funds, but I am confident that financial support for the next two years will be forthcoming. The Committee's purpose is to observe and study unfavorable conditions and dangerous trends, and analyze objectively their causes and what steps may be taken to combat them: to further amity and racial and religious harmony in our City. It is my understanding that the Committee intends to maintain a qualified staff to make studies and researches for it, so that any reports and pronouncements which it may make from time to time will have solid foundation in the facts. The Committee will not seek to supplant or supersede existing organizations having similar purpose or interest in avoiding conflict between racial and religious groups. It will seek through its influence to correct racial and religious prejudice and develop the common interest of the community in mutual understanding and respect.

The Chairman is the Honorable Charles Hughes. I will announce the members of the Committee this afternoon, and you will find them in the newspapers tomorrow morning.


BLACKOUT

We will have a blackout tonight. This is ordered by the State BLACKOUT Director of Civilian Defense. The first signal will be given around nine o'clock, but that will be the mobilization order. The red will be given around 9:30.

Just to refresh your memory: The first sound of the sirens, the sustained note, pedestrian and vehicular traffic may continue movement. Pedestrians just prepare to seek cover. Radios will be turned on. All building lights will be extinguished or blacked out.

On the second siren, the warbling note, all street lights will be extinguished. Pedestrian and vehicular traffic must stop. Pedestrians take cover. Radios remain on.

On the next sound, this is the third audible siren signal, street lights will be re-lighted, but building lights will remain blacked out. Pedestrians and vehicles may resume movement.

When the all-clear is given over the radio and announcement by air wardens long blasts on whistles, all building lights may be turned on and normal activities resume.

Any place of worship that may be meeting when the first alarm is sounded will be permitted to respond to the alarm by a token turning off of the lights for a second, and remaining lit until the second siren, the warbling note, is sounded.

This is just a routine blackout test and no incidents have been ordered.


CEILING PRICE INFORMATION FOR CONSUMERS

I am very happy to note that finally OPA will provide consumers with accurate information on ceiling prices. I have been urging this for nearly a year. Beginning next Monday, February 28th, OPA will distribute to consumers reduced size copies of the current Community Price Charts, which contain Maximum Ceiling Prices for over 350 grocery items.
Consumers have long awaited such a step and will now be able, to some extent, to check the prices charged them in the neighborhood stores. Originally it was promised that not only Community Price Ceilings for groceries would be included in these small guides, but that meat prices and miniature point charges might be included. We have not yet received word of such a publication. Let us hope we will get that, too.

Onions still are very scarce. Large quantities are still in the black market. How about it, OPA?

Well, I went shopping the other day, and thanks to the Genesee-Orleans Vegetable Growers Association of our State, I have obtained 15,000 pounds of onions a week for use in our City institutions. That is a great help. In addition, the Grocer's Association, through their representative here, Mr. Benjamin Balish, has promised me that commencing the end of this week 25,000 pounds of onions a week for our public markets at ceiling price.

[Audio available beginning here.]

This is extremely important because with reduced meat rations and increased starchy foods, onions are very essential.

Talking about cooperation, I am indebted to Mr. Harvey Baum, Vice-President of the A & P Stores, for bringing me in touch with the Genesee-Orleans Association and Mr. Balish. Thanks to all.


PROGRAM AT CITY CENTER

You remember, last week I told you I had my fingers crossed about the opera to be given at the New York City Center of Music and Drama. Well, it really was good. It was better than good. It was just fine. Young, enthusiastic artists with fresh voices, gave splendid performances of Tosca Martha and Carmen. We are all so sorry that bookings do not permit us to continue them, for the demands could have kept the opera going for weeks and weeks and weeks. It has given us a great deal of encouragement and we are preparing another opera season. I will tell you all about it as soon as definite plans are completed.

Next week, because of the great demand, "Porgy & Bess" comes back and will remain until 90,000 of our friends will have had the opportunity to see it. In between, on Monday evening, March 6th, and Tuesday afternoon, March 7th, at 5 p.m., and Monday evening, March 13th, and Tuesday afternoon, March 14th, at 5 p.m., the New York City Symphony under the direction of Maestro Stokowski will start the first season of Symphony Concerts. I want to call your particular attention to the five o'clock performances on Tuesday, March 7th and March 14th. This is to give working people the opportunity to hear a concert before going home, thus saving two trips. I hope it works because it is my idea, and everybody on the Board does not seem to think much of it. So here is your chance, if you want to hear good music, and still get home for the evening. If you like it, we will keep it up. If not, it is another of my mistakes.


CITY PATROL CORPS.

I again must appeal to patriotic men to enlist in the City Patrol Corps. Vandalism and individual disorderly acts may be prevented if patriotic men and women will render some service in the City. CORPS. Patrol Corps. Of course this requires real patriotic he-men. No place for sissies and shirkers and slackers and lazybones. Men who want to render service to their country, city, and to their own homes should enlist in the City Patrol. Duty twice a week, rain, shine or storm. Real men are needed. Service in your own neighborhood.

For information apply at the nearest police precinct and let me know if you fail to get all the information you want. Do not hesitate to write to me at City Hall, or to Borough Headquarters of the City Patrol, or to 300 Mulberry Street.


Patience and fortitude.