Fear and Anxiety Upend Immigrant Lives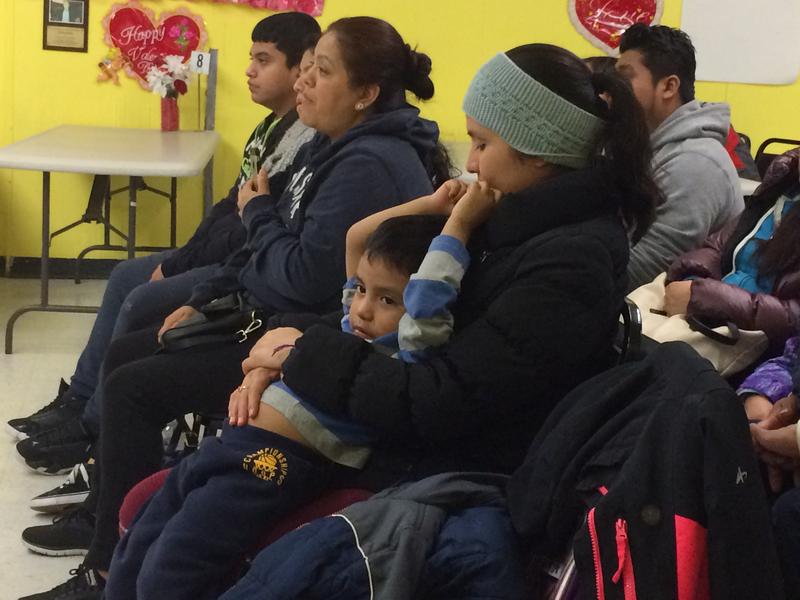 President Donald Trump's Executive Orders that give immigration agents broad discretion to crackdown on illegal immigration have caused fear, anxiety and outrage in well-established immigrant communities across the city. 
Suddenly families who have lived in the country for nearly two decades, who've raised children who are U.S. citizens, who've built businesses and communities, are having to face the possibility that they could be deported and their families could be split up.  
As he sat with a group of parents at the Castle Bridge Elementary School on 169th Street, the thought of being separated from his children brought tears to the eyes of Tomas Garcia . That's not his real name. He fears deportation, so WNYC agreed to give him and all the parents pseudonyms to protect their identity.
Garcia is a construction worker and he and his wife Esther, have been in the country 18 years. 
"Our lives are here now," he said in Spanish. "Our kids, they were all born here."
The couple has four daughters. Two will be in college soon. The youngest is nine years old, but he says it's the 13-year-old that's taking things the hardest.
"She got really down and started to cry when Donald Trump won the Presidency," he said.
Garcia choked up and couldn't finish his thought. His wife Esther explained that the young girl was prepared to pack their suitcases and return to Mexico. 
Esther works nights cleaning a deli and restaurant.
"When I leave at night I never know if I'll make it back home," she said.  "And my daughters feel that same way too. That's why they tell me, 'Mommy, call us when you get to work'. And then when I return in the morning, they feel relieved."
There were 11 million unauthorized immigrants living in the US as of 2014, and two-thirds of them have been here at least a decade, according to the Pew Research Center. Nearly 60 percent of them live in New York and five other states. 
Inez Castro has been in the US nine years and her husband, 20 years.  They send their eight-year-old son to Castle Bridge. Like any parent, Castro said she wanted her son to get educated and be someone. But she also wanted to protect him from the pain of discrimination.
"That he not live in fear like we do," she said. "That he be able to move forward and that nobody tells him that he can't.  And that he doesn't belong here, which is how we feel."
Castro and her husband have been scared to be on the street, even to bring their son to school. 
Angela Fernandez, director of Northern Manhattan Coalition for Immigrant Rights, tried to help calm the parents' fears. She told the small group that the government doesn't have the manpower to do mass raids right now, and that the NYPD won't ask their immigration status. 
But she also told them to consider appointing a guardian for their children and to create a power of attorney if they own a business.  If immigration agents come to the door, Fernandez, who is a lawyer, advised them to keep the door closed, request to see a court order and videotape what happens.
"Because that could help your case later on if they entered illegally," she explained. 
Fernandez has been busy running around to schools, churches and community centers, trying to inform people of their rights and answer their many questions. On a recent Thursday, her organization, which serves large populations of Dominicans, Mexicans and Ecuadorans, was swamped with people.
"Green card holders just petrified and wanting to become citizens immediately," she said.
This same fear was palpable a ferry-ride away in Staten Island where Gonzalo Mercado from the advocacy organization La Colmena was trying to build alliances within the only borough in the city that voted for Donald Trump. 
"You can see that we have non-immigrants here with us. American citizens, residents of Staten Island," he told a packed room at the local Catholic Youth Organization in Port Richmond.   
One woman listened intently while a toddler squirmed on her lap and Mercado introduced Jen Balis to the crowd.
"I'm very disheartened and sad about what's happened in our country," Balis said.
Balis is a school teacher who recently started a group called the Above Ground Railroad. She said it's still a work in progress but overall, its intent is to support immigrant communities. At the meeting, she told the crowd she was angry at the way immigrants were being treated.
"And I'm sorry that our country is doing this to you, but there's so many of us that don't feel that way," she said. "We don't share those beliefs and we never will and we're here to stand together as one family." 
The purpose of the meeting was to get the citizens in the room, about two dozen of them, to build relationships with their neighbors who lack legal status. Mercado said the goal was to integrate communities and ultimately build a network of support when and if immigration raids happen.  
Attorney Cesar Vargas, who is undocumented himself, said people have to ask themselves, 'How far am I willing to go'.
"To what extent are we going to defend our neighbors?  It's a very difficult question," he told the group.  "But I think it's something that we really want to be able to answer together."
After he passed the bar, it took Vargas four years to win the right to practice law. At the meeting, he explained that a federal statute makes it illegal to harbor and transport people without legal status. He said that in the past, it was used to prosecute criminals involved in human trafficking.
"How the new attorney general will enforce that? We don't know at this point," he said.
62-year-old Henri Ewaskio said she had already considered the risks of offering her home as a refuge from the authorities.
"I've thought about it a lot and I would like to be part of a network that would provide a safety net for people," she said.
Another woman, who only wanted to be identified as Jenny, was offended by the government listing crimes committed by immigrants and equated it to Jewish people being demonized by Adolf Hitler. She said she would wait to see how she could show support.
"There is definitely a tendency among privileged people to try and white-knight and to save everyone," she said.  "But I really need to see what kind of work people really need to do and where my efforts can be most effective."
The crowd was divided into smaller groups based on where people live.
"Victory Boulevard all the way up to the Verrazano Bridge and the expressway — your group is number 3," Mercado yelled.
Next, people began to introduce themselves.  
"Hi everybody.  Once again, my name is Victor," one man said.  "I am from Mexico. "
Victor told the group he's been working here 15 years to give his three children a better life.  He said his wife was scared to come to the meeting with him and explained that the couple tries not to go out together to lessen the chances that they would both be detained. Mercado said this was a common coping strategy right now.
"We don't have no records. We never  been arrested.  We came here just to work," Victor said.  "Also another thing — my mother died by cancer like three or four years ago and I don't have the opportunity to go there because I'm illegally here."   
Other immigrants described how they struggled to care for their kids while working long hours cleaning houses or cooking at restaurants. Among the citizens, there were three students from Wagner College in Staten Island, a retired nurse and her son-in-law Eli, a veteran who opposes building a wall along the Mexican border.
"That's not what we represent.  It's not what we served for and we serve to protect all Americans equally and that's all I'm going to say," he told the group. "We will stand with you."
36-year-old Jay Weichun teaches at a local college and also said he would support his neighbors, like the people he just met who live down the street.
"They're scared. I've never felt that fear in my neighborhood before," he said. "People are feeling that and that was eye opening to me."  
It was just the kind of connection organizers were hoping for. Gonzalo Mercado said marches and rallies provide energy but the energy must be followed by action.
"It's very easy to march and then go home," Mercado said. "But to start organizing people — they have language barriers, cultural barriers. It's a challenge, but I think that's really the long-term goal."
The meeting lasted several hours. Potlucks were planned. Phone numbers were exchanged and even if just for the night, there was a break in the anxiety.