Chelsea Bombing Suspect Taken into Custody; Connected to Devices Found in New Jersey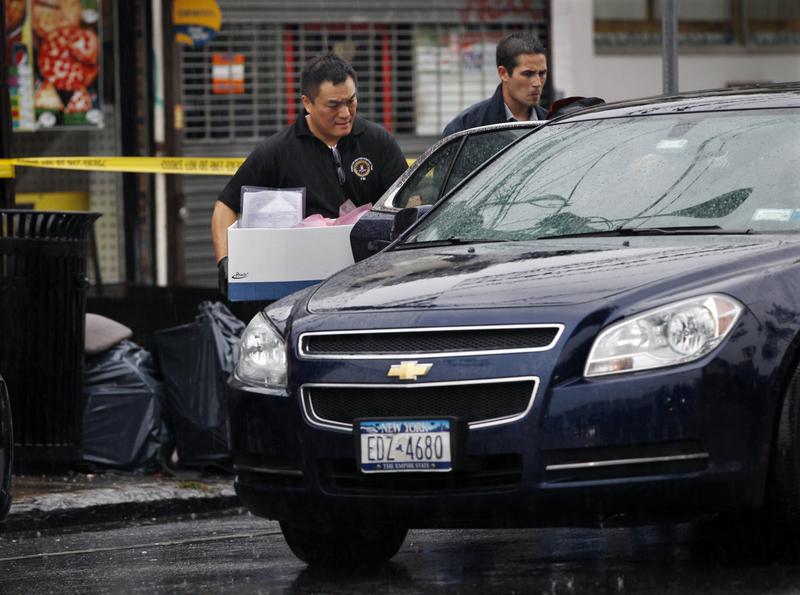 This is a breaking news story. We'll update this page as it develops. 
---
Update 11:40am:
Elizabeth Mayor Chris Bollwage, speaking to several TV news outlets, confirms that Rahami was taken into custody after a shootout on Elizabeth Avenue in Linden, New Jersey. Two Linden officers were shot: one in the vest and the other in the arm. Rahami was also injured.
---
Update 11:19am:
Several news outlets, including The New York Times, are reporting that Rahami has been taken into custody by police in Linden, New Jersey.
President Obama addresses the nation regarding the explosions and devices in Chelsea and New Jersey: 
---
Update 10:40am:
Law enforcement officials are confirming that Mr. Rahami is linked to the Chelsea explosion and a blast that happened at a charity race in Seaside Park, N.J. on Saturday morning.
---
Update 9:25am:
Elizabeth Mayor Chris Bollwage tells WNYC that authorities are currently investigating an apartment building that is believed to be Ahmad Khan Rahami's current residence. He expects them to stay in the building for most of today.
A vehicle was stopped for questioning earlier this morning on the Belt Parkway, and Mayor Bollwage says the information learned during that car stop led authorities to the apartment on Elmore Avenue in Elizabeth.
Explosive devices were found near the train station in Elizabeth last night, but Mayor Bollwage says it's unclear whether these devices are related to what happened in Chelsea.
"There was no timer or electronic device on the items found in the city of Elizabeth," said Mayor Bollwage. "There was no cell phone attached to it, so we do not believe that this was timed to go off at any particular moment."
---
Update at 8:45am:
Mayor Bill de Blasio appears on WNYC to address the FBI search for Ahmad Khan Rahami in connection to the Chelsea explosion.
The mayor warns that Rahami is "likely armed and dangerous," and if seen people should call 9-1-1 immediately.
Rahami's last known address is in Elizabeth, New Jersey, where five explosives were found on Sunday night. The mayor says authorities have not yet formally recognized a connection between the Chelsea incident and the devices found in New Jersey, but the information they currently have "points in that direction."
Mayor de Blasio says the NYPD and the FBI are in close coordination to determine whether the Chelsea explosion was carried out by an individual or a group.
Governor Andrew Cuomo has deployed national guardsmen to NYC area airports and transportation, and the mayor confirms there will be a very heavy NYPD presence out today.
"NYers are v resilient, v strong. We're certainly not going to be intimidated by any attempt to terrorize us." @BilldeBlasio on #Chelsea

— WNYC (@WNYC) September 19, 2016
---
Update at 7:35am: 
An FBI spokesperson confirms to WNYC that authorities are looking for a 28-year-old New Jersey resident for questioning in connection with Saturday night's explosion in Chelsea.
Ahmad Khan Rahami's last known address was in Elizabeth, New Jersey. Call 1-800-CALL-FBI if you have any tips or information concerning this case.
WNYC's Robert Lewis says an FBI spokesperson told him they're not prepared to connect the Chelsea explosion with devices found in Seaside Park or Elizabeth, New Jersey.
---
Update at 6:00am:
Authorities questioned several people early Monday after stopping a car in Brooklyn as they worked to determine whether there is a connection between an explosion that rocked a bustling New York City neighborhood, an unexploded pressure-cooker device found blocks away, an earlier pipe bomb blast at a New Jersey shore town or explosive devices found across the state near a train station.
On Sunday night, FBI agents stopped "a vehicle of interest in the investigation" of the Manhattan explosion, according to FBI spokeswoman Kelly Langmesser.
She wouldn't provide further details, but a government official and a law enforcement official who were briefed on the investigation told The Associated Press that five people in the car were being questioned at an FBI building in lower Manhattan.
The officials spoke on condition of anonymity because they were not authorized to talk about the ongoing investigation.
No one has been charged with any crime, and the investigation is continuing, Langmesser said.
Gov. Andrew Cuomo, touring the site of Saturday's blast that injured 29 people in Manhattan's Chelsea neighborhood, said there didn't appear to be any link to international terrorism. He said the second device appeared "similar in design" to the first, but did not provide details.
On Sunday, a federal law enforcement official said the Chelsea bomb contained a residue of Tannerite, an explosive often used for target practice that can be picked up in many sporting goods stores. The discovery of Tannerite may be important as authorities probe whether the three incidents are connected.
Cell phones were discovered at the site of both bombings, but no Tannerite residue was identified in the New Jersey bomb remnants, in which a black powder was detected, said the official, who spoke to the AP on condition of anonymity because the official was not authorized to comment on an ongoing investigation.
Authorities said the Manhattan bombing and New Jersey pipe bomb didn't appear to be connected, though they weren't ruling anything out. The New Jersey race was cancelled and no one was injured.
Late Sunday, more suspicious devices were found near a train station in Elizabeth, New Jersey. Elizabeth Mayor Christian Bollwage said the devices were found in a bag in a trash can by two men who reported seeing wires and a pipe coming out of the package. There turned out to be five devices in the bag. One of the devices exploded as a bomb squad used a robot to try to disarm it. No injuries were reported.
There was no immediate word on whether the devices were similar to those in nearby Seaside Park or New York City.
Officials haven't revealed any details about the makeup of the pressure-cooker device, except to say it had wires and a cellphone attached to it. On Sunday night, police blew up the device, rendering it safe. A forensic examination of the device will be sent to the FBI Laboratory at Quantico, Virginia, police said.
Homemade pressure cooker bombs were used in the Boston Marathon attacks in 2013 that killed three people and injured more than 260.
On Sunday, a team of five FBI agents searched an Uber driver's vehicle that had been damaged in the Manhattan blast, ripping off the door panels inside as they examined it for evidence. The driver, MD Alam, of Brooklyn, had just picked up three passengers and was driving along 23rd Street when the explosion occurred, shattering the car's windows and leaving gaping holes in the rear passenger-side door.
The Chelsea explosion left many rattled in a city that had marked the 15th anniversary of the 9/11 terrorist attacks only a week earlier and where a United Nations meeting to address the refugee crisis in Syria was scheduled on Monday.
Witnesses described a deafening blast that shattered storefront windows and injured bystanders with shrapnel in the mostly residential neighborhood on the city's west side.
As authorities tried to unravel who planted the device and why, one New Yorker, Anthony Stanhope, 40, knew exactly what had just happened.
"I was sitting in my apartment, and all of a sudden I heard a big boom, and I thought to myself wait a minute, it can't be thundering and lightning at this hour, and then all of a sudden car horns went off, and I thought oh my god this isn't lightning, this is too loud - this is a bomb," said Stanhope.
WNYC News staff contributed to this report.