SchoolBook
Family of Missing Boy Claims School Was Negligent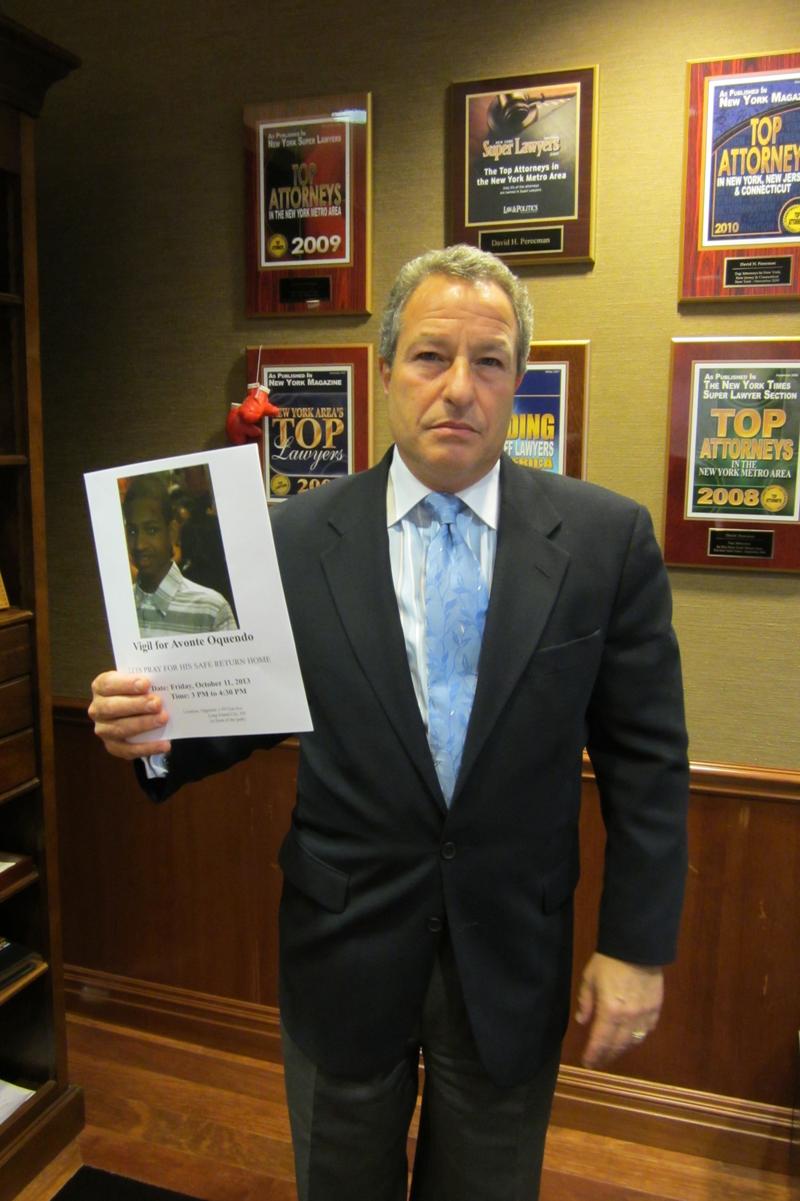 A lawyer for the family of the mute, 14-year-old boy with autism who has been missing since Friday, said a security guard may have allowed him to leave his school, and that the school didn't act quickly enough to find him.
Attorney David Perecman said Avonte Oquendo's grandmother arrived later that afternoon and asked a security guard what happened. The guard told her she asked Avonte where he was going, and when he didn't respond the guard let him leave because she "thought he was one of the regular kids.'"
Perecman said Avonte's mother, Vanessa Fontaine, was called by the school at around 1:40 p.m., an hour after he disappeared. She arrived  by 2:40 p.m., and was asked to get on the public address system to encourage her son to come out of hiding.
"Which means that they're still thinking he's inside the school," said Perecman. "That first hour alone is enough to have caused a major problem," he said. "Because the kid could go who knows where in that hour?"
Soon after Fontaine arrived at the Riverview School, Perecman said her mother, Avonte's grandmother, came and had the conversation with the security agent.
Surveillance video footage showed Avonte leaving the building at about 12:40 p.m. The police department said the school called NYPD at around 1:30. School safety agents are supervised and trained by the NYPD.
On Thursday, Chancellor Dennis Walcott said, "Our heart goes out to the family and our goal is to make sure we try to find the student."
"Let's try to find the student and then we'll do the investigation on exactly what happened," he added. When asked if the system was reviewing security procedures, he said, "Our security procedures are always in place [and] are always updated."
The Chancellor also said that Avonte was in a class setting with no more than six students in total, plus a teacher and a paraprofessional. His family had reportedly said he was supposed to be with his own school aide, but Walcott said that was not the case.
On Thursday, the family's attorney said he learned there had been an altercation in the school's cafeteria last Friday, but he did not know whether that was right before Avonte left the building.
The Riverview School is a new school for children with special needs that shares the same building as the Academy for Careers in Television and Film. The school is part of District 75, which is for children with the most serious disabilities. Its principal worked at another District 75 school in Queens before starting the new school this year.
Perecman asked whether students from the two schools should have been more fully separated. He said Fontaine told him that Avonte had previously attended a middle school for children with special needs that had its own section of a shared building.
"I'm questioning the physical setup of the system," he said.
Advocates of children with disabilities have many questions about the boy's disappearance. Gary Mayerson, an attorney who represents students with autism, said these pupils have no sense of danger and sometimes flee from places — a term known as "elopement." He said he had one case involving a boy at PS 169 in Manhattan two years ago who left the school and wound up in the East River taking his clothes off.
The boy was found a couple of hours later, but he said, "It was still a very frightening couple of hours for the parents. So I can only imagine what Avonte's parents are going through now."
Mayerson said the city settled with the family to move the boy to a private school for children with autism. He put up fliers this week offering a $5000 award to anyone who ensures Avonte Oquendo is found and safe.
Walcott, too, recalled a few cases of children disappearing but he said, "nothing like this happens. It's just the norm that it does not happen," referring to a child who is missing for so many days.
A vigil is planned for 5 p.m. Friday outside the Riverview school, a week after the boy's disappearance. Attorney Perecman said the family is "remarkably well-composed" and hopes he will be found. Perecman has filed a claim against the city on behalf of the family and their son.